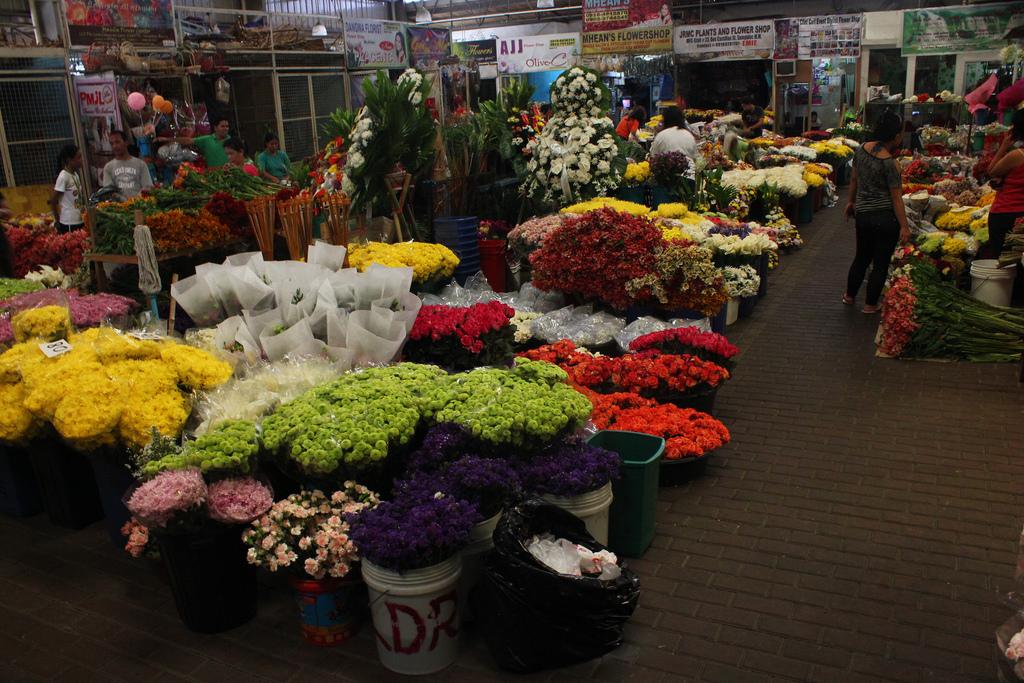 For Filipinos, flowers are near synonymous with Dangwa, considered to be the Flower Market of Manila as most people flock here to buy flowers for all occasions and reasons. The sheer number and variety of flowers available, the affordable cost and location are reasons why Dangwa has become a lasting Filipino institution.
Dangwa Flower Market, also known as the Bulaklakan ng Maynila (Flower Market of Manila), is a fresh flower market in Santa Cruz and Sampaloc, Manila, Philippines. It is located in the Dos Castillas Street and Laong-Laan Street Sampaloc, Manila. The flowers originate from various locations all over the country such as La Trinidad (not Baguio City), Davao City, Tagaytay City, Cotabato City and Laguna. Some of the flowers sold in the market includes mums, roses, gerberas and asters. The market has also expanded to importing flowers from Thailand, Holland and Ecuador. The flower market's peak season is on Holy Week, Valentine's Day, All Saints Day, Mother's Day, and December. Sometimes customers flock the market until 11 pm on Valentine's Day. The market derives its name from the Dangwa Transport Inc. bus station beside it. In 2004 it was home to 50 flower vendors. About 70 flower vendors are members of Dangwa Flower Market Association.
The flower market was said to have started on 1976. The market was then surrounded by middle-class neighborhoods. During the 80s and the 90s, the market has surpassed the fame of competitors in Quiapo, Manila and Baclaran. It is said that the market's golden years is during the time when Imelda Marcos was the First Lady. At that time the market provided flowers for big flower shops, which in turn decorated Malacañang Palace. On 1994, the market became open for 24 hours due to the increasingly growing business. The advent of modern technology, specifically short message service or "texting" has improved communication and efficiency in transporting the flowers from rural farmers. SMS is also used to prevent losses since the flower dealers can tip the farmers to what flowers would be in demand.
Rating:
3 people rated this.