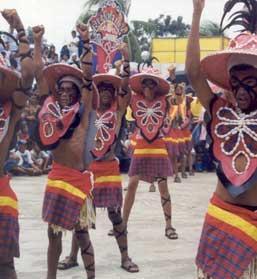 Sagay City's name was derived from "sigay", a bright, univalve-shelled mollusk that is abundant in the rich shores of Sagay. This marine creature is also the reason why the name of the town's festival is Sinigayan Festival. The presence of sigay indicate an abundance of marine riches that attract settlers from parts of Negros and Cebu. The settlements gradually transformed into villages that compose Sagay City today. Sinigayan is an expression of rich art and culture of the gentle, happy, and hardworking people of Sagay City.
Date of the Festival
The Sinigayan Festival in Sagay City, Negros Occidental, is held every 19th of March. Started in 1996, this festival is the city's way of preserving the heritage of their people. The gentle, joyful, and hardworking Sagaynon, whose name God chose to be symbolized by this humble spherical shell which dances as it allows the roaring waves to toss it to shore and pulls it back to the sea in ritual merrymaking.
Description
The Sinigayan Festival is Sagay City's way of preserving and promoting the appreciation of our rich and beautiful heritage by showcasing the vibrant colors of our art and culture here in the Philippines, the ingenuity and creativity of our people, and the abundance of our seas and lands.
Sinigayan Festival Activities
The festival celebration begins in a thanksgiving mass, then followed by the parade and the opening programs which showcase the abundant harvest of vegetables and fruits, copious marine life, the vibrant art community, and the livelihood of the town.
Boxing competition

Sinigayan chess tournament

Junior football fest

Taekwondo competition

4x 4 off-road competitions

Lawn tennis competition

Open skims boarding competition

Traditional Filipino games

Night Sinigayan dance sport competition

Open 9-ball billiards competition

Trisikad race

Sinigayan Queen Pageant

Band alert
Also, the other activity held in the festival are the:
Tree planting activity for environmental protection

Walk for A Cause

Parlor Games

Ratsada sa Kalsada
Aside from celebrating the festival, you can also explore the City of Sagay that is rich in marine resources and has 32,000 hectares of marine reserve which is composed of Maca Reef, Carbin Reef, Panal Reef, and the Molocaboc Islands. Water activities in the island are also available, like snorkeling and sea ranching.
So keep in touch with the wonderful City of Sagay, Negro Occidental.
Rating:
0 people rated this.