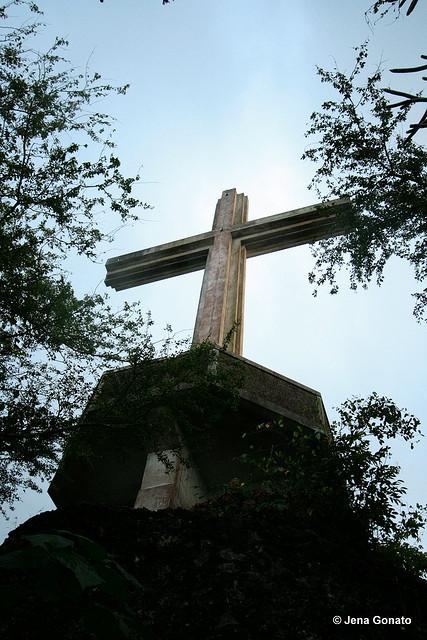 If there is one thing that will capture the attention of the tourists upon entering the island of Guimaras, I am sure it is the "Guimaras Island Cross" or the Ave Maria Purisima Shrine. From afar, it is a large cross on top. It is like the "Dambana ng Kagitingan" in Bataan. How I wish I could have the chance to glimpse this one-of-a-kind attraction in Guimaras.
Paying Homage to the Ave Maria Shrine
Located on top of Balaan Bukid Hill in Jordan, the cross is one of the things that welcome visitors. A 45-minute trek to the hill is required before you have a glimpse of the cross. The path is about two-mile road with the 14 Stations of the Cross along the way. During Holy Week, this path becomes a pilgrimage site for Catholic devotees where a reenactment of the Passion of Christ is performed here during Good Friday called Ang Pagtaltal sa Guimaras.
Reaching the Ave Maria Shrine
The first thing to do after reaching the top is to pray inside the Ave Maria Shrine. It is the best time to rejuvenate and feel the solemn ambiance of the church. Adjacent to the shrine is the "Guimaras Island Cross".
Once you finish the trek, the spectacular view of Iloilo City and the lush green forest at the top will make you forget the difficult and exhausting climb. It might bring tears of joy down to the cheeks any minute!
How to get there
Iloilo City is the gateway to Guimaras. Guimaras can be reached by air and boat from Manila and other origins, via Iloilo City and by pumpboat in Pulupandan, Negros Occidental. The island province is 20-30 minutes by motorboat or ferry boat from Parola, Ortiz, Muelle Loney or Lapuz Wharves in Iloilo City. Direct travel to Guimaras is possible by light planes, which can land at the Guimaras Feeder Airport. Jordan Port route is a 10-minute ferry ride from Iloilo City.
Accommodations:
Shirven Hotel -

Location: San Miguel, Jordan, Guimaras
Pine Haven Hotel -

Location: Islander Village, San Miguel, Jordan, Guimaras
Small Wings Pension Inn -

Location: San Miguel, Jordan, Guimaras
OLP-Trappist Monastery Guest House -

Location: San Miguel, Jordan, Guimaras
Rating:
3 people rated this.