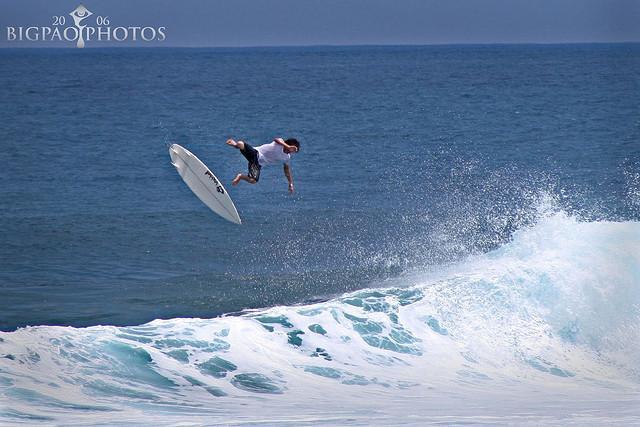 Do you think "Cloud 9" is now becoming more of a "Crowd 9"? Undeniably, the "Cloud 9" surfing spot is getting more and more popular and although it is a positive thing, it also has some drawbacks. A lot of surfers are now crowding the site, thus spoiling an individual's optimum experience of riding the waves. That's why local surfers compiled a list of secluded surfing spots with quality waves as well.
Tuason Point. This is easily accessible. There is a pier and tower located on the shore looking out at the break which makes it easier for paddling/walking out to it. The reef isn't as brutal as one may think; it's more of a mossy reef with odd rock. Booties aren't a necessity, just go easy.Wave is best at high tide; it is pretty dangerous to surf at low tide because it gets quite shallow in some places.
Jacking Horse. This is jacking peak that explodes onto a shallow reef, then tapers off and then reforms on the inner reef. It mainly breaks right with a short left, thus making it good to surf at 2-7 ft. Medium to high tide is about the best time to surf.
Stimpys. This is a first class left hander which wraps around a small island into a cove. It is fun when less than 4 ft. Though it is a lot harder breaking over that height, you can still accomplish perfect breaking. It has a great tube and can handle large swells. It is accessible only by boat and is a viewing distance from shore using binoculars.
Rock Island. This is an excellent right hander that peels and barrels for 200 yards off Rock Island. The wave is best with no wind, low to medium tide, and can hold swells up to double over head. It is accessible only by boat, viewing distance from shore using binoculars.
Shifty's. This is a right hand reef break just south of Pilar. It can be found inside the river mouth of Pilar, near Santa Fe. Wave is best at low to medium tide, south to south west wind. It is a fun right hander at 2-4 ft. but will hold larger swells.
Pilar. This is a left hander. There are two left breaks – one breaks in front of the wharf of Pilar and the other breaks close to the township of Pilar.
Caridad. This is a left or supertube. This awesome left barrel breaks on a jagged reef ledge – east to north east swell is the best – protected from north west to south west winds which are off shore.
Pacifico. This is a world-class left that breaks down and along a reef and rocky ledge. This is a long barrelling left and towards the end is a hotdog section.
Tuason Point. This is a very hard breaking left that jumps up 200 yards off shore and comes in and runs down over a shallow rocky reef and with great big holes. This is a very powerful and hard breaking wave. Wave selection is crucial at this break; four ft. and over is the best.
Cemetery. A left and right that breaks between gaps in the reef, directly in front of the General Luna cemetery. Northeast to southeast swell is the best for this break with a southwest to west wind. It is perfect at low tide and it is possible to walk there on the reef. Just be careful of the tide change to high – it's a fair old paddle back to shore.
Guyam Island. This is right in front of General Luna. There are many breaks right behind it and you can pick your own wave. There's no competition there for the perfect ride. There is a mellow left hander off the island with a sharp reef north east to east swell with south to south west winds. It is five minutes by boat from General Luna.
Pansukian Reef. This needs medium to large swell direct from the east to southeast with light southwest to west wind. This wave looks like an upside down teardrop-shaped barrel that runs down a reef. The wave jumps up the ocean from nowhere.
La Janoza, Mamon, Antokon, Anajauan Island. There are four or five perfect breaks and many others around these islands. Mamon Island has a beach break that can give you rides of more than 150 meters.
Rating:
1 people rated this.