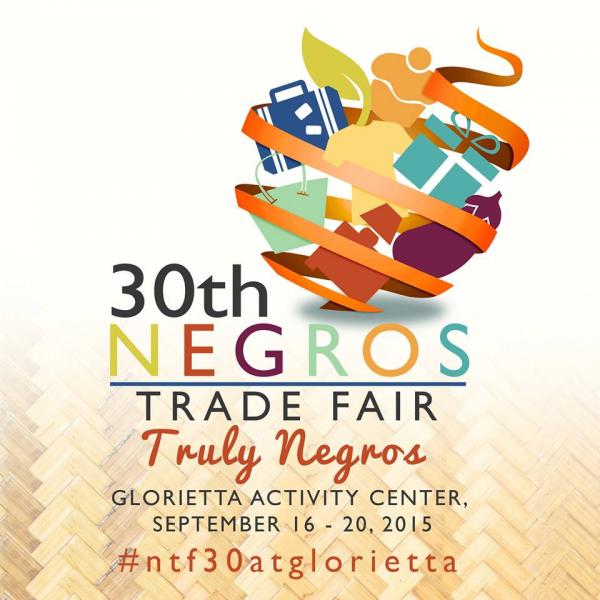 The best of Negros Island will be on the spotlight once again during the much-awaited 30th Negros Trade Fair on September 16-20, 2015 at the Glorietta Activity Center in Makati City.

Hailed as one of the top three fairs in Makati and the longest running trade fair in the Philippines, the Negros Trade Fair is a showcase of the ingenuity and creativity of the Negrenses in terms of art, design and culture.

It is a non-profit program of the Association of Negros Producers, Inc. (ANP), an organization that represents and promotes the interests of producers based in Negros. ANP is also behind Bulawan Awards, an annual product design and competition that recognizes the outstanding products of its members.

With the theme "Truly Negros", the 30th Negros Trade Fair will feature over 80 selling booths that will show the creativity, skills and entrepreneurial spirit of small and medium enterprises.

Taste the island's best cuisine, the famous chicken inasal, sweets and pasalubong goodies that Negros is known for. Buy hand-crafted and distinctive lamps, paintings and other home accessories, furniture, fashion accessories, bags for all lifestyles, and natural and organic products, among others. Be inspired by the SMEs' success stories.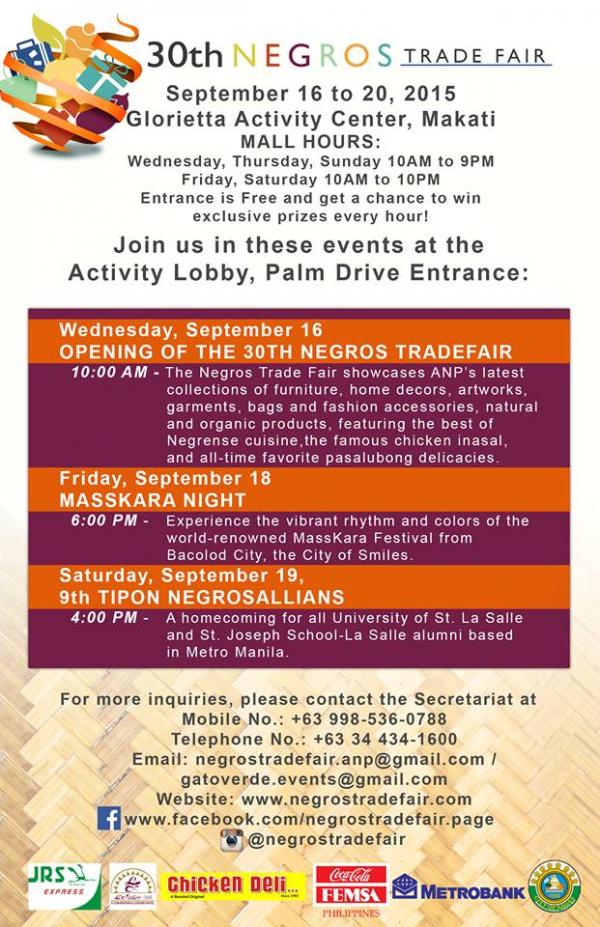 30th Negros Trade Fair Highlights
The Negros Trade Fair also celebrates the dynamic partnerships formed over the years among the Association of Negros Producers, the Provincial Government of Negros, various non-government organizations, business sectors, sponsors and media as they share a common goal of promoting the province and strengthening the SMEs of Negros.

Through this partnership, the Negros Trade Fair has put together a series of exciting events and special features to impart a "Truly Negros" experience like the interactive art wall, sugar photo exhibit and installation, Tambio electronic raffle, and launching of KBLK Mobile Game App, among others. It shall merge physical exhibition with mobile technology and social media outfit to attract and engage both the younger and more mature demographics.

A special preview and cocktails entitled "Arima! The Governor's Night" will be held on September 15 to welcome government leaders, industry partners, sponsors and media. On this night, the Negros Trade Fair brings together seven of the most celebrated and innovative Negrense chefs -- Chef Margarita Fores, Chef Tonyboy Escalante, Chef Fernando Aracama, Chef Cyrille Soenen, Chef JP Anglo, Chef Nico Millanes, and Chef Edy Gamboa Liu to showcase the flavors of Negros.

Manila will get the chance to experience the vibrant color and rhythm of Bacolod's MassKara Festival in the Negros Trade Fair on September 18. Bacolod City recreates its famous festival at Glorietta with a display of happy and smiling masks and a performance of MassKara dancers to enliven the mall.
Rating:
0 people rated this.