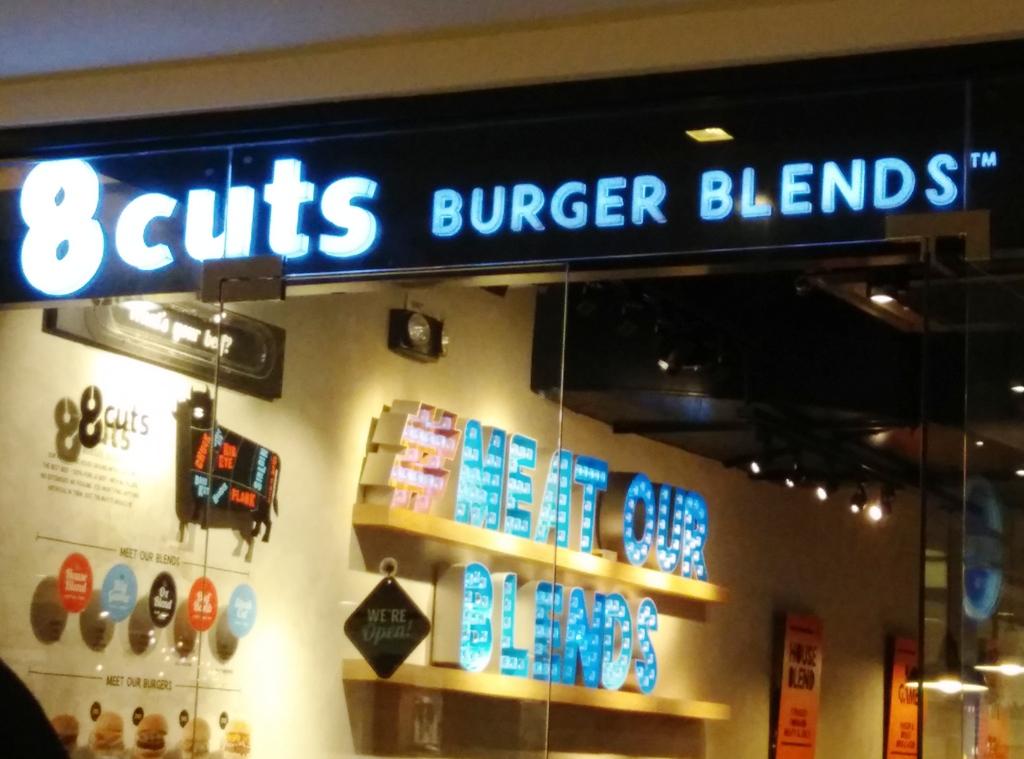 8cuts Burger Blends is another elegant restaurant in the busy city. The burger bar has three branches located in UP Town Center, SM Megamall Fashion Hall and Trinoma. They describe their patties as 100% pure beef that is made in-house which are hand-pressed, freshly ground, custom-blended and seared.

The burger joint got its name from the eight (8) different cuts of beef which they use to produce their burgers: chuck, rib eye, sirloin, short rib, hanger, brisket, flank and ox tail. They have a unique menu where customers can choose some beef patty variants to put inside their burger. There are five (5) patty blends to choose from and they are: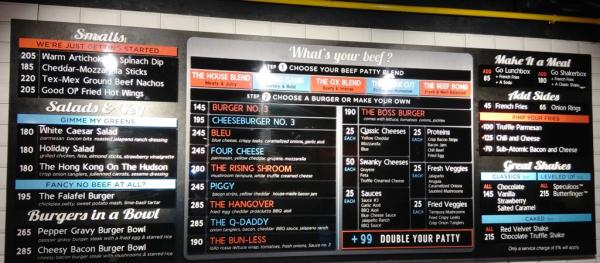 (1) The House Blend –described as meaty and juicy, a combination of short rib and rib eye; (2) The Big Game–taken from a hanger and brisket, it is labeled as gamey and bold. (3) The Ox Blend–a beefy and intense blend, a mixture of flank, ox tail and rib eye; (4) The Beef Bomb–a fresh and well balanced patty that is taken from short rib and chuck; and (5)The Steak Cut–comes from sirloin and chuck, it is a rich and no-nonsense blend.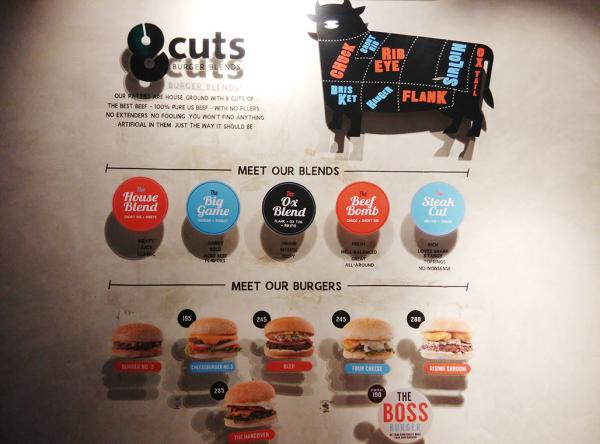 After choosing their preferred patty blend, customers have options to select its partner burger and they are; Burger No. 3 (P145), Cheeseburger No. 3 (P195); Bleu (P245); The Rising Shroom (P280); The Hangover (P285); The Q-Daddy (P285); The Bun-less and The Boss Burger (P190). For P25, customers can add cheese, proteins, veggies and sauces.
They also have side dishes such as French fries and their well-reviewed onion rings. Customers can also have their Great Shakes milkshakes. At a price of P145, you can have a classic shake which can be chocolate, vanilla, salted caramel or strawberry-flavored. Just add some P75 and you can have a leveled-up or caked shake which has two flavors to choose from.
8cuts has been featured in different food reviews for their unique approach of hamburgers which are made-to-order. The burgers here are delightful and well-flavored. Upon tasting the burger, it fills the mouth with a pure meaty gooey beef that conquers the taste buds with a heavenly treat.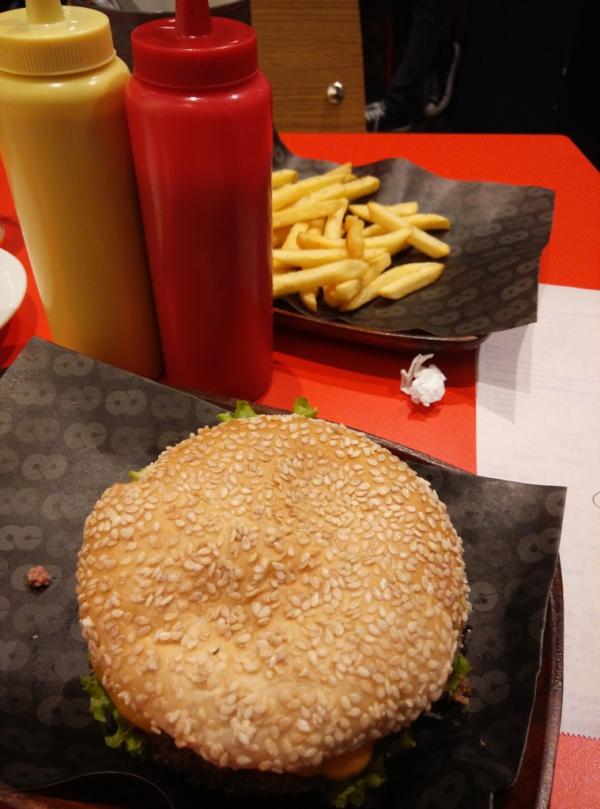 What's more distinctive to 8cuts' burgers is it has a satisfying and succulent taste that you can't find in other restaurants. Although the burgers here are a bit pricey and not affordable for an average person, it is still worth to try it because the burgers are juicy and thick that will instantly fill the stomach.

Aside from the gourmet-ish and gratifying menu, they have a casual and cozy ambience where the staffs are very attentive. 8cuts Burger Blends is a burger bar that has valued their menu well — that is not for all, but you get what you paid for.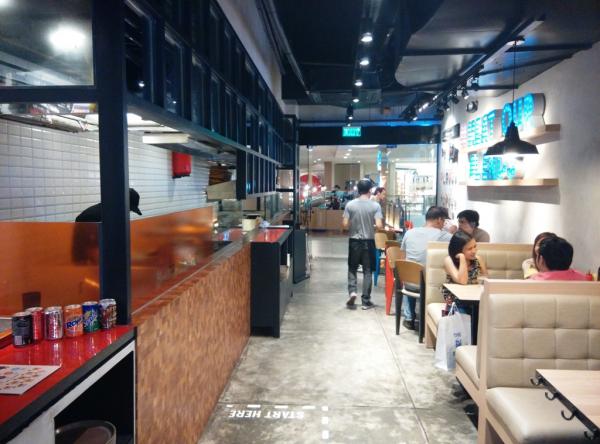 Conclusion: 8cuts Burger Blends is pricey and a bit overrated but if you want to have an expensive burger, 8cuts is the best choice. For its appealing "make-your-own" burger scheme which is exemplary, 8cuts Burger Blends deserves a four-star rating.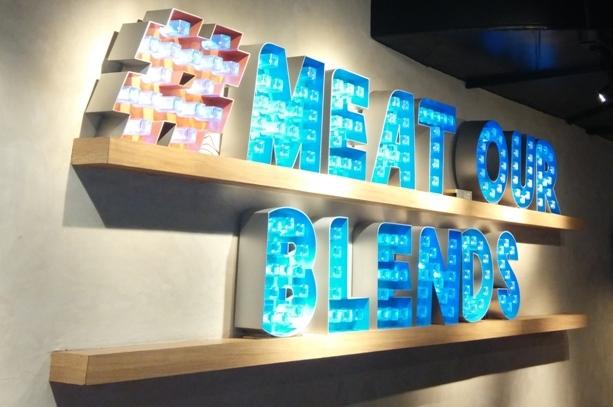 Note:This review was done in their Trinoma branch located on Second Floor, Trinoma Mall, EDSA cor. North Avenue., Quezon City, Metro Manila, Philippines. It is open daily from 11:00 am to 10:00 pm. Thanks to the manager, Mr. Jing Salinas for the kindness and warm welcome.
Rating:
0 people rated this.