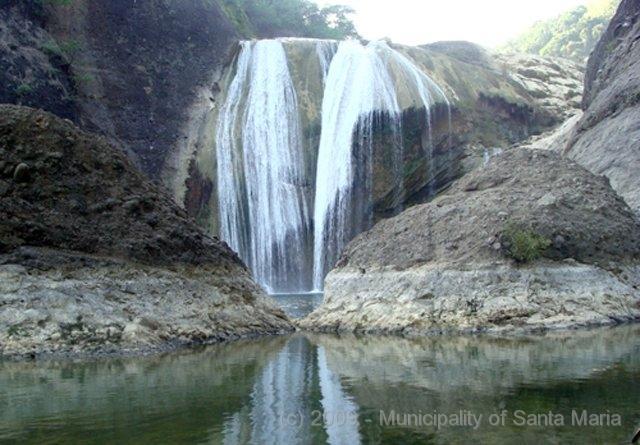 I have read a lot of articles about the different tourist spots around the country. Since I became a writer, I've been interested in searching for good travel destinations and their usefulness in a place's culture and economy.
During my in-depth exploration of Ilocos Sur, one famous tourist attraction really caught my attention. Surrounded by trees carved into the hillside leading you to the top, Pinsal Falls is a must-see destination that the province takes pride in.
Pinsal Falls' Famous Legend
Complementing the romantic ambiance of the majestic falls is a story about a brave giant named Angalo. He was a mountain of a man in search for his woman, Aran. It is a great love story of two giants who roamed the Ilocos Region looking for each other and Angalo, longing for his love, battered the whole Ilocos Region. Sometimes, he would kneel down to drink water from the springs where he left enormous footprints, the indelible marks of his search for Aran.
Angalo and Aran are believed to be the first man and woman on Earth, alike to Adam and Eve, in Abra mythology. As time went by, townsfolk claimed the footprints were the very footprints of Angalo, or "Tugot ni Angalo" in Ilocano. One footprint is three meters deep with a width of five meters and a length of 15 meters. Since then, the "gigantic footprints" have become natural pools leading to another tourist spot — the Pinsal Falls, which is six kilometers from Labaan town proper.
The myth on top of Pinsal Falls has made this area of Abra popular, although the waterfalls themselves have their own natural beauty aside from an inspiring back story.
The Beauty of Pinsal Falls
Pinsal Falls

Found at the heart of Santa Maria town, with a height of 85 feet, Pinsal Falls or "Twin Falls" is famed for being the largest waterfall in the Ilocos Region. Its natural beauty and romantic atmosphere is a perfect location for many activities including swimming and group picnic. It is also a good travel spot for outdoor adventurers who want to explore the place.
The foliage of big trees surrounding the falls is a good shelter for visitors to take a rest after a long journey. Its crystalline waters cascading down to the two spacious natural pools give visitors unexplained delight. They may opt to climb the top of the falls through the carved steps on the hillside or swim in the pools.
The Inland Travel to Pinsal Falls
By Land: Philippine local bus operators such as Partas Trans travel to Abra from Manila or Pangasinan while the Philippine Rabbit takes the Baguio-Abra-Manila route. Viron Trans also has trips from Baguio to Abra.
Travel Time: From Manila to Baguio, 7 hours. From Baguio to Abra, about 1 hour or less.
The locality: The waterfall lies among the shady hills and mountains of Barangay Babal-Lasioan in the town of Sta. Maria, Ilocos Sur, about 45 minutes away by car from Sta. Maria's municipal hall. The falls may also be reached by foot from the nearby town of Pilar, Abra, through a set of stone steps in the mountain by the falls. These steps are regularly used by the residents of Pilar to travel to and from the town of Sta. Maria.
Accommodations to Vigan
There are many inns, pension houses, and hotels located near the town center. My Vigan Home Hotel and Gordion Hotel are two of which will give you better accommodations during your days in Ilocos Sur.
My Vigan Home Hotel is located at 14 Plaridel corner Bonifacio Streets, Vigan (Ilocos Sur), Ilocos Region, Philippines 2700.
Gordion Hotel is located at V. Delos Reyes corner Salcedo Sts., Vigan (Ilocos Sur), Ilocos Region, Philippines.
Rating:
1 people rated this.