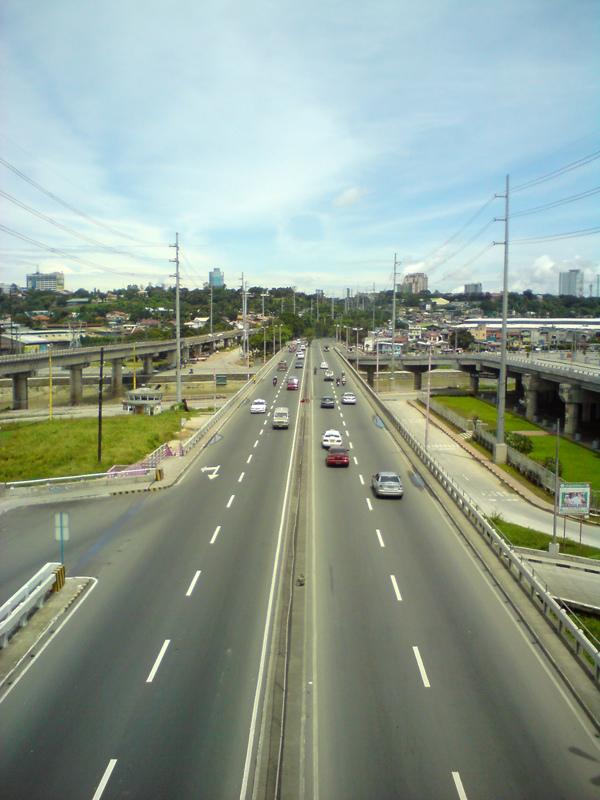 Marcos Highway as seen from SM City Marikina bridgeway

The Marikina-Infanta Highway, also known as the Marcos Highway or MARILAQUE Highway (MARILAQUE stands for Marikina-Rizal-Laguna-Quezon), is a scenic mountain 44-kilometer highway that connects Metro Manila with Infanta, Quezon in the Philippines.
Marcos Highway was named by former Philippine president Ferdinand Marcos, Marcos Highway is an 8-lane national highway and the main road between Metro Manila and Rizal Province. Marcos Highway passes the boundaries of Antipolo, Cainta, Pasig and Marikina. There are 3 main intersections in Marcos Highway such as Amang Rodriguez Avenue (Pasig), Imelda Avenue (Marikina-Cainta) and Masinag (Antipolo), and an interchange located in SM City Marikina which provide access exclusively between Marikina to major business districts such as Ortigas Center, Eastwood City and Makati City. Some of its landmarks include Sta. Lucia Mall, Robinsons Metro East, SM City Marikina, LRT2 Santolan Station, Masinag Market and Riverbanks Center. Also, Marcos Highway is well known for numerous establishments like car shops, major schools, restos, food chains, exclusive villages, billboards, industrial parks, etc.
The highway starts in Marikina City near Katipunan Avenue, the Loyola Heights segment of Circumferential Road 5, in Quezon City. It traverses the Marikina Valley and passes through Antipolo City, where it intersects the Sumulong Highway (at Masinag). After Masinag the road starts its ascent towards the Sierra Madre, passing through Tanay, Rizal, finally to Infanta, Quezon.
Sights
The highway is one of the most scenic routes in the Philippines, alongside the Halsema Highway in the Cordilleras, and the Pan-Philippine Highway in Southern Luzon. Among the sights that the highway passes through are the Boso Boso Highlands in Antipolo, the Sampaloc Highlands and Pranjetto Hills Resort, and the Garden Cottages Residences Look-Out Point in Tanay.
Upon reaching Barangay Sampaloc, the Sampaloc Highway intersects the highway. To the left of the intersection is the main campus of the University of Rizal System. To the right is the town proper of Tanay, leading to the Daranak Falls and the lakeshore route along Laguna de Bay leading to the easternmost towns of Laguna.
Rating:
1 people rated this.