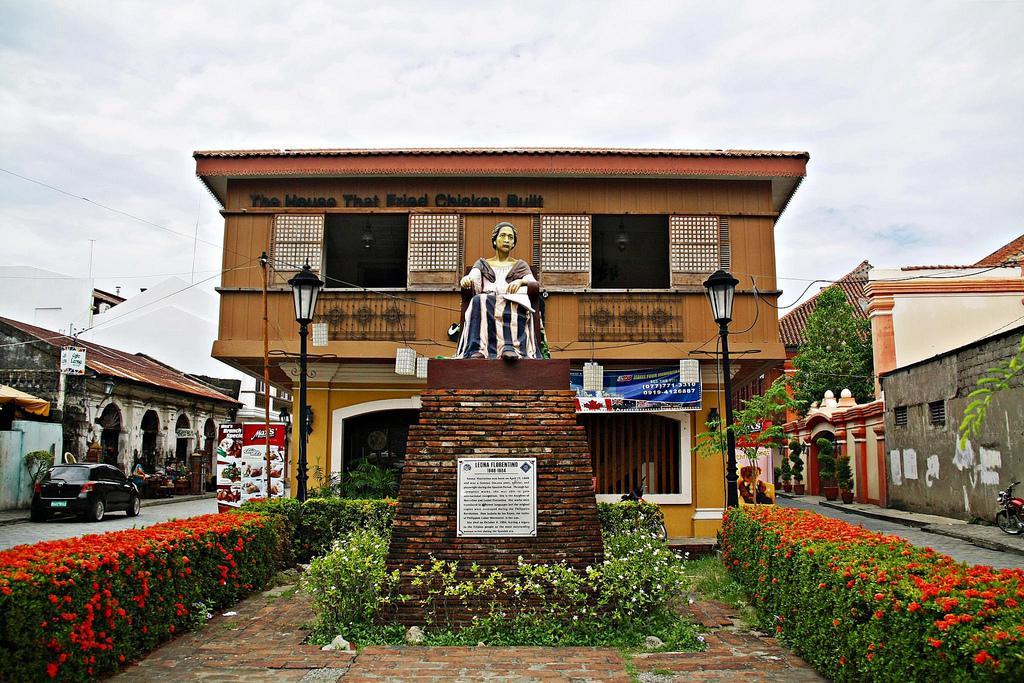 The much-photographed Calle Crisologo is the location of one of the historical landmarks of Vigan – the Leona Florentino House. It sits near the main plaza and is among the first of the heritage houses that greet visitors with its old-world charm.
Poet Leona Florentino
"The mother of Philippine women's literature and the bridge from oral to literary tradition"
Leona Florentino is one of the most respected Filipino literary figures in the country. She was a Filipino poet in the Spanish and Ilocano languages. She was born to a wealthy and prominent family in Vigan, Ilocos Sur. She began to write her first verses in Ilocano at a young age but despite of her potential, she was not allowed to receive a university education because of her gender. Instead, she was tutored by her mother and a series of private teachers including an educated Ilocano priest who taught her advanced Spanish and encouraged her to develop her voice in poetry.
Leona Florentino is the mother of the famous Isabelo de los Reyes who would later become a Filipino writer, activist, and senator.
A statue of Leona Florentino was built in a small park across the house to commemorate the first Filipina poet who achieved international attention.
The Ancestral House Tourism
The ancestral house is now a tourism site in the province. It houses the Vigan Heritage Commission and Café Leona which is a favorite culinary destination for tourists. The café has novelty food items in its menu, like the pinakbet pizza, which fuses Ilocano and Italian flavors and cooking. Visitors are also advised to try the local basi wine.
The place also recommends checking out Vigan food. There is a set of buffet-style dishes offering a wide range of choices. There are vegetables dishes and Ilocano cuisine like bagnet (fried pork, sun-dried prior to cooking) and longganisa (a garlicky sausage).
Here, people can get important information and reminders from the staff about the best places to visit, things to buy and do, as well as how to get around Vigan. They will hand you maps and brochures to guide you for your Vigan adventure.
Visiting the Ancestral House
The house is indeed a good must-see in Vigan! It brings back the memory of a great woman in our Philippine history. Leona Florentino is the mother of the first champion of the labor movement in the Philippines and the Philippine Independent Church, Isabelo delos Reyes, who came from a very distinguished family of patriots and produced a generation of new ones.
Travel to Leona Florentina House!
From Manila, there are various bus terminals to choose from that goes to the Ilocos. There is one in Edsa-Pasay (Partas Bus Terminal) and in Cubao (Partas Bus Terminal & Florida Bus Terminal). I suggest you take the evening trip because it is a long 9-hour bus ride to Vigan.
Then from Vigan, I suggest you to hire private transportation as the must-see places are in between towns. If not, there are tricyles, buses and mini buses that ply these towns which will bring you to the Leona Florentina House.
Accommodations to Vigan:
There are many inns, pension houses, and hotels located near the town center. My Vigan Home Hotel and Gordion Hotel are some of which will give you better accommodations during your days in Ilocos Sur.
My Vigan Home Hotel is located at 14 Plaridel corner Bonifacio Streets, Vigan (Ilocos Sur), Ilocos Region, Philippines 2700. Gordion Hotel is located at V. Delos Reyes corner Salcedo Sts., Vigan (Ilocos Sur), Ilocos Region, Philippines.
Rating:
0 people rated this.