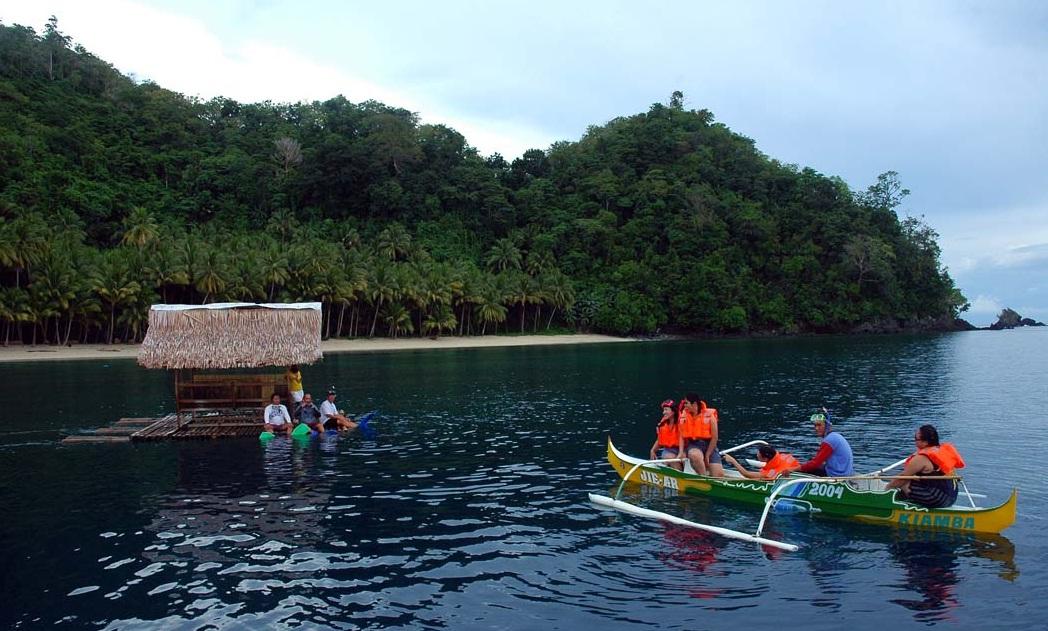 Kiamba is a 2nd class municipality established in 1947 in the province of Sarangani. According to the latest census, it has a population of 53,040 people in 9,095 households. It is bordered on the west by Maitum, on the east by Maasim, on the north by South Cotabato, and on the south by the Celebes Sea.
According to the last general elections, Kiamba has a total voting population of 29,563 voters. Kiamba celebrate their Timpuyog Festival and Foundation Anniversary every February 14. Notable residents include Manny Pacquiao. It is the hometown of his wife Jinkee Pacquiao.
Tourism
A small town in Sarangani has hundreds of couples walking the streets every Valentine's Day. A festive mood breathes over Kiamba every year during the heart's day where one could find kiosks, carnival, tribal shows and a myriad of exciting activities in their short, narrow old roads.
But they are not only celebrating Valentine's Day. It is the town's foundation anniversary and the Timpuyog Festival they are most excited about.
Timpuyog is an Ilocano word for unity, a term very appropriate in a town whose populace is a mixture of Ilocanos, Cebuanos, Maguindanaos, B'laans, and T'bolis. During the festival, guests could witness tribal shows as T'boli families make their way to the town proper from far-flung barangays. It is also during this day when the locals show their unity for the peace and development of their town.
Established in 1947 as a municipality, Kiamba is an idyllic town whose sleepiness will remind you of scenes from Tagalog romantic movies. But its relaxed atmosphere is complemented by its exciting landscape and friendly townsfolk.
Visitors have a wide array of adventures to choose from in this town bordered by the Celebes Sea and lush rainforests. Take a peek:
A short trek from the highway will lead you to majestic waterfalls where the water is so clear it may just quench your thirst.

A quick walk along its famed short, narrow roads dotted with Japanese era houses will lead tourists to a wonderful view of the Celebes sunset.

If you are lucky, you may catch a glimpse of the people's champ Manny Pacquaio whose wife grew up in Kiamba. Pacquiao frequents Kiamba to visit friends and relatives and watch cockfights.

Taking an early morning stroll in Kiamba will lead to some pleasant surprises. One could catch a glimpse of the famed Kiamba sunrise where colors of the spectrum explodes in the sky to usher a brand new day as fishermen leave for their boats.

A short boat ride will take you to Tuka Marine Park, a protected area where fishing is banned. It has four protected coves and only one (Tuka 2) is open to the public. The site has awesome coral formations and you will be literally swimming with schools of fish once you decide to snorkel.

When you hit the beach of Kiamba, you will enjoy the pleasure of having it all to yourself and your friends because it does not have bothersome vendors and hawkers.
Declared once as the cleanest and greenest municipality in the Philippines, Kiamba is also at the forefront of a child-friendly movement together with its neighboring town Maitum. Both municipalities have won several national awards for their child-friendly programs and are being promoted by the provincial government as two of the most promising tourist destinations in Region XII.
Accommodations
Location: National Highway, Lagao, General Santos, Sarangani
Location: Polomolok, City Heights, General Santos, Sarangani
Family Country Hotel and Convention Centre
Location: Mateo Road , Lagao, General Santos, Sarangani
Location: Salvani Street, Block 8, City Heights, City Heights, General Santos, Sarangani
Location: National Highway, City Heights, General Santos, Sarangani
Location: 4th Floor SCZ Building Hadano Street cor Makar Road, Labangal, General Santos. Sarangani
Location: Pendatun Avenue corner Pioneer Avenue, Dadiangas, General Santos, Sarangani
Location: Santiago Boulevard, Dadiangas, General Santos, Sarangani
Sarangani Highlands Hotel
Location: Purok Wal, Tambler, Tambler, General Santos, Sarangani
Accessibility
Sarangani is accessible by plane via Manila-General Santos City or Cebu-Gensan. A 20-minute drive from the airport will bring you to Alabel, the capital town of the province. If embarking from Davao City, there are air conditioned buses as well as public utility vehicles which will take travelers to General Santos City within 3 hours. It will then be a 10-minute ride from the city center of General Santos to reach Sarangani Capitol.
Air-conditioned public utility vehicles ply the route daily from General Santos City. The one-and-a-half-hour drive along a world-class highway offers spectacular landscape to view as well as long stretches of coastline driving.
Rating:
0 people rated this.