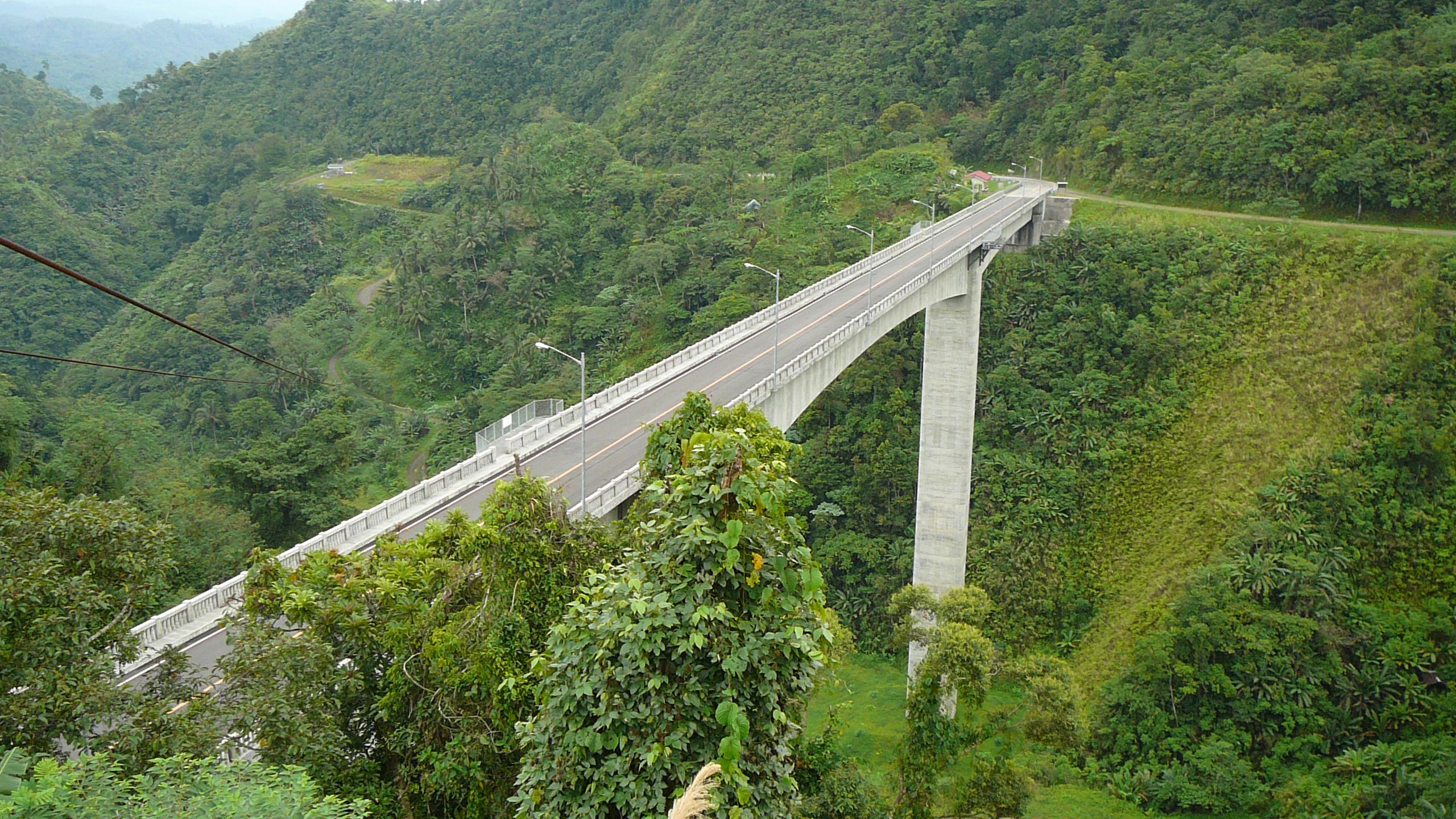 As a mighty and impressive structure, the Agas-Agas Bridge is an achievement of modern engineering. Being the highest bridge in the Philippines, it has since been groomed to be a venue for extreme sports as the altitude and the natural setting are ideal for exciting, environment-friendly activities.

Situated in Southern Leyte, the Agas-Agas Bridge is the highest bridge ever built in the Philippines. The bridge straddles between two mountains and traverses along the Mahaplag-Sogod (south-central) section of the Maharlika Highway. It provides a significant link to motorists traveling from Luzon to Mindanao. This bridge is by far the tallest pier or column that the Philippine Department of Public Works and Highways (DPWH) has constructed with a help from the Japanese Government. It involves the construction of a 350-linear-meter bridge, with a mix of steel and concrete, supported by two piers from the ground and has a height of 292 feet above ground.
Residents said that the Agas-Agas section of the Maharlika Highway in Southern Leyte is known for being prone to slides during heavy rains. Since it is situated in a mountainous area, it is regularly reported that movements of loose soil or landslides take place whenever it rains heavily, much more when a typhoon strikes the province. Thus, the viaduct was constructed in 2006 primarily to help motorists avoid the mountainous sections that are prone to landslides and road slips and prevent life and property losses.
Seeing its high tourism potential, the Department of Public Works and Highways (DPWH), the executive department which is responsible for the safety of projects in the field of public works and roads, submitted to the President Gloria Arroyo, a plan to turn the bridge into a haven for sports enthusiasts who are into bungee jumping, paramotor, downhill skateboarding and zipline rapelling and other extreme sports. Seeing the panoramic beauty of the mountains and rivers around it, then-President Arroyo had ordered that a bungee jumping platform be constructed along the bridge as well as other tourist amenities.
Accommodations
Hotels that can be found in the province:

Dona Marta Hotel

Tahusan Beach Road Hinunangan
GV Hotel Maasin (Southern Leyte)

T. Opus Street, Maasin City, Southern Leyte
GV Tower Hotel - Sogod

Osmena Street, Sogod, Leyte
Maasin Country Lodge

Maasin City
Verano Pension House

Along Kangleon Street, Barangay Matahan, Maasin City, Southern Leyte
Southern Comfort Pensionne

Demeterio Street, Barangay Abgao, Maasin City, Southern Leyte
Jaimee's Hotel

Ibarra Beach, Maasin City, Southern Leyte, Samar / Leyte, Philippines 6600
How to get there
From Manila, visitors can reach Southern Leyte by riding a plane via Tacloban. Local airlines from Manila have trips going to Tacloban, the gateway to Southern Leyte. Next, from Tacloban, take an FX van going to Hinunangan.
There are also buses from Manila that have direct trips to Hinunangan.
Rating:
0 people rated this.