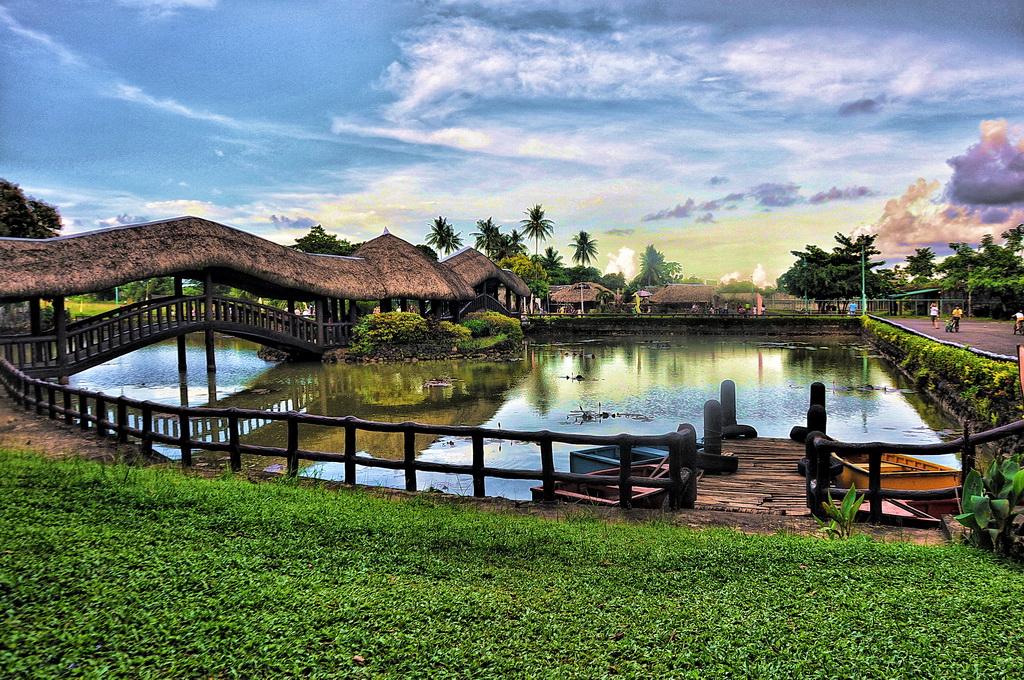 Lagoon and Gazebo in Albay Park and Wildlife

A picnic grove and a park rolled into one, this place is the best way to commune with nature right at the heart of Legazpi City. Have a satisfying get-together with your family and friends while roaming the park which houses 347 animals belonging to 75 species. The park is open from 8:00 AM to 6:00 PM daily except on Mondays.
If you want to visit the area, an admission fee is needed to pay, but don't worry because it is very affordable. Entrance fee is about P 20.00 for adults with a height of 1.20 meters above and P 10.00 for children with a height of 1.20 meters below. Visitors should follow the rules and regulations that are implemented inside the park.
Some of the animals that can be found in the area are the Philippine Hawk Eagle, bleeding-heart pigeons, brown boobies, ringneck pheasants, iguanas, reticulated pythons, crocodiles, Philippine warty pigs, the Philippine Deer, a tiger, and red squirrels.
Tourists can also enjoy boat riding on the large lagoon in the area. There are cottages and groves for rent, where people can take a rest for a while after exploring the area. Children will surely enjoy playing on the playground with a giant statue of a dinosaur.
Park facilities /amenities:
Food Court

Picnic grove (2 sites)

Children's playground

Lagoon and Gazebo

Senior Citizen's groove

Celebrity groove

Stage/ bleacher

Ticket booth

Animal cages

Food storage

Comfort rooms
Special features:
Baranwitan sa Wildlife (fishing) on scheduled dates

Egg hunting on Easter Sundays

Bicycle (for rent)

Boat (for rent)

Kalesa (for rent)
List of some of the accommodations in Albay
Alicia Hotel - F. Aquende Drive, Albay District, Legazpi City

Casa Eugenia Hotel and Restaurant - Tagas, Tabaco City

Hotel Casablanca - Peñaranda Ext., Legazpi City

Hotel La Trinidad - Rizal St., Legazpi City

Hotel Venezia - Renaissance Gardens, Washington Drive, Legazpi City

Pepperland Hotel - Airport Road, Legazpi City

Jennifer's Garden Apartelle - J. Estevez St., Albay Dist., Legazpi City

Hotel Victoria - Rizal St., Legazpi City

Avenrose Suites - Washington Drive, Legazpi City

Cliffstone Inn - Lidong, Sto. Domingo, Albay

Ibalong Travelers Hostel - BDB Bank Bldg, 210 J.P Rizal St

Divine Tourist Inn- A. Luna St., Divino Rostro, Tabaco

Neuhaus Tourist Inn - Magayon Dr., Daraga, Albay

Sambitan Tourist Inn - Diversion Road, Ligao, Albay
Getting there
By Air
Airlines from Manila have daily scheduled flights from Legazpi City to Manila and vice versa.
Manila to Legazpi City

Legazpi City to manila
By Land
Several aircon tourist bus companies ply the Manila-Legazpi route daily, an average nine-hour travel time, passing through scenic roads.
By Rail
By train, the average travel time is 16 hours via the Philippine National Railway, the country's sole train transport service.
By Sea
Several shipping lines offer regular trips from the Visayan region to the island province of Masbate to Albay via mini ports of Pilar and Donsol, Sorsogon.
Getting Around
Buses and jeepneys are generally the main mode of transportation in getting around Albay's destinations. Pedicabs and tricycles are also available for short distance travels. Taxis and rent-a-cars are also available.
Rating:
20 people rated this.