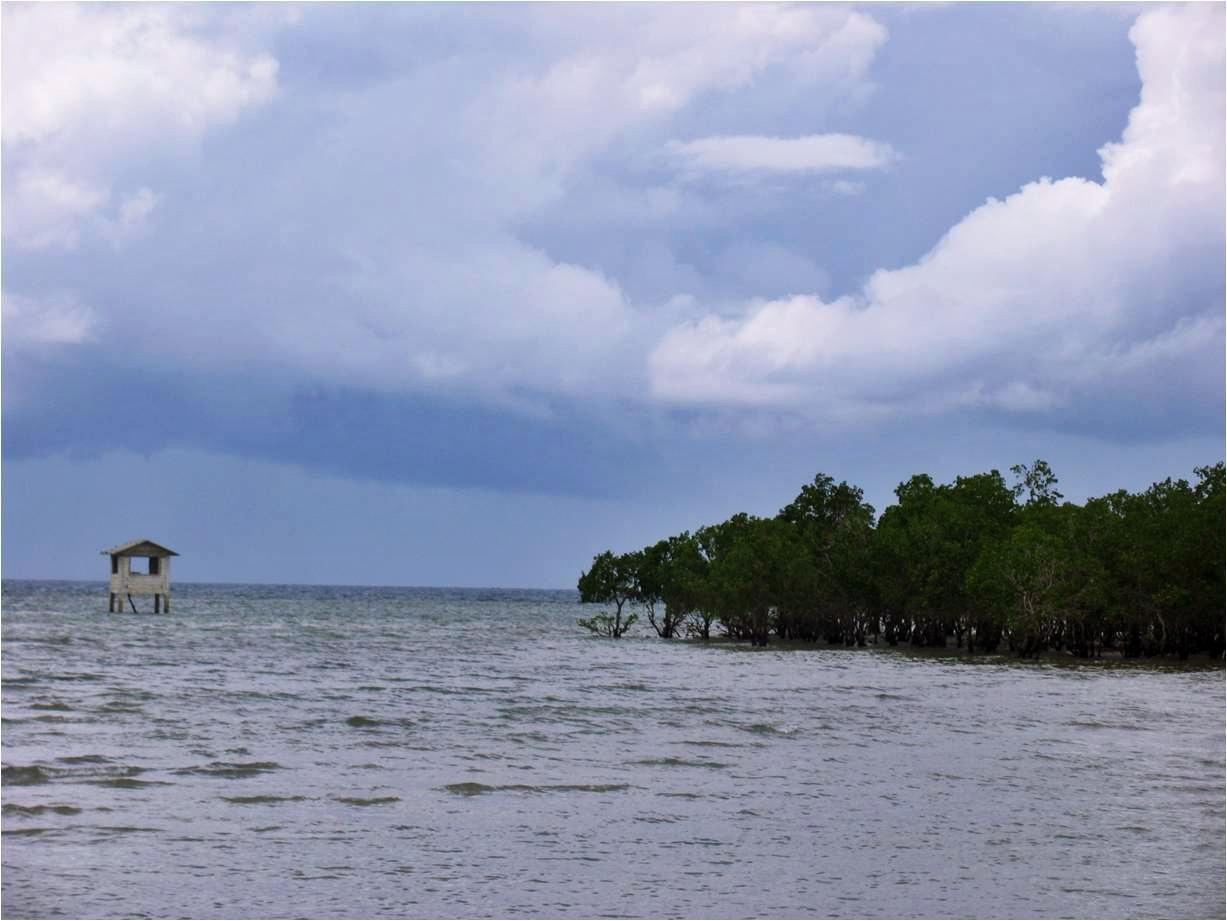 The Municipal Marine Sanctuary, established on October 8, 2000 at barangay Sta. Felomina where the beach and the Mangrove Protected Area are located, is being given utmost concern by the local government unit. The sanctuary had been set up in the area selected to be fit for the purpose due to its coral cover. A few months in existence has proven beneficial to marine ecology and to the community as well.
Fish stocks rise and corals started to live again from the destruction done by illegal fishermen. Bamboo rafts have been put in place for curious observers to for a closer view of marine ecology. It has been considered as a dive site of the municipality for local and foreign tourists visiting the place. In the sandy, white beach, one can refresh in crystal, blue waters in the area, with cottages for rent, and verdant mangrove area.
To satisfy one's longing for mother nature in the area, trekking to Tagbuane River passing through a Forestal Reserve Zone and an abode to different species of birds is an added attraction.
Accommodations in Tagbilaran:
The Peacock Garden - Upper Laya, Baclayon, Bohol, Philippines 6301

Amorita Resort - Easter A. Lim Drive, Brgy. Tawala, Barangay Tawala - Panglao Island, Bohol, Philippines 6340

Panglao Blue Water Beach Resort - Panglao Island, Danao Beach - Panglao Island, Bohol, Philippines

Amun Ini Beach Resort & Spa - Bas Dako, Candabong, Anda, Bohol, Philippines 6311

Eskaya Beach Resort and Spa - Barangay Tawala, Panglao, Bolod Beach - Panglao Island, Bohol, Philippines
Other Accommodations:
Punta Cruz Diving Resort - Barangay Punta Cruz, Maribojoc, Philippines

Nipa Hut Village Loboc - Valladolid, Loboc Near Maribojoc, Philippines

Mabuhay Breeze Resort - National Highway 3778, Panglao Island Near Maribojoc, Philippines

Hope Homes - Daorong, Danao, Panglao Island Near Maribojoc, Philippines

Ocean Bay Beach Resort Cebu - Poblacion, Dalaguete, Dalaguete Near Maribojoc, Philippines
How to get there
By Air
The main entry point to Bohol is Tagbilaran City (Tagbilaran City Airport) which is only a one hour-and-15 minute flight from Manila and 20 minutes from Cebu.
By Sea
The most convenient way to get to Bohol from the neighboring islands is by fast ferry. Fast ferries offer a high speed passenger service. These have a cruising speed of about 50 kilometers per hour.
Getting Around in Bohol
Once you arrive on Bohol, there are various ways to get around the island. You can find plenty of tricycles and some taxis waiting to bring you to most locations within Tagbilaran and neighbouring towns. If you need to go to one of the other towns on the island, you have a choice of jeepneys, busses, V-hires, or even habal-habal.
Rating:
2 people rated this.