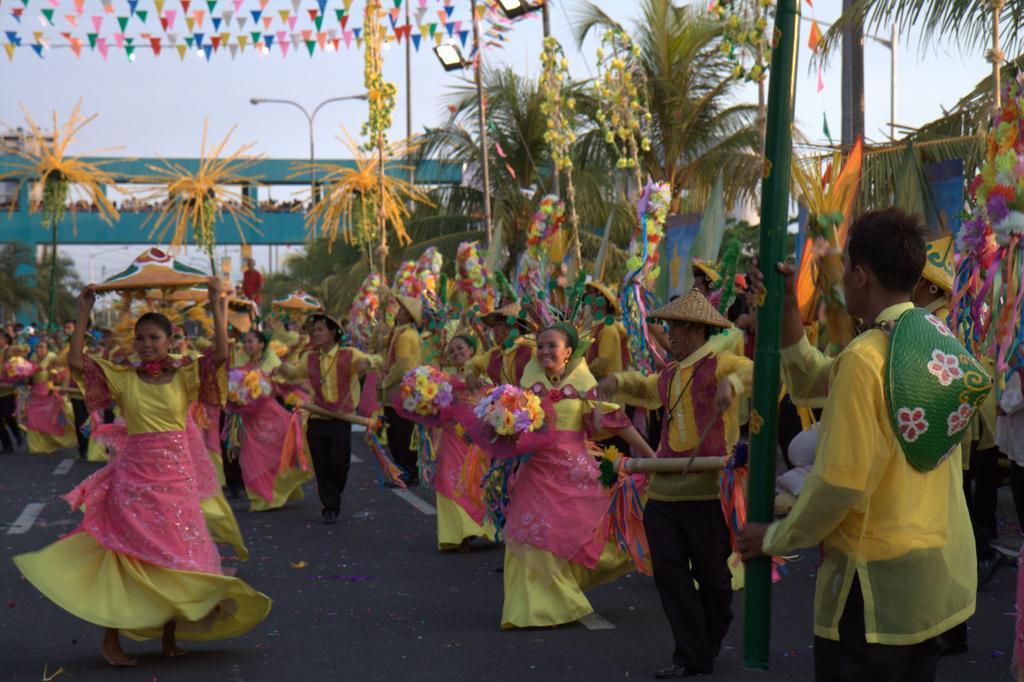 Aliwan Fiesta is celebrated yearly every April. It is held in the open area of the Mall of Asia in Pasay City. Aliwan is a Filipino word for "entertainment" or "amusement".
This festival is the Philippines' largest and grandest fiesta because all the popular festivals gather here. They compete in three major highlights of this festival: the Aliwan street dance parade competition, float competition, and beauty pageant (Reyna ng Aliwan). They compete for prestige, fame, and a booming cash prize of about three million. It is organized by the Manila Broadcasting Company together with Cultural Center of the Philippines (CCP) and the cities of Manila and Pasay.
This event features different cultures and festivals that showcase the Filipinos' religion, cultural heritage, and tradition that are woven into the fiber of our existence, not only in Metro Manila but also in the whole world. You can see lots of festivals which commemorate their gods who are responsible for their bountiful harvests, happiness, and good life, and to display their creativity through their dance styles, music, and their colorful costumes, headdresses, and props.
Each of the country's 17 regions have the option to send two groups that represent their cultural events, as well as float-makers and a beauty pageant contestant. In the cultural dance competition, each group has 100 dancers, hundreds of musicians and support staff members.
You will be awed in amazing and breathtaking performance of each province. They really put a lot of effort in practicing their dance and making their colorful costumes and props. The parade was also amazing, especially the floats. They made their floats according to the products that abundant in their place. The colors of the floats are vibrant. You can't tell which is more beautiful or who the winner is because it is hard to choose and they are all perfect for the 1st prize. Lots of people watch this kind of event and you can hear loud screams from tourists, visitors, and performers. You can also hear the loud beat of drums with different instruments that make the place very lively.
Whether this fiesta/ festival is celebrated in Luzon, Visayas, or Mindanao they still share similarities, which are to give thanks for bounty harvest in land or sea, and to to preserve and to promote our culture and tradition. True enough, the jampacked open ground of the SM MOA is a witness to the outstanding creativity and unity of the Filipino people.
Rating:
0 people rated this.