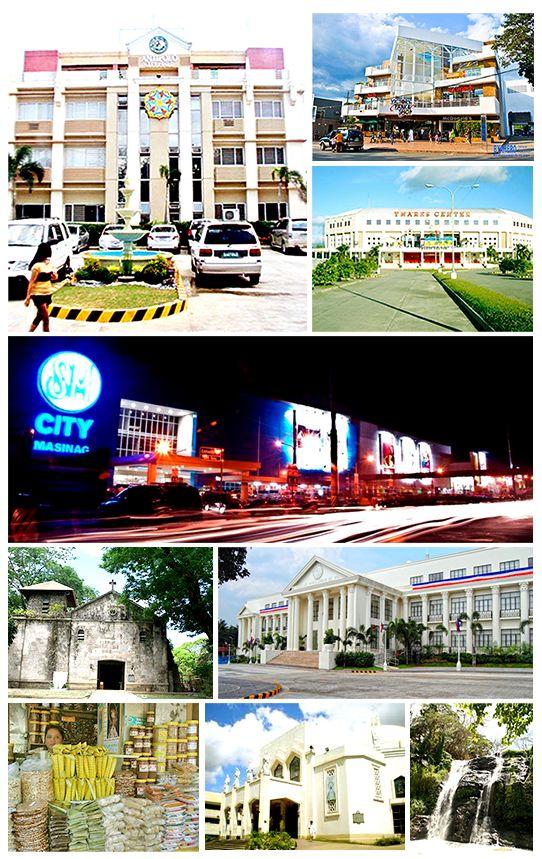 Antipolo Montage

Antipolo is a city in the Philippines located in the province of Rizal, about 25 kilometers east of Manila. It is the largest city in the Calabarzon Region in terms of population. It is also the seventh most populous city in the country with a population of 633,971 in 2007.
It was converted from a municipality into a component city of Rizal Province on April 4, 1998 under Republic Act No. 8508. A new provincial capitol building was inaugurated in the city in March 2009 to replace the old capitol in Pasig which has long been outside the jurisdiction of Rizal Province; after Pasig was included in Metro Manila in 1975. With the transfer of the provincial government to Antipolo, it is highly favored to be officially designated as the new capital of the province. On March 14, 2011, Antipolo was declared a "highly-urbanized city" by President Benigno Aquino; such proclamation however still needs to be ratified in a plebiscite.
The city is popular for being a pilgrimage site. It prides itself as the "Pilgrimage Capital of the Philippines." The Marian image of the Our Lady of Peace and Good Voyage or the Virgin of Antipolo, which was brought in from Mexico in 1626 and enshrined in the Antipolo Cathedral, has a continuous following among Filipino Catholics since the Spanish era. A popular custom of pilgrims to the Virgin of Antipolo is the trek going to its shrine on the eves of Good Friday and May 1, from various locations in Rizal Province and Metro Manila. Some pilgrims would begin the trek from Quiapo Church in Downtown Manila following the procession of the image. There is also an existing custom to have new cars blessed at the church in the belief that this will ensure the safety of the car and its passengers.
Its higher elevation than that of Metro Manila affords it a scenic view of the metropolis, especially at night. Its locally grown mangoes and cashews are popular among tourists, as well as suman – a local delicacy made out of glutinous rice. The Hinulugan Taktak National Park, which was once a popular summer getaway is being restored to become again one of the city's primary attractions. Along with its scenic beauty and inviting culture, Antipolo helps in the chipping in of the tourism in the Philippines.
Tourist Attractions
Antipolo Cathedral (Our Lady of Peace and Good Voyage/Nuestra Se'ora de la Paz Y Buenviaje)
The Antipolo Cathedral is home of Antipolo's renowned miraculous icon, the Our Lady of Peace and Good Voyage (Nuestra Se'ora de la Paz Y Buenviaje). Located at the center of the City's Poblacion, the church is the perfect place to pray for a safe journey.
Every month of May, the legendary town of Antipolo becomes a beehive of activity and vibrancy as thousands, from all walks of life, flock to this lovely place amongst the hills. To the lilting tune of native songs, people come to this town, primarily to pay homage to the miraculous Our Lady of Peace and Good Voyage and, secondly, to take a breather from the heat and dust of the summer months amidst Antipolo's refreshing mountain air, rippling streams and springs.
Hinulugan Taktak Falls
Hinulugan Taktak is a waterfall found in the province of Rizal. The waterfall area has been designated as a National Park by the Department of Environment and Natural Resources and is one of the two most popular tourist spots in Antipolo City, the other being the Antipolo Cathedral. In 1990, the waterfall has also been proclaimed as a National Historical Shrine under Republic Act No. 6964.
The history of Hinulugan Taktak is as rich and colorful as that of Antipolo itself. Legend has it that sometime during the 16th century, the townsfolk of Antipolo was bothered by a church bell that produced harsh, unbearably loud sounds when rung during Angelus. They demanded that the local priest get rid of the bell. Bowing down to the clamor, the priest had it dropped in a nearby river. This explains the name, "Hinulugan Taktak" which means 'where the bell was dropped'. As Antipolo became a religious site, the waterfalls also become a prominent destination for bathing and sightseeing. In the 1980s, it was declared a National Park by the government.
Pinagmisahan Hill (Via Dolorosa)
Formerly known as "The White Cross," the place is now known as Via Dolorosa at Pinagmisahan St., Antipolo City. The grotto-like hill is now a very spectacular pilgrim site where regular masses and "alay-lakads" are held.
On top of Pinagmisahan Hills are the enormous White Cross and the outsized image of the Our Lady of Peace and Good Voyage. Life-sized images of the station-of-the-cross can be seen along the way to the top of the hill which sacredly reflect the passion, death and resurrection of Jesus Christ.
Boso-boso Church
The Boso-boso church is a remnant of a centuries-old church which was destroyed during the Second World War. It stands in the grandeur of old stone with wild vines and plants growing on top of the church. The church continues to posses its full magnificence which will give every visitor nostalgic flashbacks of the Spanish era. A small chapel was built inside the church offering Sunday services to the parishioners.
Inday Nelly Mystical Cave
This large, interesting cave is just about 20+kms from Manila at the lower portion of Antipolo. It is being maintained by Inday Nelly who bought the large parcel of land (450+ hectares) where the cave is located back in 1970.
The cave was "developed for sightseeing." Steps were constructed at the cave entrance, the cave floor was filled with earth to level it substantially and rudimentary electric lighting was introduced into the cave for the tourists. It is a very good destination for educational field trips.
The cave has a rather predominant religious influence. Numerous natural rock formations in the cave have been interpreted as religious figures and said to have healing powers. Much like how mystical Mt. Banahaw attracts pilgrims, people go to this mystical cave to heal themselves.
The eight-floor-deep cave attracts not just adventurers and cave lovers, but also those from education institutions who want to learn more about stalagmites and the like. The molds of stones and crystals inside the cave are resemblances of Catholics images, making it yet another pilgrim site to visit in the city.
PACEM ECO-PARK
features:
An Eco Center

A Wildlife Sanctuary

A Butterfly Garden

A Butterfly Collection

A Shell Collection

A Mini-Forest

An Aviary

An Eco-Shoppe

Snack Center

(Caf' Bonne Sant')

A Herbal Garden

An Organic Farm

A Green House
The Eco-Center
PACEM Eco-Center has a conference room, a Butterfly Museum, exhibit areas, an Eco-Shoppe and a Snack Center. Located within sight of the Park's various components is a Study Center where visitors learn about environmental issues and some of the many wonders of nature. Among the many activities that can be undertaken at the Center are: Seminars and Workshops on ecology and creation spiritualityConferences on environment related issues,Lectures and various fora; Audio visual presentations on the environment Exhibits on various ecological themes such as biodiversity, forests, climate change, coastal and marine resources, waste management, among others.
Pacem Eco-Park was established by Assumption Antipolo to raise concern for the environment among students, teachers and staff, parents and visitors to the school, by providing them with an experience of the beauty of nature and the opportunity to reflect on the importance of ecological security to the survival of our planet. Situated within the campus of Assumption Antipolo, the park is a major component of the school environmental education efforts. It features an eco-center, a mini-forest, a wildlife sanctuary, an aviary and a pond.
Wildlife Sanctuary
PACEM Eco-Park promotes biodiversity through the operation of a wildlife sanctuary, which is accredited by Region IV (Southern Tagalog) office of the Department of Environment and Natural Resources (DENR).
The wildlife sanctuary shelters endangered species: various species of birds, monkeys, wild cats and other animals of Philippine wildlife. When you enter PACEM mini-forest you feel the solemnity and observe the majesty of Philippine Rainforest The mini-forest is home to many Philippine endemic orchids that add beauty to the place with their magnificent flowers.
The Mini-Forest
The PACEM mini-forest was the first feature of the Park to be launched. It is a demonstration area for sustainable forest management. Here visitors learn about the importance of forest and biodiversity for the survival of planet Earth. The mini-forest also maintains good air quality in the immediate area. Benches, walkways and a suspension bridge are also found there.
Rainforest and Butterflies
Assumption Antipolo is home to a large number of indigenous butterfly species. The Butterfly Garden has been envisioned as a laboratory where students can observe the unique lifecycle of butterflies, thus reinforcing the knowledge they acquire from books and in classrooms
St. Michael Retreat House
St. Michael Retreat House was first called The Pentecost House. It was established by the Archdiocese of Manila for Cursillo classes with the view of forming Christian leaders.
In 1972, when less and less Cursillo classes were being held, retreats and recollections organized by various parish-mandated organizations were accepted. In 1984, the management decided to change the name of the House and named it after St. Michael, the Archangel (The Archangel who led the angel host into battle, free from danger and affliction, from every hidden fault, and from every illness). Aptly called, St. Michael Retreat House is a shelter for people who genuinely seek God in silence.The House became known and continues to expand as lay people grow in their retreats and recollection, formation sessions and conferences, for vocation discernment, for values and cultural development, marriage encounter, youth encounter, and evangelization programs. The long list of activities is meant to renew them spiritually as well as to ensure their holistic and integral human education
Camp Explore
FOREST CAMP:
Camp Explore's Forest Camp can be found in the Mount Purro Nature Reserve, which is nestled at the foot of the Sierra Madre Mountain ranges and part of the Marikina Watershed. One of the main goals and advocacies of the camps is for the campers to appreciate the beauty and benefits of nature through first-hand experiences. Camp Explore believes that if campers learn to appreciate nature, they would be interested to learn more about it and do something to show their care and concern for the environment.
Activities: Teambuilding, Relay, Obstacle, Adventure, Arts and Crafts,Cooking, Hiking, Earthcare, Campfire, Basic Mountaineering Course, Orienteering, Ropes Course, Breakfast Hunt, Structured Learning Exercises, Peace Activities, Leadership Training Activities, Cabin Time and more.
SPECIAL EVENTS:
Throughout the year, CAMP EXPLORE is open to help with special events such as:
Teambuilding and Rest Recreation Events

Christmas Parties and Celebrations

Family Reunions

Leadership Training

Environmental Education

Family Bonding Activities

Birthdays

Barkadahan

Personality Development

Photo shoot, Engagement, Wedding Reception, Despedida de Soltera

Product Launch/ Campaigns
Phillip's Sanctuary: Pestaño Farm
Phillip's Sanctuary is tucked in the mountains of Antipolo. It's a 12-hectare property owned by the Pesta'o family. It's a perfect venue for team building activities, picnics, retreats, company outings, school field trips & parties. It's a haven for nature lovers and adventure seekers such as bikers, hikers, campers & mountaineers and more.
The" Ens Phillip Pestano Ecological Sanctuary" or "Phillip's Sanctuary", is a landmark destination in Antipolo City. What used to be a pineapple plantation in the past decades is now a vibrant and enigmatic amalgamation of nature's wonders ' faun, flora and fauna. Marked by thousands of Philippine-hardwood trees and fruit bearing plants, the Sanctuary is now a testament to God's partnership with Man. Phillip's Sanctuary can serve as a venue for refuge of weary souls or those seeking for oneness with nature. They welcome all groups regardless of sect, religion or denomination. Groups can opt to stay for the day, overnight, or a series of nights. We provide accommodations set in a rustic ambience; offering simple but clean beddings and basic sanitary living conditions.
Jardin de Miramar
Jardin de Miramar is situated on a three-hectare property in San Jose Extension in hilly Antipolo, a quiet, genteel area. Little used now by the family, the property was converted into a garden-like venue for parties, and welcomed its first visitors this Christmas season.
Divided into different themed areas, Jardin de Miramar—as the place is called—hosts parties, receptions and other functions in its lush multi-level gardens landscaped by Tony Leano with stately royal palms and serenity waterfalls. Hammocks strung between tall trees tempt visitors to laze an afternoon away with a good book or a nap, lulled by the soothing sounds of water and the wind rustling through the trees.
A unique feature is a 30-foot boat, reconstructed from an actual 50-year-old fishing boat used by the owner's family in their deep sea fishing business- The Angelica was retired and some of its wood was used to build the "Noah's Ark" in the Galera section of the garden, which also features a lighthouse, totem poles and a marine-themed metal sculpture by Ed Castrillo. Dramatic lighting was done by renowned lighting designer Shoko Matsumoto, who also designed the Santa House.
The rest of the wood from the boat Angelica was used for the trellises, benches and other accents throughout the garden.
Behind the Santa house is an area called Intramuros, a mini version of Manila's old walled city. Featuring adobe walls with an aged look, it is reminiscent of turn-of-the-century Spanish architecture.
This season—and anytime of the year—visit Santa and all his relatives at this very special venue, and put some ho-ho-ho into your life. Likewise enjoy the rest of the place and you'll surely have a memorable day of your life!
Pinto Art Gallery
Pinto Art Gallery is a contemporary art space in Antipolo City, Rizal. Its name comes from the Tagalog word for doors, and as such it considers itself a threshold open to all forms of contemporary art practice.
Its main structure was originally built in 2001 as a storage space for art works, but it was eventually developed by its designer, artist Antonio Leano, as a venue for exchanging exhibitions for modern and contemporary art.
Since its establishment the Gallery has presented several major art events and shows, a number of them being international in scope and significance.
The Gallery also stands as the entrance of the hectare-wide Silangan Gardens, the weekend retreat of neurologist and art patron Dr. Joven Cuanang which he started building and developing since the late 1970s.
Pinto Art Gallery, located in Antipolo City is a hilltop town east of Manila where it overlooks the metropolis and the Laguna de Bai. Antipolo is a 400-year old town noted for its Maytime pilgrimage tradition in honour of the town's patron and icon, the Nuestra Senora dela Paz y Buen Viaje.
Accommodations
Location: Sitio Loreland, Barangay San Roque, Antipolo City, Antipolo / Rizal, Manila, Philippines
Seven Suites Hotel Observatory
Location: Hollywood Hills Sumulong Highway, Antipolo / Rizal, Manila, Philippines
Thunderbird Resorts - Rizal
Location: Eastridge Avenue, Binangonan, Antipolo / Rizal, Manila, Philippines
Location: Ibanez St., Angono, Rizal, Antipolo / Rizal, Manila, Philippines
How to get there
The province of Rizal is 110 kilometers south of Manila. It is accessible by land transportation from Metro Manila and the neighboring provinces of Southern Tagalog and Central Luzon.

Buses, varied public utility vehicles, and the metro rail system with stations at Crossing/EDSA in Mandaluyong City, Robinson's Galleria in Ortigas Avenue, Quezon City and Farmer's Market in Cubao, Quezon City ply the routes to Antipolo, Taytay, Cainta, Binangonan, Angono, Tanay and other towns in Rizal.

In touring around the town or from one city to another city, jeepneys and tricycles are available as a mode of transportation.
Rating:
0 people rated this.