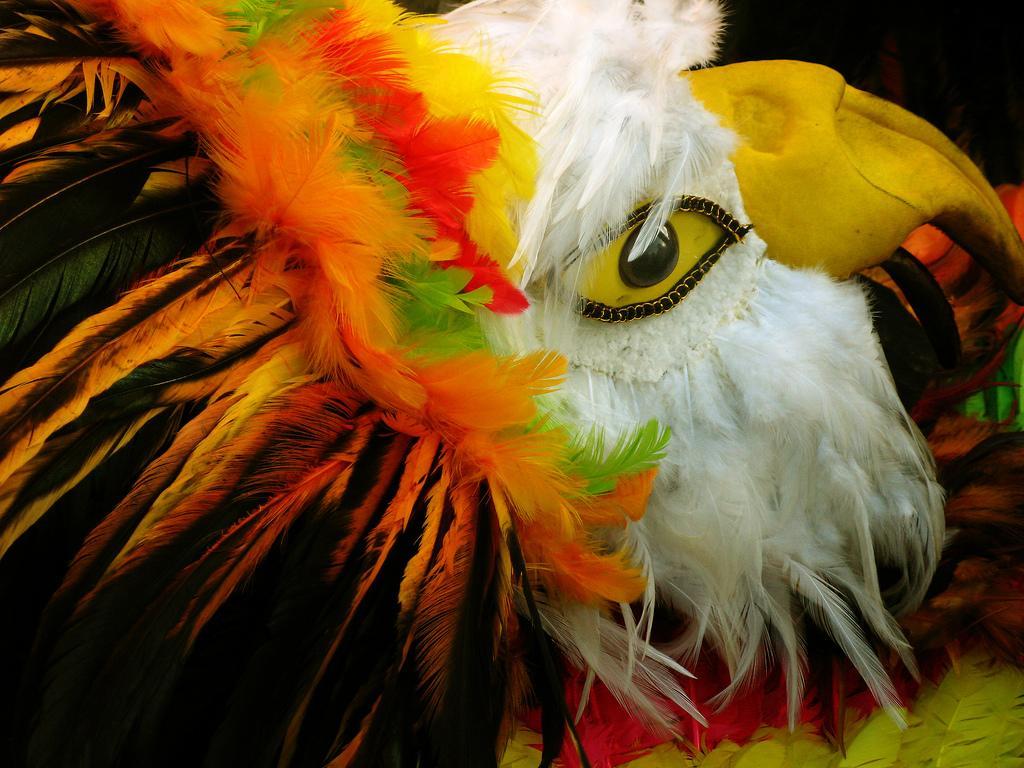 Ati-atihan (2007)

The Ati-Atihan Festival is a feast held in Kalibo, Aklan every third week of January. It is a week-long fiesta (festival) and is celebrated as a religious tradition to honor the Santo Niño (the Infant Jesus).
Ati-atihan (2011)
Ati-Atihan means "to be like Aetas" or "make believe Atis". According to the history books, Aetas were the primary settlers in Panay Island where the province of Aklan is located. People also call it "The Filipino Mardis Gras" because it is similar to the celebration of Mardi Gras in Brazil, particularly in Rio Janeiro.
The Ati-Atihan Festival is the Mother of all Philippine Festivals. Dinagyang Festival of Iloilo, which is more lavish and choreographed, and Sinulog Festival or Pit Senyor – a hopping dance to the drums of Cebu – are only adaptations of the Kalibo Ati-Atihan Festival. During the weekends of mid January to early February, other smaller towns of Panay also take part in this festival. The people of Western Visayas truly admire this festival, that's why they have copied it and made their own version.
Ati-atihan (2007)
The festival features tribal dancing on the rhythms of the drums, dancing with weapons, and parading along the streets, which happens during the last three days of a week-long celebration. The performers and dancers wear indigenous costumes, masks, headdresses and body paints, making them very colourful and really alive. You can distinguish the dynamic gay groups by their creative and glittery costume themes.
A wonderful aspect of this festival is that it includes everyone and not just a particular group of people. It allows people of all ages to participate and dance in the streets. The sounds of the drums and the rhythmic tinkling of metal and stones on bottles echo in the air. Everyone is happily shouting and dancing – their differences totally forgotten – and the streets are filled with smiling faces.

Local and foreign tourists gather in this fest every year. It is even featured in numerous TV programs and news. The most awaited event is the dance competition where dance troupes are dressed in colourful and outstanding costumes. They paint their bodies with black ash that makes them look like the native Atis. They are grouped in 40-50 talented children and teenagers who dance with all their might for local prestige and of course, the cash prizes.
Ati-atihan (2011)
Thankfulness to the Great Provider for a bountiful post-monsoon harvest, a good trade, peace in their lands, a prayer answered, and protection from famine and storm is now turned into a big feast day of Santo Niño. He is the direct link to the Father, the God of all, the Redeemer from infamy, the Absolver of all sins, and the Deliverer to a better life. This is the reason why Filipinos carry Him close to their hearts as a talisman or charm (anting-anting) – for protection from the unholy. Ninety percent of the country's population are Catholics, so they get together in this prestigious festival.

The Ati-Atihan Festival also shows how Filipinos adapt to foreign influences. As a brief history lesson, our indigenous forefathers were pagans before the Spanish colonizers introduced Christianism to them. That's why Ati-Atihan is a mix of pagan and Catholic traditions – a blend of foreign culture and our own Filipino lifestyle.

Ati-Atihan is one of the greatest and most colorful festivals in the country. Be sure to attend this festival even once in your lifetime, and you will surely love it.

How to get there
By Air
There are two airports in Aklan, the Godofredo P. Ramos Airport in Caticlan, Malay, Aklan and the Kalibo International Airport in Andagao, Kalibo, Aklan. Kalibo is 45 minutes from Manila you can book flights to Kalibo International Airport with airline companies like Cebu Pacific, Mandarin Airlines, Philippine Airlines and Zest Air that cost around 1500php – 2500. If you will go there by the airport in Caticlan, you can book flights in Airlines Company, such as Air Philippines-Pal Express, Philippine Airlines, SEA Air, and Zest Air that rates approximately 2,500 – 3,000. From Caticlan, you can ride a jeep or van going to Kalibo.
By Sea
From Manila, the trip to Aklan can last up to 12 hours and Aklan has 3 ports, the jetty in Caticlan, the port of Dumaguit and the port of New Washington. When you arrive in the port of Dumaguit, you can take a jeepney going to Kalibo and if you are in Caticlan you can ride a jeep or van.
Rating:
0 people rated this.