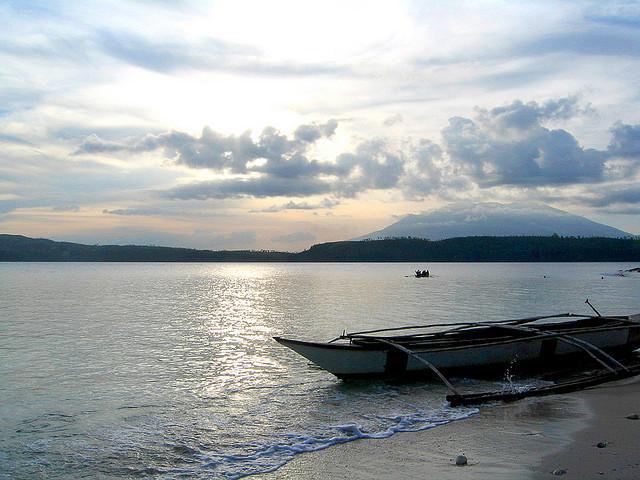 Local Bicolanos have a lot of pride in having a picturesque island that is pleasing to the senses and is a haven for those who seek new places to enjoy and explore. Atulayan Island in Sagnay, Camarines Sur is such a destination just waiting for discovery.
In this cinema-like paradise of an island, visitors can liesurely take a stroll down the beach and complete their collection of rare shells and stones. These are very bountiful in this God-given island. It is once the site of the French-Italian movie "Mutiny in the South Seas." Its ivory-colored beaches provide the best setting for the movie.
The origin of the name of the island can be traced to the local word "atol," which is "snail" in Bicolano. The island itself resembles a snail when you seen at a distance. The island has white sand beach and crystal-clear water. The place is not only blessed with white sand but its shore has also curiously shaped rocks.
Location
The island can be found in the municipality of Sagnay in the province of Camarines Sur.
How to get there
By Air
The province of Camarines Sur is accessible by plane within 45 minutes. Flights are serviced by Air Philippines (Pal Express), Zest Air and Cebu Pacific from Manila to Naga City Airport.
By Land
Air-conditioned and non-air-conditioned buses like PhilTranco, Isarog Bus Co. and Peñafrancia Bus Lines ply daily through the Quirino Highway from Manila to Naga.
From Naga, you can ride a jeepney going to Caramoan and will take about 5 hours of travel.
Going around the province
Buses, vans and jeepneys are used for traveling outside the city of Naga and going to the different towns of Camarines Sur.
For other municipalities jeepneys, tricycles and trisikad (manpowered tricycles) are the main transportation.
Where to stay

• CMC Villa Caramoan - Caputatan, Caramoan - Camarines Sur, Bicol
• Tugawe Cove Resort - Brgy. Colongcogon, Caramoan - Camarines Sur, Bicol
• RiverView Vacation Inn - No. 6 Fernandez Street Brgy. Ili, Caramoan - Camarines Sur, Bicol
• Rex Tourist Inn - Tawog, Caramoan - Camarines Sur, Bicol
Rating:
0 people rated this.