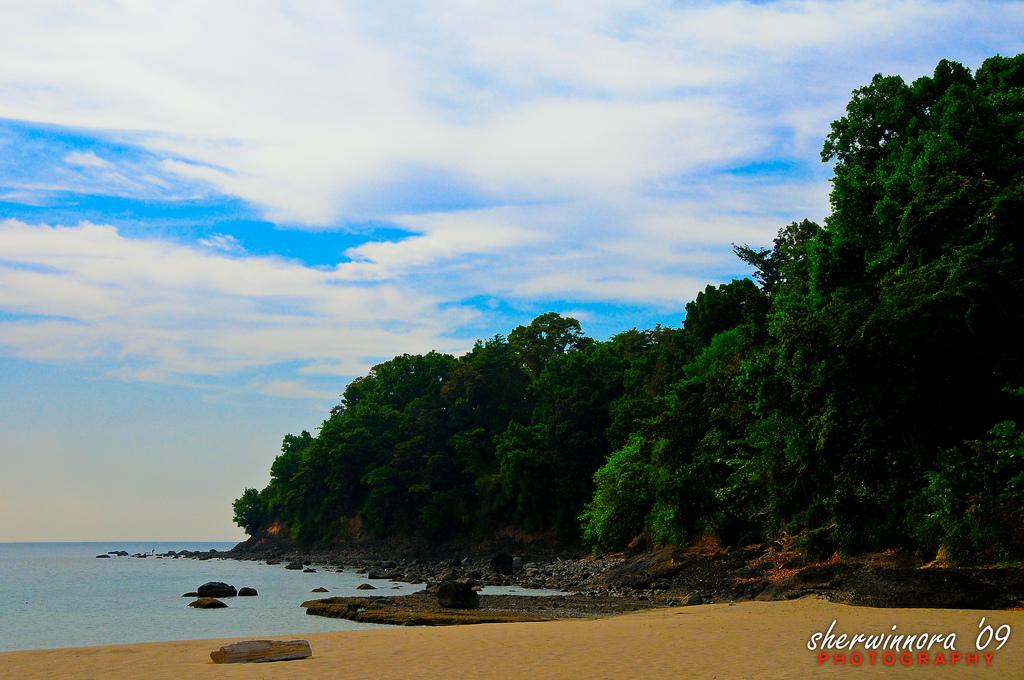 Montemar Beach Club (Bagac, Bataan)
Bataan is a province found in the southwestern part of Luzon, occupying the whole part of Bataan Peninsula. It bordered by Zambales and Pampanga to the north, the South China Sea to the west, Subic Bay to the northwest, and Manila Bay to the east. Balanga City is the capital of Bataan. The people here are called "Bataeño".
Bataan is one of the most spectacular tourist destinations in the Philippines. It has beautiful and captivating sights. This province is well-off in natural sceneries, exciting places and historical backgrounds. One of these tourist spots is Bagac Beach.

Bagac Beach can be found in Bagac, Bataan. My family and I have very fond memories of this beach. When I was young, it was always the location of our summer vacations and family reunions.
Bagac Beach is just near my home province, Bulacan. Going here from our place is just a 3-hour ride via North Luzon Expressway (NLEX). For me, it was just a short time. Traveling is as great as our destination. We didn't get bored during the trip. I remembered all the happy and excited faced of my little cousins.
Since we are a big family, we needed at least two cars to get there. Our travel was like a racing competition and the first to get to the beach would be the winner. It was so fun speeding along the expressway (considering the speed limit, of course) and feeling the country air sweeping past. Along the road, we could already spot the beach from a distance. It was a fantastic sight!
Collecting different kinds of shells and stones is one of my hobbies every time I was there. I remember how my mother and auntie would get water and sand from the beach and then they would put them in separate containers; those are their souvenirs.

We also experience building sand castles and covering our whole bodies with sand. I really missed those moments. I hope we could go there again soon.
Now, there are for-rent cottages along the beach. Accomodations can range from family rooms to air conditioned apartments with kitchen and sleeping quarters. Bringing food is permitted and free of charge. Because of its proximity to the town proper, you can easily go to churches, wet markets, and health centers.
The beach is not bustling with tourists; only local people are the ones who regularly go there. It is more developed now than it was six years ago. But, I can see that it still maintained its pristine touches. It's not fancy or outlandish. It's just warm and nice, Homely.
Bagac beach is really a paradise. The water is so clean. The rates are very affordable. The place is so peaceful and if you want to have a new beach destination, then Bataan is an ideal place for you.
Accommodations
Here is the list of some of the hotels and apartelles that can be found in the province that can accommodate tourists when visiting the province of Bataan. You may wish to check if you are near the following:
Location: Balanga City
D' Samat Lodge -

Balanga City
Hillside Garden Mansions -

Balanga City
Benzi Lodge & Restaurant -

Hermosa
Buenavista Lodge -

Balanga City
Accessibility
Via Land
Bataan is very accessible. From Manila, the travel time will take more or less 1 1/2 hours via NLEX (North Luzon Expressway). Bus companies that ply the 124 km route also service the commuting public from Manila to Bataan. An ultra-modern highway, SCTEx, connects Clark to Subic, which makes Bataan even more accessible to more cities, allowing more commuters to reach their destination in no time at all.
Enter the province of Bataan via Dinalupihan, which is 101 kilometers away from Manila. Travel time is about one hour. From there, Balanga City, the capital of the province, is around twenty kilometers away. Minibuses, jeepneys and tricycles are available as a mode of transportation around the province from the City of Balanga to nearby towns in the province. Those buses depart every 15-30 minutes to provide convenient trips to all travelers.
Via Sea
The province has an extensive coastline with 11 municipalities having marine boarders; there are about 14 tertiary parts, 2 of which are classified as national ports, namely the Port of Mariveles and the Port of Orion.
By sea via ferry from the CCP Terminal in Roxas Blvd, Manila to the Diosdado Macapagal Ferry Terminal in Orion, 22.5 nautical miles or a convenient 45-minute trip will lead commuters to the bustling Orion port. For an affordable fee, one will be able to escape the traffic of land travel and feel the refreshing sea breeze and the splendor of Manila Bay.
Rating:
9 people rated this.