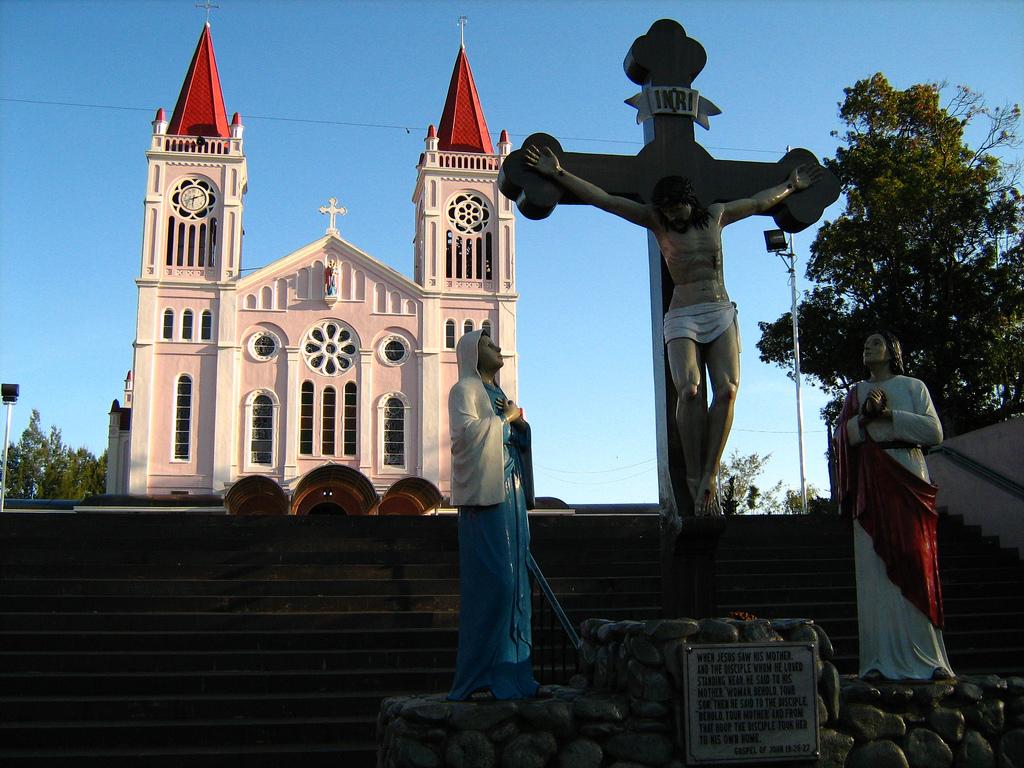 Our Lady of Atonement Cathedral, better known as Baguio Cathedral, is a Catholic cathedral located at Cathedral Loop, adjacent to Session Road in Baguio City. It is distinct for its rose-colored exterior, twin spires, and traditional stained glass windows, and is one of the most photographed iconic buildings in Baguio City. It served as an evacuation center during the Japanese occupation of the Philippines during World War II.
History
The site where the cathedral currently stands was a hill referred to as "Kampo" by the Ibaloi people. In 1907, a Catholic mission was established by Belgian missionaries from the Congregatio Immaculati Cordis Mariae, who named the site Mount Mary.
Construction on the cathedral itself was begun in 1920, under the leadership of the then-parish priest, Fr. Florimono Carlu. The building was completed by 1936, and consecrated that year, dedicated to Our Lady of Atonement.
During World War II, the cathedral served as an evacuation center. It withstood the carpet-bombing of Baguio City in 1945. The remains of thousands of bombing victims during the war are interred within the grounds of the cathedral.
Features
The cathedral has a distinct pink facade with a rose window and twin square bell towers with pyramidal roofs. Within its large courtyard is a view deck that overlooks Session Road and the downtown commercial district of Baguio City. The cathedral is accessible to pedestrians from Session Road through a 100-step stone staircase, or through the adjacent campus of Saint Louis University.
Accommodations
Golden Pine Hotel - Carino corner Yandoc Streets, Baguio City Proper, Baguio

Banaue Hotel - Banaue, Ifugao, Banaue, Baguio

Casa Vallejo Hotel - Upper Session Road, Baguio City Proper, Baguio

Microtel Hotels & Resorts Baguio - Upper Session Road, Baguio City Proper, Baguio

Citylight Hotel - 245 Upper General Luna Road, Baguio City Proper, Baguio

Prince Plaza Hotel - 17 Legarda Road, Baguio City Proper, Baguio

Baguio Country Club - Country Club Road, Baguio Country Club, Baguio

Chalet Baguio - Upper Military Cutoff Road, Baguio City Proper, Baguio

Le Monet Hotel - Ordonio Drive, Camp John Hay, Baguio

Tiptop Vacation Homes - 70A, Ambuklao Road, Simsim Compound, Tiptop, Pacdal, Baguio City Proper, Baguio

Azalea Residences - 7 Leonard Wood Loop, Brgy. Manuel Roxas, Baguio City Proper, Baguio
Accessibility
Tourists can reach Baguio by land travel. There are a number of bus lines from Manila that have daily trips going to Baguio. The travel time is about 5 to 7 hours.
Terminals that have buses that ply routes to Baguio:
Caloocan City Terminals

Pasay Terminals

Cubao Terminal
Jeppneys and taxis are available as a mode of transportation for getting around Baguio.
Rating:
0 people rated this.