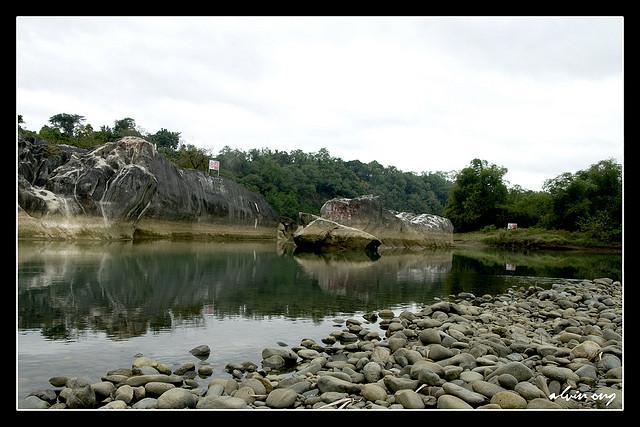 During the month of April and May, Bakas River in Barangay Matictic has been my family's favorite destination to spend leisure time and to have an escape from the heat of summer. It's been a long time since I last visited the place, but let me tour you to this one-of-a-kind eco-tourism attraction that my home town, Bulacan, is very proud of.
"Where are you guys?"
Usually when going to Bakas, we would leave home as early as we could. It is because during summer, hundreds of visitors also gather in the place to spend quality time with their family. At dawn, all the important things must be prepared, including the food, drinks, clothes, and some personal hygiene. Don't forget to bring money!
"Stop-over!"
We rent a tricycle and we traveled for about 30-45 minutes from barangay FVR, our home, to barangay Matictic where Bakas River is located. Prepare a lot of coins because during the trip, there are a lot of stop-overs, where road workers are asking for coins before you pass through.
"How much is the cottage?"
Cottages range from 100-150, depending on the type of cottage that you will rent. Honestly, I didn't see any difference from their cottages. Haha! They were just simple nipa huts where you can put your things. Sometimes, we would rent only one cottage and if there is no one using the adjacent cottage, we would also put our things there. Ssshhh!
"It is hot! Yes, but I don't care I'm going to swim…"
The clean water of Bakas is indeed an ideal place to swim. After a long trip and hectic preparations, a dip to its cool water is a refreshing one. Be careful because the stones are too slippery and some parts of the river are deep. Some visitors have their own "salbabidas," but actually, only the good swimmers are brave to go to the deeper site. If you want to explore the surroundings, you can have a walk around and just breathe the cool and fresh air.
"Woohoo! I am the king of the world!"
I remembered my friends climbed a tall tree and jumped to the deep portion of Bakas. It was a funny thing actually! They repeated it many times and before they jumped, they would shout "I am the king of the world!" Haha. It is sad because I wasn't able to capture them.
"I am hungry! Where are the food?"
When visiting Bakas, we always brought a lot of food because swimming was really exhausting. Some food are cooked in the house and some are prepare during our day to the river. I advise you to bring lots of rice and drinks. There are some stores around but the commodities are too expensive. Haha!

"123 Pose!"
A camera is a must! The whole environment should be captured. There are some sites which are good to be photographed but the most memorable things to capture are the wacky things and snapshots of your friends.
"La la la la, I love videokes!"
There are also videokes around the site which you can rent to have fun with your friends. If you are tired of swimming or feel a little bored staying in your cottage, then videokes might help you. The cost is five pesos per song so just be sure that you have a lot of five-peso coins. You can sing all you want and it is possible that you can rent a videoke for 250-500 pesos for the whole day.
"Oh really? I don't know that!"
The well-known Bakas is a very interesting spot where the foot markings of the legendary Bernardo Carpio and his pets can be found. Many said it to me a lot of times but I didn't get the chance to see this milestone. I hope next time I visit the river, I will have a glimpse of it.
"An exhausting but worthwhile day!"
It is 5pm, pack up! Our whole day to Bakas River was a great one. We were able to relax and enjoy. It is a worthwhile trip together with my love ones! Yes. This was definitely a good stuff that happens once in a lifetime.
--- :)
I miss Bakas! I hope that I can visit it sometime soon. :)
Going to Bakas
From Manila, going to Norzagaray, Bulacan is just an easy ride. There are bus terminals in D.Jose station that ply to Sapang Palay. Travel time is about 1-2hours. It is easy because the terminal in Norzagaray will be your jump off point to Bakas. Just rent a tricycle and tell the driver where you will go and they will drop you to the place.
Rating:
1 people rated this.