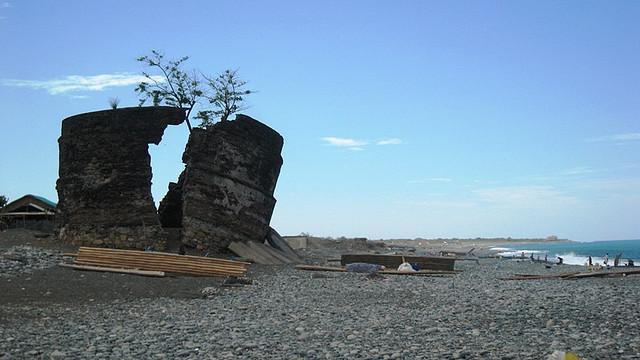 The town of Luna, La Union (formerly called Namacpacan and now named after one of the town's famous sons, Gen. Antonio Luna and Juan Luna) is the home of one of the historical landmarks that denote La Union's rich history.

The Luna Watchtower was built during the pre-Spanish times as a lookout point for impending attack by pirates or danger from the sea. Because of its massiveness and height, guards were able to warn the residents of Luna and prepare the peace officers to defend the properties and lives of their constituents. Like a guardian looking over its subjects, this ancient structure had served its purpose very well for countless times in the past.

Today, the mighty Baluarte sits on the pebbled beach of Luna. The watchtower stands in disarray, vertically cut in two because of eroded base and foundation. Its two halves stand with concrete post supports on its sides.

Time will come and this historic landmark will be finally washed away, but the Baluarte that once became a witness of Luna's heroism will continue to be a symbol of the people of Luna, strong and united like its cemented bricks.

How to get to La Union?

From Manila there are various bus lines that offer trips to La Union. Air conditioned bus firms (Dominion Bus Lines, Philippine Rabbit, Partas, Fariñas, Maria de Leon, and Viron) depart from terminals in Manila which are bound for Ilocos. The destination can either be La Union, Narvacan, Vigan, Laoag, or Abra.

San Fernando City, La Union's capital, lies 273 km. from Manila. Travel time is about 5 hours by land and 30 minutes by air. Also, it is about an hour's drive from Baguio City. You will find the town of Luna on the coast of northern La Union, only about 40 kilometers north of San Fernando City.

Getting around La Union! You can take jeepneys and mini-buses with fixed routes at a minimal fare. Tricycles (motorcycles with sidecars) are commonly used to access must-see places in between towns. Rented transportation that plies this town is also available which will bring you to the city proper.

Nearest Accommodations: There are many inns, pension houses, and hotels located in and around San Fernando.
• Oasis Country Resort - Sevilla, San Fernando City, La Union, La Union, Philippines
• Thunderbird Resorts - Poro Point Poro Point Freeport Zone, San Fernando, La Union, La Union, Philippines
• China Sea Beach Resort - China Sea Beach Resort
• Hotel Ariana - Paringao, Bauang, La Union, La Union, Philippines
• Bali Hai Beach Resort - Parungao, Bauang, La Union, La Union, Philippines
• Citylight Hotel - 245 Upper General Luna Road, Baguio City Proper, Baguio / Banaue, Philippines
Rating:
0 people rated this.