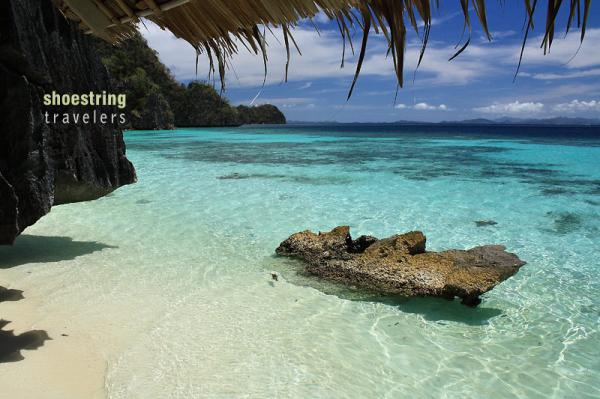 You may also check these:
https://shoestringtravelers.com/?q=node/73

Coron Island is most famous for its inland lakes and lagoons including Kayangan Lake, Barracuda Lake and the Twin Lagoons. It has more to offer, however, namely white sand beaches and several excellent spots for snorkeling and diving. In a previous visit here in 2002, we were simply overwhelmed by the beauty of its underwater marine life. More than ten years later we would be delighted that much of this beauty has remained intact.
Twin Peaks Reef and Balinsasayaw
After spending much of the morning of our first day of island-hopping in Coron at Kayangan Lake, we were off to the snorkeling grounds. First on the list was Twin Peaks Reef, a snorkeling and diving spot teaming with colorful corals and a variety of reef fishes. There is no beach to dock on at this spot so our boat simply anchored off the reef while we snorkeled away to our hearts' content. The beauty of the underwater marine life here could easily lure you away from the safety of your boat so we had to be careful not to get too far. The men of our boat crew, however, were very helpful in this regard and would assist us, especially the non-swimmers in our group, by pulling floats where we could hang on if we got too tired to swim.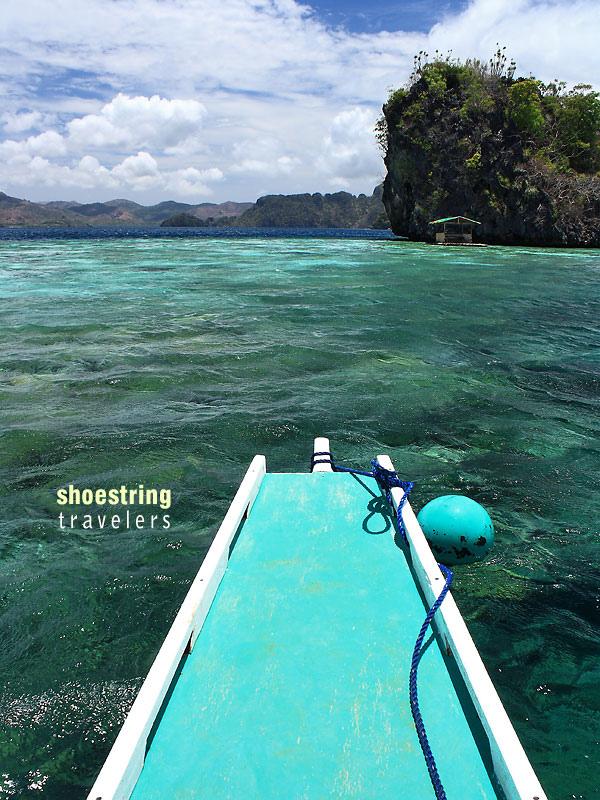 The coral-rich waters of Twin Peaks Reef viewed from our boat.
One can actually snorkel in all of the stops we made on our first day of island-hopping but Twin Peaks Reef and another snorkeling destination – the reef off Balinsasayaw Resort – had the best underwater scenery among them. The latter is identifiable via a floating house on a raft in the middle of the reef just off the resort. The water is particularly deep at this spot and one has to dive to get a closer look at the fishes. However, the corals here are incredible – probably the most scenic of all the corals we observed during this first day of island-hopping.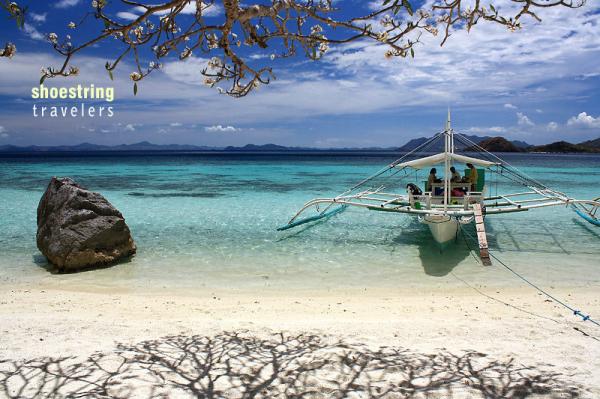 Outrigger anchored off Banol Beach.
Banol Beach
Twin Peaks done, we headed off towards scenic Banol Beach where we had our lunch for the day. We didn't notice it back in 2002 when we first stopped here also for lunch but Banol's bright aquamarine and turquoise waters was a soothing sight to calm our senses. Perfect for a short afternoon rest after a hearty lunch.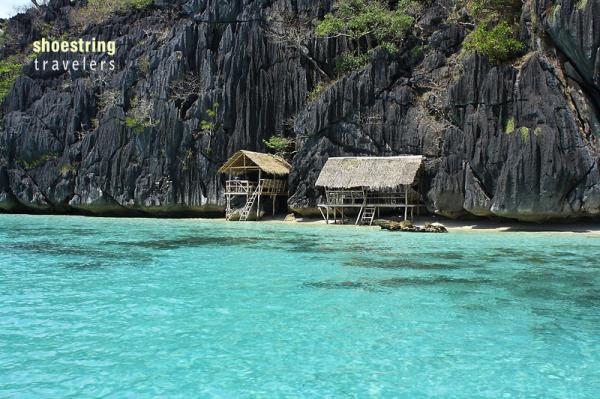 Huts on one end of Banol Beach with towering karst cliffs at the back.
Before coming over we had heard that Banol Beach was closed to the public, probably due to disagreements on entrance fees being collected here. Fortunately that was worked out well before we arrived. Banol's white sandy beach and colorful waters were not only pleasing to the eye – those waters also contain yet another colorful display of marine life as we found out later on when our boat crew suggested we snorkel in the area.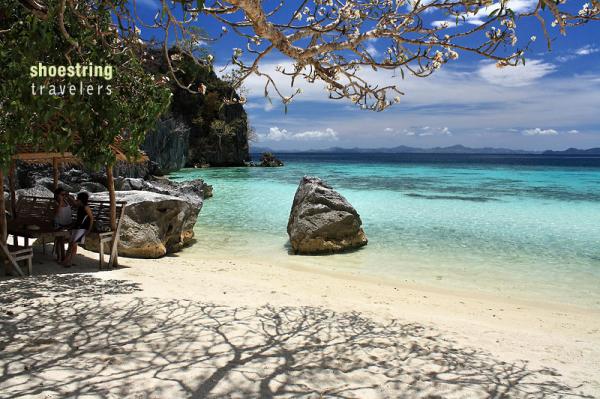 Life is definitely a beach on Banol.
We could have actually gone on beyond the far right end of Banol Beach towards Skeleton Wreck, as we previously did 11 years ago. The Skeleton Wreck is actually a Japanese ship – caught here and sunk along with 10 other freighters and gunboats by U.S. Navy bombers during World War 2. The sunken wreck eventually filled with corals and reef fishes resulting in the visual spectacle divers experience today. Along with the other sunken wrecks in the area, this has pushed Coron to the list of the top 10 dive sites in the world according to Forbes Traveler Magazine.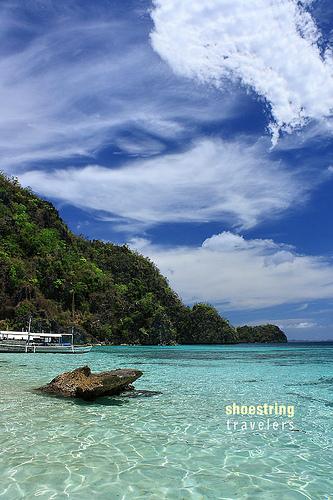 CYC and Other Beaches
We almost did not make it to Coron Youth Club or CYC Beach. This was supposed to be in our itinerary but our boat crew suggested we skip it altogether in exchange for more time at the reef off Balinsasayaw and theTwin Lagoons. But we were curious about this beach and decided to drop by for a short visit. The beach sand is white – though not as white as Banol's and the other beaches in Coron – and the waters surrounding the island are crystal clear. There were also mangrove trees all over the island and we wondered if this meant a lot of observable marine life in the area. But our group was only willing to stay for a short time and take in the view – some not even leaving the boat – before heading off to Balinsasayaw.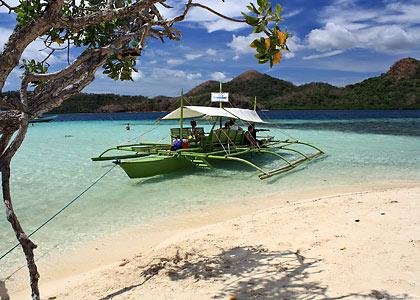 CYC Beach is a public beach in an island dominated by mangrove trees.
CYC Beach is not in Coron Island but located closer to the island where the Balinsasayaw resort is located. There are other beaches in Coron: Atwayan Beach, Calachuchi Beach, Smith Point Beach to name a few but time would not permit us to visit these. We were also wondering why Siete Pecados – a site popular for snorkeling which we visited back in 2002 – was not included in our tour package but realized that Twin Peaks might actually be a better alternative.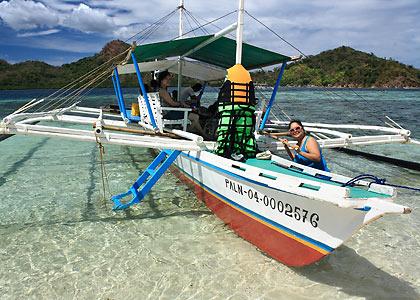 Getting There
Like Kayangan Lake and the Twin Lagoons, Banol Beach, CYC Beach, the Balinsasayaw reef and Twin Peaks are located either on Coron Island or nearby. Go to this link to know how to get to Coron Island.
Rating:
0 people rated this.