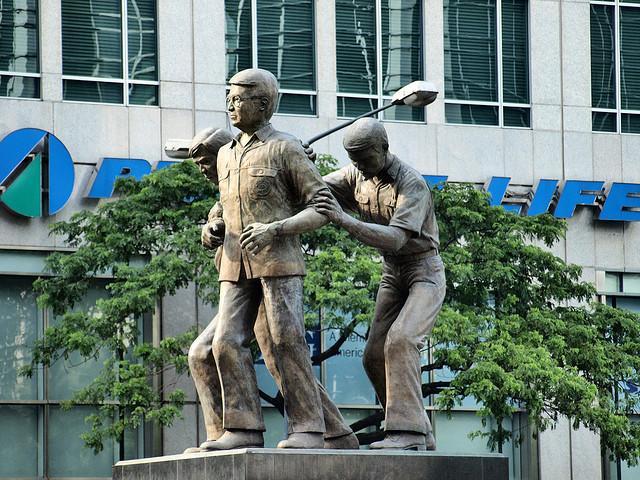 His unbeatable sacrifices and great contributions mark the anal of Philippine history. A former Philippine senator, governor, vice governor and mayor and a leader of the opposition to the rule of Ferdinand Marcos. His death opened the eyes of many Filipinos and catapulted his widow, Corazon Aquino, to the limelight and subsequently to the presidency, replacing the 20-year Marcos regime – Benigno "Ninoy" Simeon Aquino, Jr.
The Ninoy Aquino Monument depicts Ninoy with two bodyguards who are holding him, as if hiding from Ninoy's back, plausibly because they are afraid to fight. The fearless Ninoy stood proud that he was a Filipino who fought for country's democracy.
Worth the Sacrifice
To give honor to Benigno Ninoy Aquino, the Manila International Airport (MIA) where he was assassinated was renamed Ninoy Aquino International Airport (NAIA) and his image is printed on the 500-peso bill. The Philippine Congress enacted Republic Act (R.A.) 9256, declaring August 21, the anniversary of his death, as "Ninoy Aquino Day", an annual public holiday in the Philippines.
Several monuments were built in his honor. Most renowned is the bronze memorial in Makati City near the Philippine Stock Exchange, which today is a venue of endless anti-government rallies and large demonstrations, with another one bronze statue in front of the Municipal Building of Concepcion, Tarlac.
Ninoy Aquino Monument in Makati

The Ninoy Aquino Monument is a bronze monument by sculptor Peter de Guzman. It was built in the corner of Ayala Avenue and Paseo de Roxas, at the southwestern edge of Ayala Triangle where the Makati Stocks Exchange (south), Gabriela Silang Monument (south southeast), and the Filipinas Heritage Library (southeast) and are also situated.
Getting around Makati

The Epifanio De los Santos Avenue (EDSA) pass along the southeast part of Makati and connects the city with Mandaluyong City and Pasay City. The South Luzon Expressway (SLEX) runs through the western part of Makati and connects the city with Manila to the north and with southern Metro Manila. The Skyway, an elevated highway built on top of SLEX, provides residents coming from southern Metro Manila a fast way to reach Makati.

Buses plying the Epifanio de los Santos Avenue (EDSA/C-4) route from Baclaran in Parañaque to Quezon City and Caloocan City pass through the central business/financial district daily. Jeepneys ply Makati's inner roads and connect the city to its surrounding towns and cities. The Metro Rail Transit (MRT-3) on EDSA has four stations located in Makati: Guadalupe, Buendia, Ayala and Magallanes. The Philippine National Railways meanwhile has three stations: Buendia, Pasay Road and EDSA.
Rating:
0 people rated this.