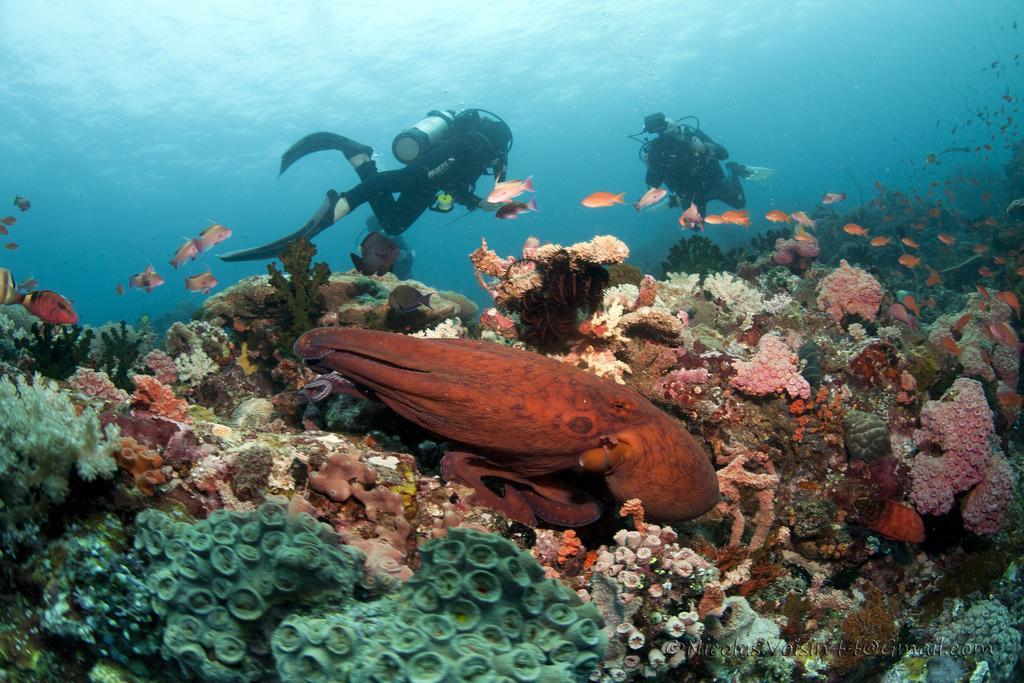 Did you know?
Anilao, Batangas ranked third on the Top Muck Diving Sites in the World, after the Lembeh Strait in Indonesia and Mabul Island in Malaysia. It is also the best site for underwater macro photography in the whole Philippines.
It is a marine protected sanctuary where you can find vibrant and colorful nudibranches and a huge variety of critters, crabs, shrimps, and cuttlefish. Observe the strange looks of the hairy frogfish, blue-ringed octopus, mimic octopus, and rhinopias. Encounter and befriend several species of mantis shrimps, gobies, and bobbit worms.
Muck Diving

Muck diving got its name from the sediment that lies beneath most dive sites. There are a number of creatures that are particularly prevalent at a good muck diving site. Frogfish, octopus, and seahorses are regularly spotted at good macro sites, but you can also expect numerous sightings of them in high quality dive sites which enjoy true muck conditions, as the black sand tends to bring out the weird and wonderful species in large numbers.
In dark, silty conditions, you are more likely to see snake eels, Pegasus sea moths, stargazers, and flambuoyant cuttlefish. Seahorses often abound in muck, where a variety of octopus including the much sought-after blue ringed octopus can also be found. Flying gurnards and flounders are also present in muck conditions in much larger numbers than in other habitats.

How to Get There

Anilao is just 3-4 hours from Manila. It is located south of Luzon Island and is approximately 140 kilometers away from Manila. Coming from Metro Manila, take the South Luzon Tollway and take the exit to Lucena. Drive along until you reach the Calamba boundary. About 1.5 kilometers, turn right and take the Star Tollway (Batangas Expresssway) up to the Batangas/Lipa exit.
1.2 kilometers from the tollway exit is the Fernando Airbase and about 2.5 kilometers from the airbase, there will be a junction the leads to Cuenca. Head for Cuenca then at Alitagtag Municipio you will see the welcome arch of Sta. Teresita. Do not enter Sta. Teresita, but instead, turn left and follow the (shortcut) road toward San Luis. This 1-kilometer shortcut road will hit the national highway. When you reach the national highway, turn left southward to Bauan.
Right before the bridge leading to Bauan town proper, turn right at the junction that leads to Mabini, and follow the road for about 8.5 kilometers until you see a triangular Y junction. Turn to the right (northeast) towards Anilao proper. 200 or so meters, there is a road to the left that goes to Barangay Solo, Bagalangit and San Teodoro. Take this road and from here and up to Bagalangit (8 kms), you will see all the resorts.
What to Pack
Here are the lists of the things you must not forget.
• scuba equipment
• change of clothes and swimsuit
• flip-flops
• first aid kit
• underwater camera
Dive Sites
Anilao is actually a barangay in Mabini, Batangas, but scuba divers use the name to collectively refer to the municipalities of Mabini to Tingloy, which have several dive sites. They are lined with plenty of good resorts that cater primarily to divers.
Designated as the "nudibranch capital of the world" by the folks at the Underwater Photography Guide magazine, Anilao has one of the highest concentrations of marine biodiversity in the planet. It is the best place for macro photography where corals are extremely healthy and sharks and bigger pelagic are often spotted, plus whale sharks, mantas, and most recently a mola-mola (sunfish)!
Dive Costs
A typical day trip for a group of 5-6 divers with their own gears will cost between 1,500-1,700 pesos ($30-$35) per person. This includes two boat rides, dive master/guides, lunch at the preferred resort, and dive passes. If you go to resorts with awesome house reef such as Planet Dive, Diver's Sanctuary, Dive and Trek, then you can eliminate the boat which costs 3,000 pesos (to be shared) and spend less than 1,000 pesos for the day trip with unlimited shore entry dive. An overnight stay will cost about 2,000 pesos ($40) for twin sharing. Discovery scuba diving costs about 3,000 pesos inclusive of briefing, gears, and discovery dive.
Diving Season
Scuba diving in the Philippines is possible the whole year around. October to the end of May is the main diving season in Anilao. July to September is considered as low season due to the monsoon rain in the region but this never really stops many divers from going. The best months are probably November and April-May, with April and May being the most crowded months at the resorts. Visibility is fairly good at 40-50 feet.
Dive Resorts
There are 10-15 resorts in Anilao for all types of budget. From any of the resorts, you can rent a boat for island hopping or arrange for a dive tour and visit the super diving spots, coves, and islands.
Farther out from Anilao coastline, Sombrero Island is one tourist spot good for scuba diving and snorkeling. For obvious reasons, it is called "Sombrero" because it looks like a top hat worn during the 1900s.
Just five to twenty minutes away from Anilao, Aquaventure Reef Clubs offers countless thrills for divers of all ages and skill levels. Explore the colorful marine life in the coral reefs and relax with Aqua Reef Club's own massage services provided like Shiatsu and Swedish massages, Reflexology, relaxing foot massage, and foot scrub and bath.
"Secret Bay", also known as "Mainit Muck", is one of the most famous yet "secretive" muck-diving dive sites in Anilao. This dive site is one of the most productive sites muck diving. It is in excellent conditions at any time of the day, but more magical at night. The best diving is between 10-70 feet deep (3-21 meters).
Dive and Trek has a fenced, protected area where they teach intro scuba diving. Fishing is not allowed here so the water is teeming with fish, large parrot fishes mostly. There aren't any corals in these shallow waters but it's really cool to be in the midst of wildlife. Even if you are not booked at Dive and Trek, you can still go snorkeling just outside their fenced area.
Planet Dive is a short boat ride away from the spectacular dive sites of Anilao. Privileged to be one of the dive resorts recently reviewed and featured by ScubaMagazine.net, Planet Dive will surely give you a good glimpse of the diversity and exhilarating experience that it has to offer.
South of Arthur's Point is Twin Rock, just right next of Planet Dive. Small reef fish, feather stars, soft corals and hard corals live here. Divers can see the wreck of a barge, and sometimes schools of barracudas and bat fish.
Where to Stay in Anilao, Batangas
Taking pride in its excellent choice of dive guides and underwater photographers who can find the rarest of critters and nudibranchs, Club Ocellaris is known as a small resort with highly personalized service, wonderful food, and warm staff members who know how to take care of tourists. Located between Basura to the north and Twin Rocks to the south, Club Ocellaris has a wide range of room with hot showers, toiletries and a great sea view.
Lying at the south of Anilao, in between the dive sites Twin Rocks and Mainit Point, Crystal Blue resort boasts of a white sand beach, full service bar, nitrox facilities, and air-conditioned rooms. Accommodations have views of the sea and tropical gardens, and offer a private balcony with a coffee table and seating for two. Bathrooms have hot and cold showers and plush towels complete with toiletries.
Dive Solana is nestled on a hilly one-hectare lot of lush greenery, with 120 meters of frontage on the beach. The resort's homey and well-appointed cottages are located at the foot of the hill, fronting the sea and the beautiful Maricaban Island. The dive center rents out complete diving gear, nitrox, and conducts introductory to advanced scuba diving lessons. Dives are customized according to the preferences of the diver/photographer. Well trained guides are on hand to help photographers find a particular species.
Stunning views, thriving underwater creatures, great dives, comfortable rooms, great photography guides, and delicious food – all these and more in Anilao, Batangas!
Rating:
2 people rated this.