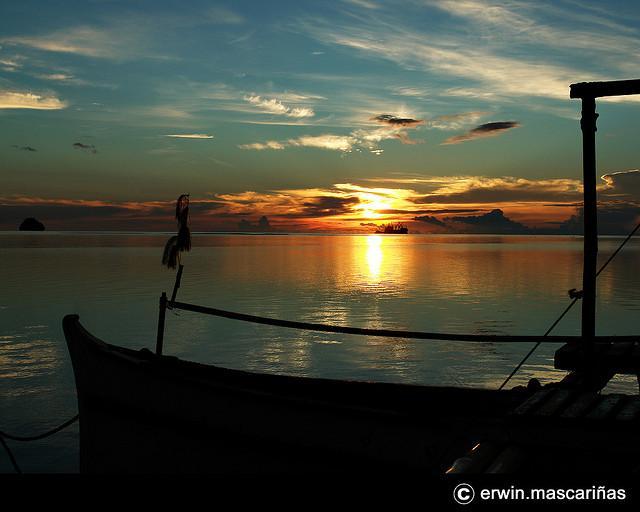 Taking pride in its long stretch of white sand beaches, hidden coves and lagoons, lakes and waterfalls and rock formations that has remained unspoiled, Surigao Del Norte offers a variety of breathtaking tourist destinations. Over the years, the province gained the reputation as the country's surfing capital and one of the top surfing destination all over the world.

Surigao City, the provincial capital is dubbed as the "Gateway to Mindanao". The ferry landing terminal in Lipata links Mindanao to Luzon through Eastern Visayas. It annually showcases in full regalia its distinct cultural heritage through the Bonok-Bonok Maradjao Karadjao Festival. It is a provincial city that offers a respite from the bustling metropolitan life.

1. Dubbed as the country's mining hub, the province is home to several industries such as mineral processing, manufacturing, agri-fishery based processing industries, tourism related facilities and services, and arts and crafts.
2. Mangrove is the major theme in the coastal areas of the province. The salt-water loving trees form interminable marine forests covering 175 square kilometers along the coasts of the mainland and the islands of Siargao and Bucas Grande. The province also boasts of a variety of marine ecosystems like the lush sea grass beds and coral reefs which are relatively healthy and intact, supporting a rich diversity of marine flora and fauna.
3. Many who are interested in game fishing and spear fishing will enjoy its bountiful seas along the tuna route. Over 23 different species are caught the whole year round. Marlin, tuna, lapu-lapu, mollusks, crabs, even squids, stingrays, and octopuses can be bought fresh and cheap from the fish vendors and fishermen.
4. The unique "magcono" (ironwood) forests of Surigao Del Norte are still one of the watersheds most productive resources.
5. The province also has many caves and tunnels in its islands. Some are half-submerged in water most of the time and could be accessed only during low tides like the Suhoton Cave at Bucas Grande Island.
6. Its biggest islands are usually mountainous and rich in minerals. Nonoc Island has one of the world's largest deposits of nickel. The smaller ones either rest on sand and gravel or have a limestone base bonded by boulders, reefs and sandbars. Some islets like those in Del Carmen in Siargao Island are actually nothing more than a cluster of rock formations jutting out from the sea crowned with shrubs and coconut trees. There are also springs, lagoons, caves, waterfalls, mangroves, marshes, and whirlpools which are appealing to all nature lovers.
7. Surigao Del Norte is a mosaic of islands at the rim of the Asian continental shelf. It is perched at the northeastern tip of Mindanao and faces that abysmal canyon known as the Philippine Deep.
8. On the Northern side of the province are Siargao and Bucas Grande Islands. These island paradises are famous for their long stretch of sugar-fine beaches, perfect surf, vast mangrove forest, and deep waters teeming with a plethora of marine life.
9. The Panhutongan and Amoslog archeological excavations in Placer would give a glimpse of the origins of the province and its people. Placer is on public display at the Surigaonon Heritage Mini-Museum located at the Boulevard in Surigao City. Collections are ancient archaeological diggings like burial coffins, jars and antique Chinese kitchen wares unearthed in Panhutungan.
10. Surigao is home to the Mamanwa ethnic tribe. Their dances are showcased in a local festival called "Bonok-Bonok", held at the feast of San Nicolas de Tolentino which is held annually on September 10. The Bonok-Bonok depicts the native folks' merry-making to show gratitude to God for bountiful harvest and good health.

How to get there

By air: From Manila, there are daily flights to Cebu. There are also daily flights direct from Manila to Surigao via PAL EXPRESS. Cebu Pacific likewise flies from Cebu to Surigao daily except on Mondays and Fridays. One can also take direct flights from Cebu to Sayak Airport in Del Carmen, Siargao Island via Cebu Pacific every Monday and Friday. There are also daily flights from Manila and Cebu to nearby Butuan City via PAL and Cebu Pacific. Butuan City is 2.5 hours by bus ride to Surigao City.

By sea: Direct voyage from Manila to Surigao are extended by WG & A and Sulpicio Lines every Tuesday and from Surigao to Manila every Thursday. Voyages from Cebu are available daily except Monday via Cokaliong Shipping Lines and Cebu Ferries. Upon reaching Surigao City, there are fast craft transfers going to Dapa in Siargao Island. Commercial and cargo inter-island vessels travel daily to various municipalities of the island via a 2-3 hours trip from Surigao City. Motorized pumpboats and non-motorized bancas also ply the water routes.

By Land: There are regular bus trips via the "RORO" ferry boat from Manila to Mindanao using Surigao City as the gateway passing through Bicol, Samar, Leyte and Tacloban. Buses, jeepney vehicles and air-conditioned shuttle vans ply the routes to the different municipalities in Siargao Island and the mainland regularly. The most popular and convenient mode of transportation within the municipalities going to far flung areas is the "Habal-habal" or the single motorcycle ride.
Hotels in General Luna, Siargao Island, Surigao Del Norte:
• Buntog Lodge & Cottages
• Cheri Nicole Beach Resort
• Drop Inn Beach Resort
• Jade Star Beach Resort
• Villa Ernesto Beach Resort

Rating:
1 people rated this.