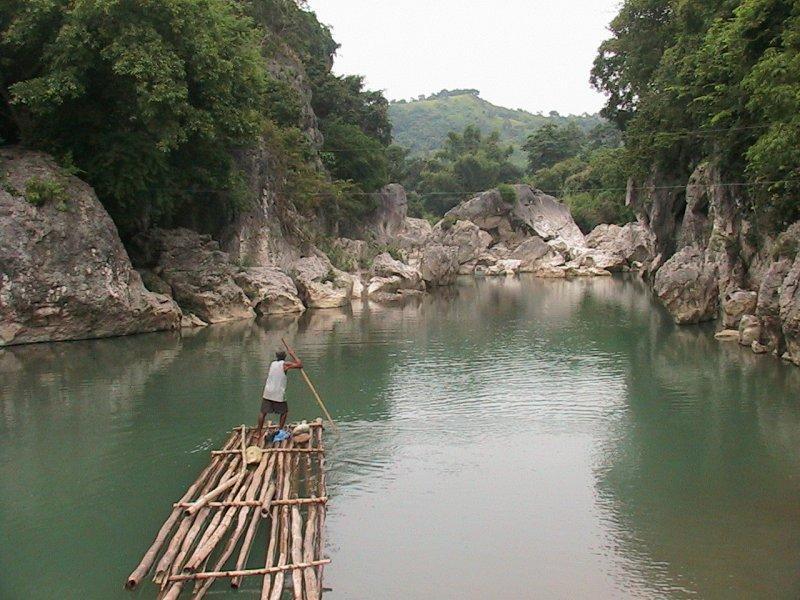 Surrounding the southern edge of the Sierra Madre range and located a few kilometers from San Miguel Bulacan, Biak na Bato is one of the country's ecological and historical treasures. Literally known as "split boulders," it was the mountain hideout of the Filipino revolutionary forces during the Spanish regime. It was where the historic Republic of Biak-na-Bato was established and where the Malolos Constitution was signed by Gen. Emilio Aguinaldo and Pedro Paterno.
The challenging rock formations of the park appeal to the adventurous spirit of tourists. The 2,100-hectare national park offers various ecological attractions including hanging bridges and staircases connecting rivers and caves, winding streams, cascading waterfalls, and thick forests. Hundreds of caves are made for pleasurable exploration, like Bahay Paniki Cave, Aguinaldo Cave, Madium Cave, and Tanggapan which was the hideout of Aguinaldo and other revolutionary fighters during the Filipino-Spanish War.
Biak na Bato is now a popular tourist destination attracting families who are looking for a refreshing summer retreat. For students, exploring Emilio Aguinaldo's hideout and the labyrinth of caves and rivers where every revolutionary soldier once walked is rather more meaningful and engaging than the typical memorization of dates and names lifted from the textbooks.
The place is very ideal for environment exploration and exposure with its cave systems, forests, river systems, and mountains.
Points of Interests
Discovering cave systems must be on top! Hundreds of caves to tour across the park are good enough to satisfy a day's worth of exploration for those with an adventurous streak. Interesting rock formations, stalagmites and stalactites are testaments that these caves had been here long before the revolution, even longer than the Spaniards had been in our country. They were the silent witnesses to the planning of the Philippine Revolution and had probably been home to the nomadic tribes that first settled in the country. Caving also doubles your chances of seeing endemic species like cloud rats, wild pigs, bats and other endangered fauna.

Expect hiking activities in the site and be ready to get wet. Different hiking trails can lead to small rivers, green forests and hanging bridges. Climbing the Susong Dalaga of San Miguel from Mount Mabio, or the highest point, Mt. Silid at 1009 meters above sea level is one of the best adventures that the park offers.

River Trekking from Yungib to the park entrance is a fantastic experience. Kayaking is one of the major interests of tourists.

Swimming and camping are also offered in the site. A lot of local tourists come to this place during the weekend because there are picnics grounds available as well as swimming areas. It is ideal place for the whole family and a good destination for recreation and leisure during weekends and summer.

Mountain biking is available in the park. The park has mountain bike trails for a leisurely exploration of the area.

Shopping for souvenirs is a major must-do! There are rows of souvenir shops in the park selling indigenous materials such as limestones, stones gathered from Balaong River which traverses the Biak-na-Bato National Park, and seashells.



A visit to Biak na Bato National Park is very pleasant and relaxing. Today, national and local government agencies in Bulacan, together with the people of Biak na Bato, work together to preserve the beauty and wealth of this national park. Biak na Bato should be protected so that the youth would have a concrete testament of the courage and heroism of their forefathers, and for them to do their part in protecting the environment, national identity, and freedom.

How to get there
For commuters, ride a Baliwag Transit from Manila to San Miguel, Bulacan. Then, ride public transport vehicles from the terminal to Biak-na-Bato.
Rating:
12 people rated this.