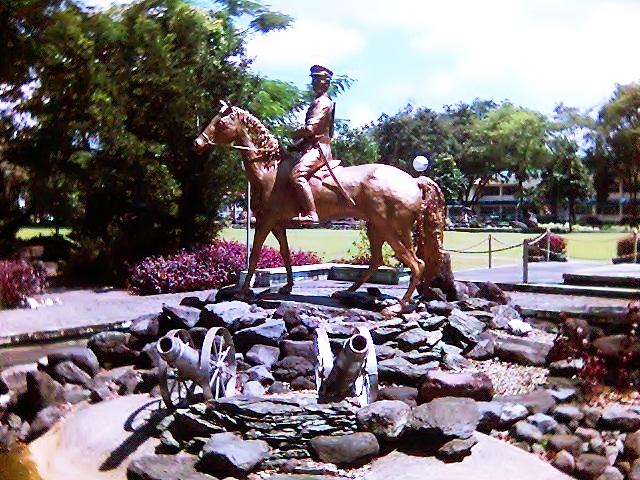 The statue of General Ola at the Bicol Heritage Park


The Bicol Heritage Park is one of the main historical destinations that can be found in Legaspi City, Albay. It is situated inside Camp General Simeon Ola Headquarters - a seat of the Police Regional Office 5 for the Bicol Region.
The General Simeon Ola statue is one of the well-known monuments that can be seen in the Bicol Heritage Park inside the police camp. It was built in honor of General Simeon A. Ola and also to commemorate his courage and heroism when he was alive. He was a hero and Katipunero during the Philippine Revolution. He is a native of Guinobatan, Albay who launched guerrilla raids on American-occupied towns in Albay until his capture on September 5, 1903. He joined the Katipunan in 1896 and was known as one of Bicol's revolutionary leaders.
The camp is open to the public as a culture and heritage park. Visitors are very welcome to visit one of the most historical places in Legaspi City. One can take pictures with the statue whiloe re-living the history behind the heritage park.

List of some of the accommodations in Albay
Alicia Hotel - F. Aquende Drive, Albay District, Legazpi City

Casa Eugenia Hotel and Restaurant - Tagas, Tabaco City

Hotel Casablanca - Peñaranda Ext., Legazpi City

Hotel La Trinidad - Rizal St., Legazpi City

Hotel Venezia - Renaissance Gardens, Washington Drive, Legazpi City

Pepperland Hotel - Airport Road, Legazpi City

Jennifer's Garden Apartelle - J. Estevez St., Albay Dist., Legazpi City

Hotel Victoria - Rizal St., Legazpi City

Avenrose Suites - Washington Drive, Legazpi City

Cliffstone Inn - Lidong, Sto. Domingo, Albay

Ibalong Travelers Hostel - BDB Bank Bldg, 210 J.P Rizal St

Divine Tourist Inn- A. Luna St., Divino Rostro, Tabaco

Neuhaus Tourist Inn - Magayon Dr., Daraga, Albay

Sambitan Tourist Inn - Diversion Road, Ligao, Albay
Getting there
By Air
Airlines from Manila have daily schedule flights from Legazpi City to Manila and vice versa.
Manila to Legazpi City

Legazpi City to manila
By Land
Several aircon tourist bus companies ply the Manila-Legazpi route daily, an average nine-hour travel time, passing through scenic roads.
By Rail
By train, the average travel time is 16 hours via the Philippine National Railway, the country's sole train transport service.
By Sea
Several shipping lines offer regular trips from the Visayan region to the island province of Masbate to Albay via mini ports of Pilar and Donsol, Sorsogon.
Getting Around
Buses and jeepney's are generally the main mode of transportation in getting around Albay's destinations. Pedicabs and tricycles are also available for short distance travels. Taxis and rent-a-cars are also available.
Rating:
0 people rated this.