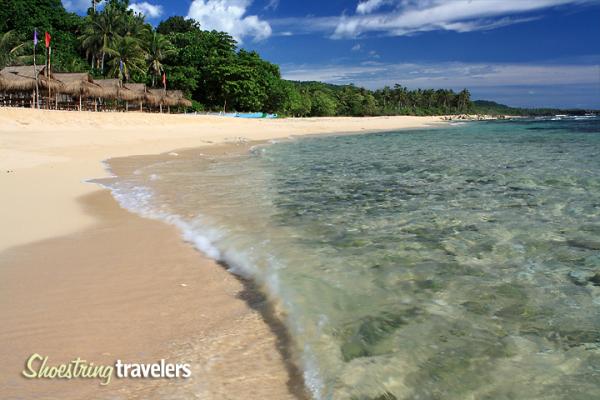 You may also check these sites:
https://www.shoestringtravelers.com/?q=node/8
https://shoestringdiary.wordpress.com/2015/05/12/the-unknown-side-of-pangasinan/

Back in the summer of 2004 our team in Baguio City was looking for a retreat and recreation place not more than four hours away. We've already gone to the Hundred Islands off Alaminos twice so it was time to look elsewhere. We made an off-hand suggestion to try Bolinao and before we knew it the whole team was off to this coastal town on the northwestern tip of Pangasinan where the Lingayen Gulf meets the South China Sea.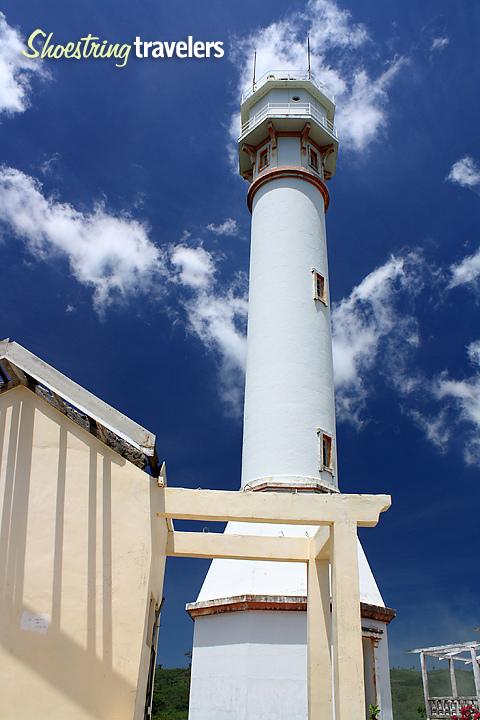 The Cape Bolinao Lighthouse at Patar
Bolinao is known for a number of pristine beaches, the most popular of which is Patar Beach, situated on the western coast along the South China Sea southwest of the town proper.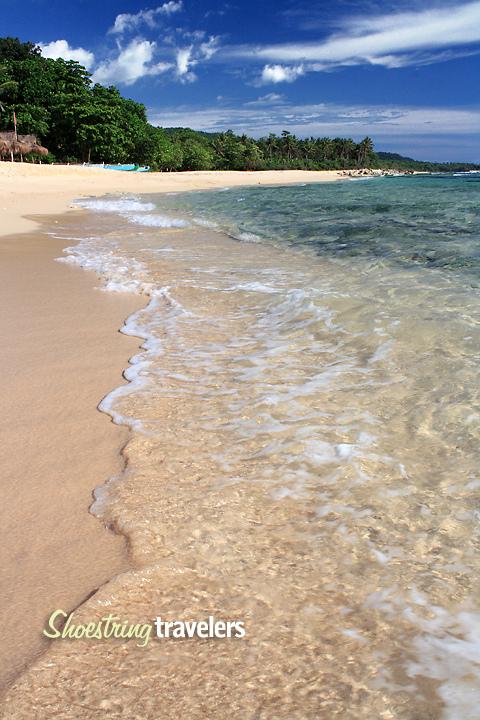 The creamy white sand at Patar Beach
To get there in 2004, our team had to rent a jeepney to take us on a trip that included 30 dusty minutes of driving along a rough road. But once we got there we knew the place was worth the hassle. On our next visit to Bolinao seven years later (2011) the road was still unpaved along the last stretches to Patar Beach, but it is at least graded and the ride is not bumpy at all.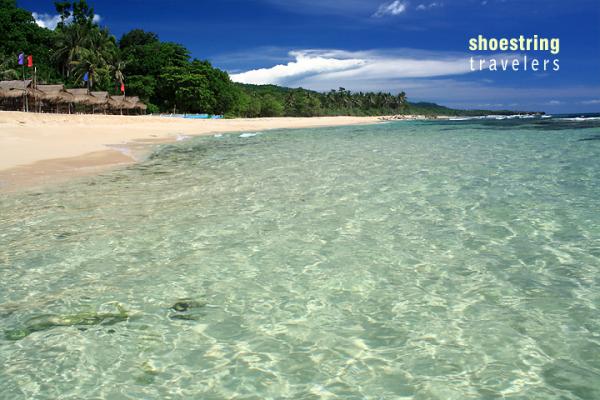 Nothing like blue skies, turquoise waters and creamy white sand.
Patar Beach is a creamy white sand beach that slopes gradually from shore making it good for swimming. It is a public beach so it gets practically no maintenance. The tangle of seaweed in some areas especially during the hot and dry months of April and May attests to this fact. There are several more stretchers of white sandy beach with coral rock formatioins and small coves as you head further down south along the coast. This coastline includes stretches of nice beaches in the towns of Agno, Bani, Burgos andDasol. You can easily observe beautiful, white-sand beaches along Pangasinan's western coast from online satellite maps – many of which are not that accessible at the moment – just waiting to be discovered.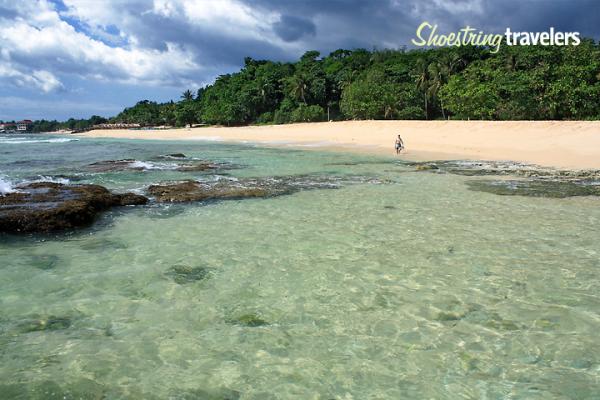 The white sandy beach stretches down further south.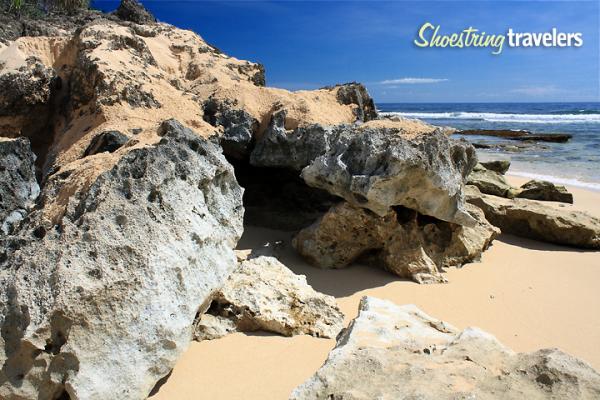 Rock formations at the southern part of Patar Beach, Bolinao
One nice thing about Patar Beach is that the place has hardly changed since we last visited seven years ago. There might be several more nipa huts (some of them under construction) along the beach but further south the beach has remained relatively pristine. Most of the resorts including the upscale Puerto del Sol are located along the coast north of Patar Beach. The only resort right on Patar Beach is Treasures of Bolinao which we heard charges high rates perhaps due to their monopoly of the area. South of this resort are the nipa huts that we rented for the day. There are some stores back of the beach where the public toilet and baths are also located.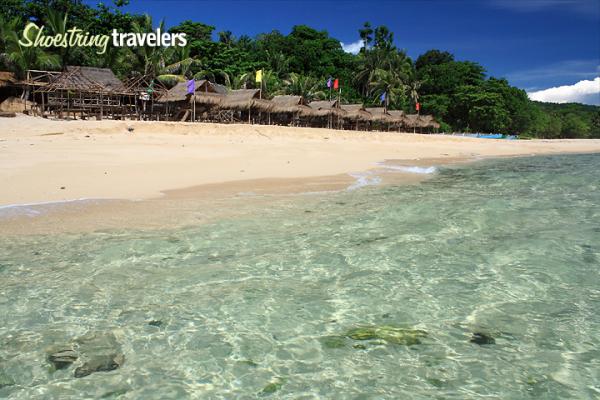 Native huts along Patar Beach with a few more under construction.
Although Patar Beach is excellent for swimming there isn't a lot of underwater marine life that you can observe when you snorkel. This is probably because there isn't much coral in the area although the snorkeling might be better the farther down south you go. But we did have the good fortune of seeing some fisher folk bring in a live puffer fish that they said they would feast on later. These fish are supposed to be an expensive delicacy in Japan and have been known to cause the deaths of some people when the poison was not properly removed.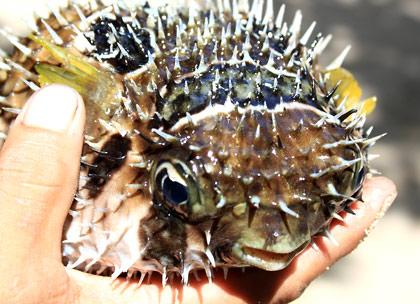 More than its spikes, puffer fish like the one shown above have enough poison to kill
a human being if not removed properly before it is cooked.
Before heading to Patar Beach during our second visit we detoured from the main road to the beach to see Cape Bolinao Lighthouse atop Punta Piedra Point. This lighthouse was constructed in the early part of the 20th Century under American rule and is supposed to be the second tallest in the Philippines after Cape Bojeador Lighthouse in Ilocos Norte.
There are other places to visit in Bolinao. Driving along Patar Road on the way to the beach in our second visit, we noticed signs leading to three caves: Enchanted Cave, Cindy's Cave and Wonderful Cave which are actually underground pools. We had also wanted to visit the giant clams at the University of the Philippines Marine Science Institute in Guigui-wanen on our 2004 trip but never made it after maxing out our time and energies at Patar Beach. It was the same dilemma seven years later when we couldn't stay overnight in Bolinao to further explore the place since we had already planned to spend the night in Tondol Beach, Anda. One of our frustrations as shoestring travelers is being forced to leave a place without being able to explore more of it to our hearts' content because of the limitations of time (spelled P-E-S-O-S).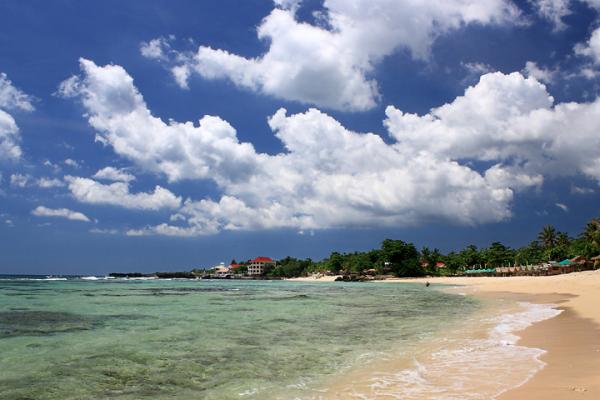 Blue sky and clouds over Patar Beach. The Treasures of Bolinao Resort may be seenin the center background.
Getting There
There are several buses that ply the Manila to Bolinao route namely Victory Liner, Five Star, Dagupan Bus, City Trans and Philippine Rabbit. Travel time is roughly around six hours. To head to Patar Beach simply rent a trike in Bolinao town proper.
If you're going by car take the North Luzon Expressway (NLEX), then the Subic-Clark-Tarlac Expressway (SCTEX) towards Tarlac City. At Tarlac City take the road going to Camiling and drive all the way to Alaminos, Pangasinan. At Alaminos continue along the national highway until you reach the junction at the next town of Bani. Take the road going north to Bolinao. This road goes all the way to Bolinao town proper.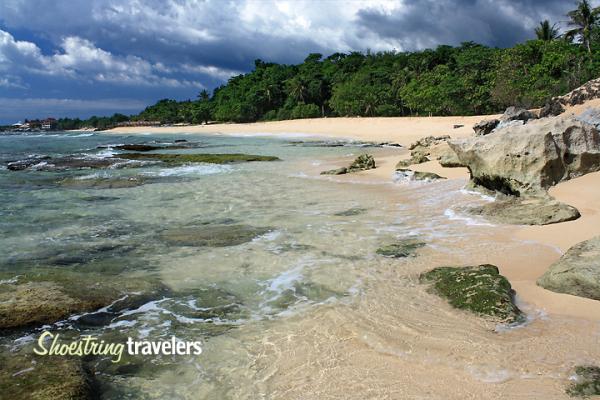 If you wish to go straight to Patar Beach take the road on the left opposite the Bolinao Central School before you reach the town proper (this road goes by the name of Saturnino Camangian on Google maps). This latter road goes down south where it forks into Patar Road just after the Balingasay National High School and the bridge over the Balingasay River. The bridge is your cue to take the fork on the right which is Patar Road. Keep driving down this road; you'll pass several resorts on your right including Puerto del Sol. Patar Beach is at the end of this Road just after Treasures of Bolinao. Total travel time to Patar Beach is around 5 hours.

Rating:
0 people rated this.