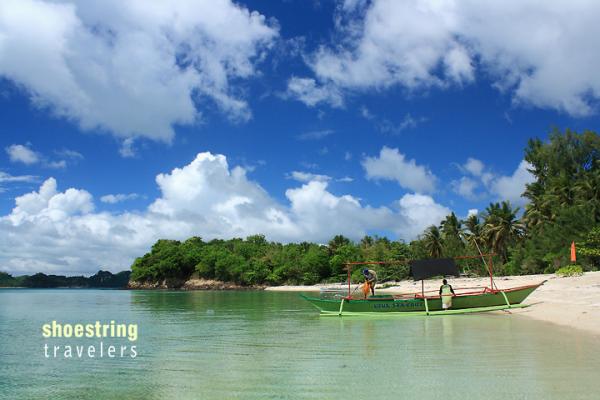 You may also check these sites:
https://www.shoestringtravelers.com/?q=node/51

Leo's mom had been going with friends to Unisan in the Bondoc Peninsula, Quezon province, for some time now and we've often wondered what attracted them to the place. Until recently, that is. When pictures of white sand beaches and quaint tropical islands lying just off the coast in Padre Burgos in the same Bondoc Peninsula started popping up on the internet, we decided it was time for a visit ourselves.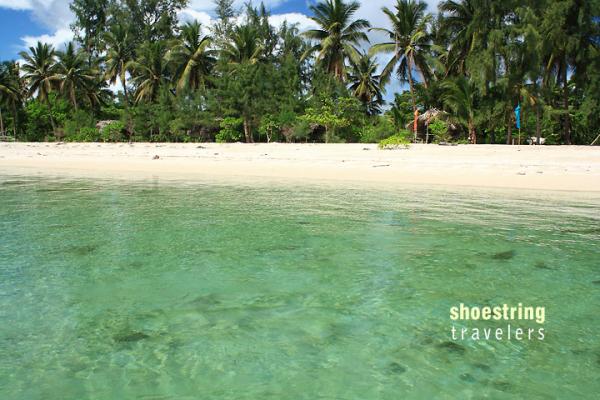 Padre Burgos boasts of several white, sandy beaches just a few minutes away by boat. This is a beach on Dampalitan Island.

It was late in October and still very much within the typhoon season when we made the trip to Padre Burgos with a few young friends. But there was a break in the weather and although cloudy at times, the skies were generally fair when we came.
One of the nice things about Padre Burgos is its distance from Manila: it's a leisurely 4-hour drive in non-rush hour traffic. The town itself is small and laid-back and has not yet been exploited that much for commercial tourism. We chose to stay at the Tamarind Tree Resort in Barangay Basiao which is just off the national road and has a beach front with a nice view of Lipata Island. It is one of only two resorts in Padre Burgos as of this writing. The resort has some huts close to the beach front and a few more on a hill near their second entrance. We thought their prices were a little too high but later thought that it was probably due to the cost of maintaining the resort with few visitors the year round – it seems not too many people have heard about Padre Burgos.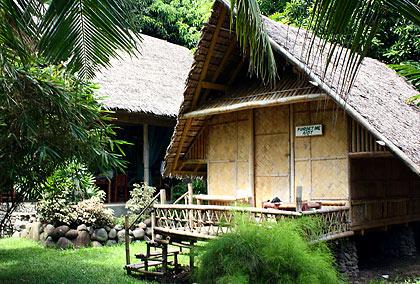 One of the beach-front cottages at the Tamarind Tree Resort.
It was late in the morning when we got into the Tamarind Tree Resort and we immediately took their boat rental package to Dampalitan Island, Borawan Beach and Puting Buhangin in Pagbilao. We could have actually taken the cheaper option of renting a boat at the Aplaya, a small port near the town center but I've read somewhere that some of the boats there do not provide life vests. We carried packed lunch aboard our boat since our island destinations won't be able to provide that. This we got from an eatery along the main road outside the resort. They were selling viands for only P30 and even though the servings weren't that generous, they were good enough for us and tasted well above our expectations (their sisig was grilled instead of fried and actually tasted excellent).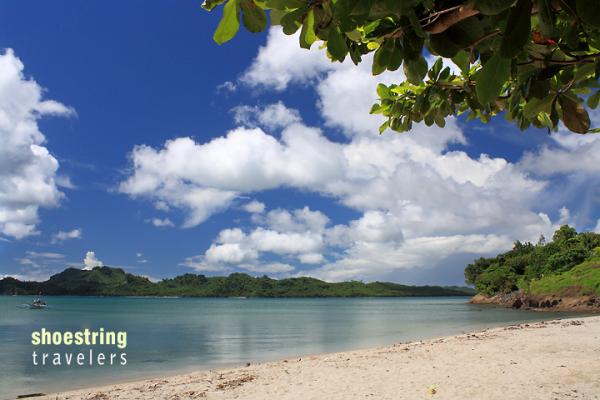 A view of Lipata Island from the beach front of the Tamarind Tree Resort.
The beach front was our boat's jumping-off point to other beach destinations in the area.
Dampalitan Island
Our boat proceeded to our first destination: a beach on Dampalitan Island that was just 10 - 15 minutes away. From afar the beach on Dampalitan looked really inviting with its creamy white sand and crystal-clear tropical waters set against a backdrop of coconut palms and evergreen trees. The latter (called agoho trees in the native dialect) were reminiscent ofAnawangin and Nagsasa Coves in Zambales. Our first act upon reaching Dampalitan was to settle down for lunch which we took under the cool shade of the verdant coconut palms and agoho trees.
The beach in Dampalitan is not outstandingly beautiful but it is nice and laid-back and offers a peaceful retreat from the crowded beaches of overdeveloped tourist spots such as Boracay. After a short rest under the coconut palms, we were soon swimming and snorkeling within an area protected by netting to keep jellyfish out (Leo absent-mindedly left the protective covering of this net to take pictures of the beach and instantly got stung by a jellyfish that left a long, painful mark on his leg.) Snorkeling is not outstanding here with only a few fishes visible. It seems the corals have been destroyed by illegal fishing. Dampalitan is really more for swimming and just lazing around.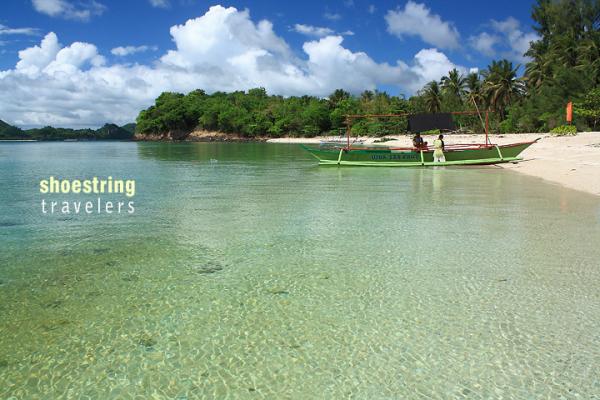 Our outrigger boat docked on the beach at Dampalitan Island.
We also took a stroll around the island and observed a cove lined with mangrove trees to the right of the main beach where we had lunch. The cove is covered with pebbles and to get a proper swim one has to move out from shore several meters more, but it was a beautiful subject for photography. Beyond the cove lies an even longer stretch of beach.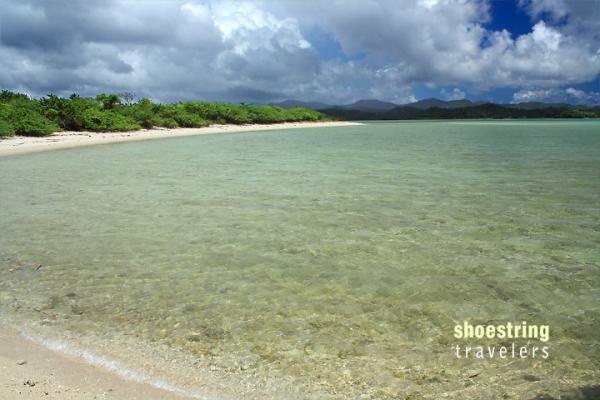 The mangrove area just beyond the beach where we settled down, Dampalitan Island.
We could have explored more of Dampalitan but we had two more places to visit – Puting Buhangin in Pagbilao and Borawan Beach in Lipata Island. After belatedly paying the P30 per person entrance fee to Dampalitan we were off to another island. From Dampalitan we proceeded to Puting Buhangin in Grande Island, Pagbilao which is almost an hour away.
Borawan Beach and Lipata Island
Borawan was our last destination on our island-hopping spree. Borawan Beach is in Lipata Island, also a part of Padre Burgos. There are several beaches and coves in Lipata Island. Several native huts with docked fishing boats on the beach attest to the fact that the island is inhabited, albeit sparsely. Borawan Beach is a stretch of beige, sandy beach on Lipata dominated by towering karst or limestone formations.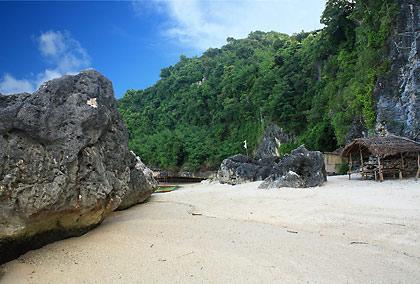 Borawan displays its massive rocks and creamy-white sand.
The beach in Borawan is not as conducive to swimming as Dampalitan so our young companions contented themselves with hunting for hermit crabs and small cuttlefish. The almost vertical rock walls, however, are perfect for rock climbing, bouldering and rappelling and indeed there have been recent forays made into Borawan by climbers in recent months. One can even take a trek to Mt. Lipata on the island from where it is possible to see Grande Island to the west. We had begun to explore the larger confines of Lipata Island with its many scenic spots but with darkness approaching we had to climb back aboard our outrigger to take the 10 -15 minute return trip to the Tamarind Tree Resort beachfront.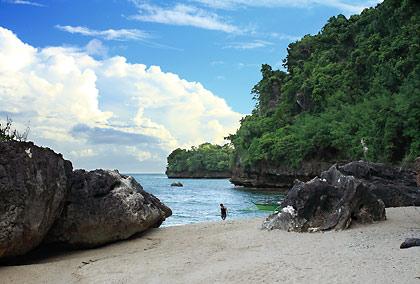 Nearing sunset on Borawan Beach.
How to Get There
By private vehicle
If you're coming from Manila, take the South Luzon Expressway and exit through Santo Tomas bound for Lucena City. You'll pass by San Pablo City, Laguna then Tiaong, Candelaria and Sariaya in that order. At Sariaya the main road forks to Tayabas and Lucena City. Take the latter. A few kilometers before Lucena City proper, take the Lucena Diversion Road towards Pagbilao. (Tip: Follow the signs to Bicol until you reach Pagbilao.) Follow along this road until you reach another fork leading to Bicol on the left and to Padre Burgos on the right just after the TESDA school. The road to Padre Burgos is marked by an arch that says "Welcome to Bondoc Peninsula." From this welcome arch it is just 15 – 20 minutes of driving through a scenic, winding road before you reach the town proper of Padre Burgos.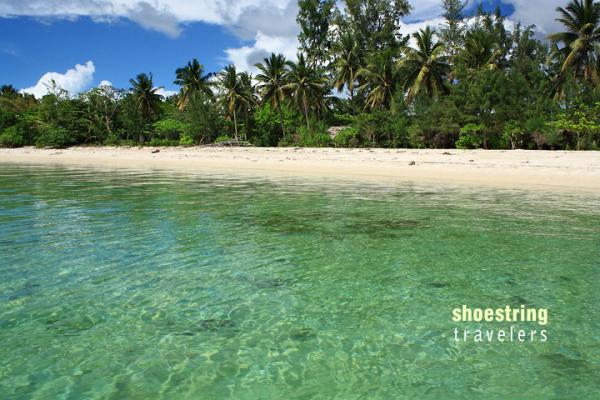 By public transport
Take the bus to Lucena City and get off at the Lucena Grand Terminal. (We took the JAC bus at their Kamias terminal along EDSA.) Travel time is about 3 hours. At the terminal take another bus going to Unisan, a jeepney bound for Agdangan or a van to Unisan. (You can also take the jeepney going to Padre Burgos at the SM Lucena terminal.)
As we mentioned earlier there are just two resorts in Padre Burgos as of this writing. The Tamarind Tree Resort where we stayed is situated almost at the town proper. To reach it look for a white house along the main road just before the QCRB bank at the town proper. Make a right on the road going uphill just after the white house and continue along this road until you see the entrance to the Tamarind Tree Resort. If you're taking public transportation tell the driver to drop you off at the tricycle terminal just after the QCRB bank in the town proper. You can then take a tricycle to the resort.
The other resort, Villa Anita, is at Km 174 Barangay Cabuyao, Padre Burgos. It's along the national highway, 10 minutes further south from Padre Burgos town proper. While it doesn't have a beachfront like Tamarind Tree the room rates and food are all cheaper and the huts are nicer. The room rates also include breakfast. (Toilets are communal.) It is a bit farther away from the jump-off point at Barangay Basiao or the Aplaya though.
Rating:
0 people rated this.