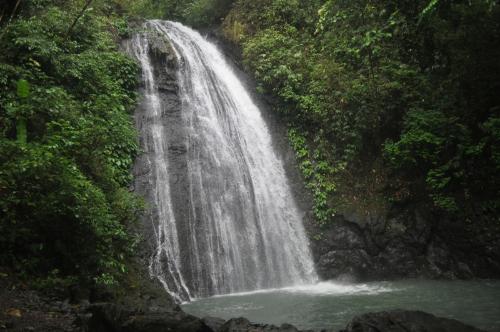 The tropical heat can take its toll on anyone, especially to the intrepid adventurer, but upon reaching the Bugtong Bato Waterfalls, the burdens on both mind and body are lifted as the falls offer breathtaking views and fresh cold water to relieve one's self of the heat and fatigue.

Bugtong Bato Waterfalls can be found in the town of Tibiao, Antique Province, six kms. to Sitio Moleta accessible by motor vehicle up to Bgy. Tuno and a short hike along murmuring streams and hidden rice terraces. The place is ideal for excursions/picnics with excellent opportunities for bathing, swimming and picture taking. The first three waterfalls with height up to 150 ft. are accessible.
Bugtong Bato is a multi-tiered waterfalls. It is mostly visited by the locals especially during the summer period. The place is best for those people who love adventure and nature. The fresh water cascades from the mountain going to the basin where guests can enjoy bathing and directly flows to Tibiao stream.
The water from the falls is very cold and is perfect for anyone who wants to ease the heat of summer. It will surely relieve your stress. It is the secret paradise of the province.
Activities that can be done in the area
Swimming

Trekking

Photo shoots

Picnic
Accommodations
The hotels are can be found in the town of San Jose, Antique:
Location: Bantayan St., San Jose, Antique
La Vita Resort and Restaurant
Location: Madrangca Area, San Jose, Antique
Barrio House Resort and Training Center
Location: Brgy. Dalipe, San Jose, Antique
Location: Santillan Subdivision, Binirayan, San Jose de Buenavista, Antique
Pinnacle Suites & Functions
Location: AML Building, Cor. Dalipe – Atabay St.San Jose, Antique
How to get there
Antique is accessible via RORO (Roll-On-Roll_Off) from Manila and major cities in the country. There are buses and vans plying from Iloilo City, Iloilo, Kalibo, Aklan to San Jose and vice versa.

It is about two and a half hours from Iloilo International Airport and one and a half hours away from Kalibo International Airport.

When touring around the province, jeepneys and tricycles are also available in the area.
Rating:
0 people rated this.