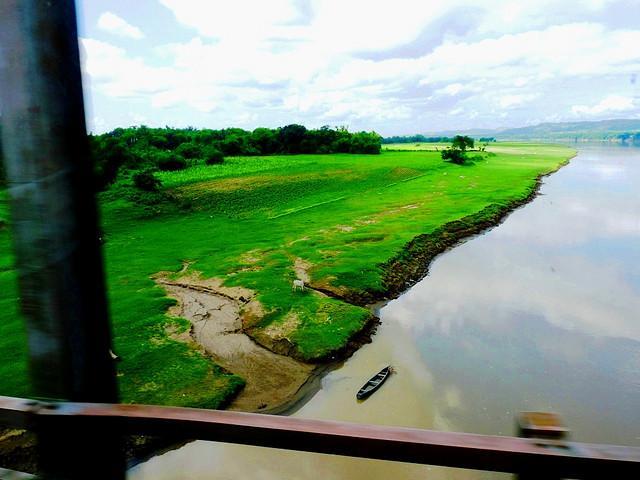 The Cagayan River, also known as the Rio Grande de Cagayan, is the longest, largest and widest river in the coutry. It is located in the Cagayan Valley region in the northeastern part of Luzon island and traverses the provinces of Nueva Vizcaya, Quirino, Isabela and Cagayan. Small streams originating from Balete Pass, Cordillera, Caraballo and Sierra Madre Mountains meet other streams and rivers and flow to the Cagayan River. The famous "lurung" fish abound in this river during the rainy season when the river is murky and the fish swim upstream from the delta of Aparri to spawn.
The river passes through one of the few remaining primary forests in the country and its biodiversity is truly remarkable.

The river supports the lives of numerous endemic and endangered species, like the Luzon bleeding-heart pigeon (Gallicolumba luzonica), Philippine eagle (Pithecophaga jefferyi) and a rare riverine fish called ludong (Cestreaus plicatilis).
The location of the mouth of the river covers the Babuyan Channel, Cagayan, and empties at the Aparri Estuary. The river drains a fertile valley that produces a variety of crops, including rice, corn, banana, coconut, citrus and tobacco. Its tributaries include the Chico River, Magat River, Ilagan River, and Pinacanauan River The provincial governments have developed tourism programs that offer sports and liesure activities on the river.
Activities:
• Whitewater rafting
• Kayaking
How to get there:
By Plane
The airlines companies like Airphil Express and Cebu Pacific ply routes to the provincial capital of Tuguegarao City from Manila.
By bus
Victory Liner, Dominion, Florida, and Baliwag Transit Inc., have scheduled trips from Manila to Tuguegarao. Travel time is around 8-12 hours.
Accommodations
If you wish to spend time to do extensive sightseeing of the whole whole province, these are the nearest hotels that offer lodging at reasonable prices:
• Ivory Hotel and Suites located at Buntun Highway, Tuguegarao, Cagayan Valley / Isabela.
• Villa Blanca Hotel can be found at 13 Pattaui St.Ugac Norte, Tuguegarao, Cagayan Valley / Isabela
• Mango Suites located at 1 Rizal St. corner Balzain Road, Tuguegarao, Cagayan Valley / Isabela


Rating:
0 people rated this.