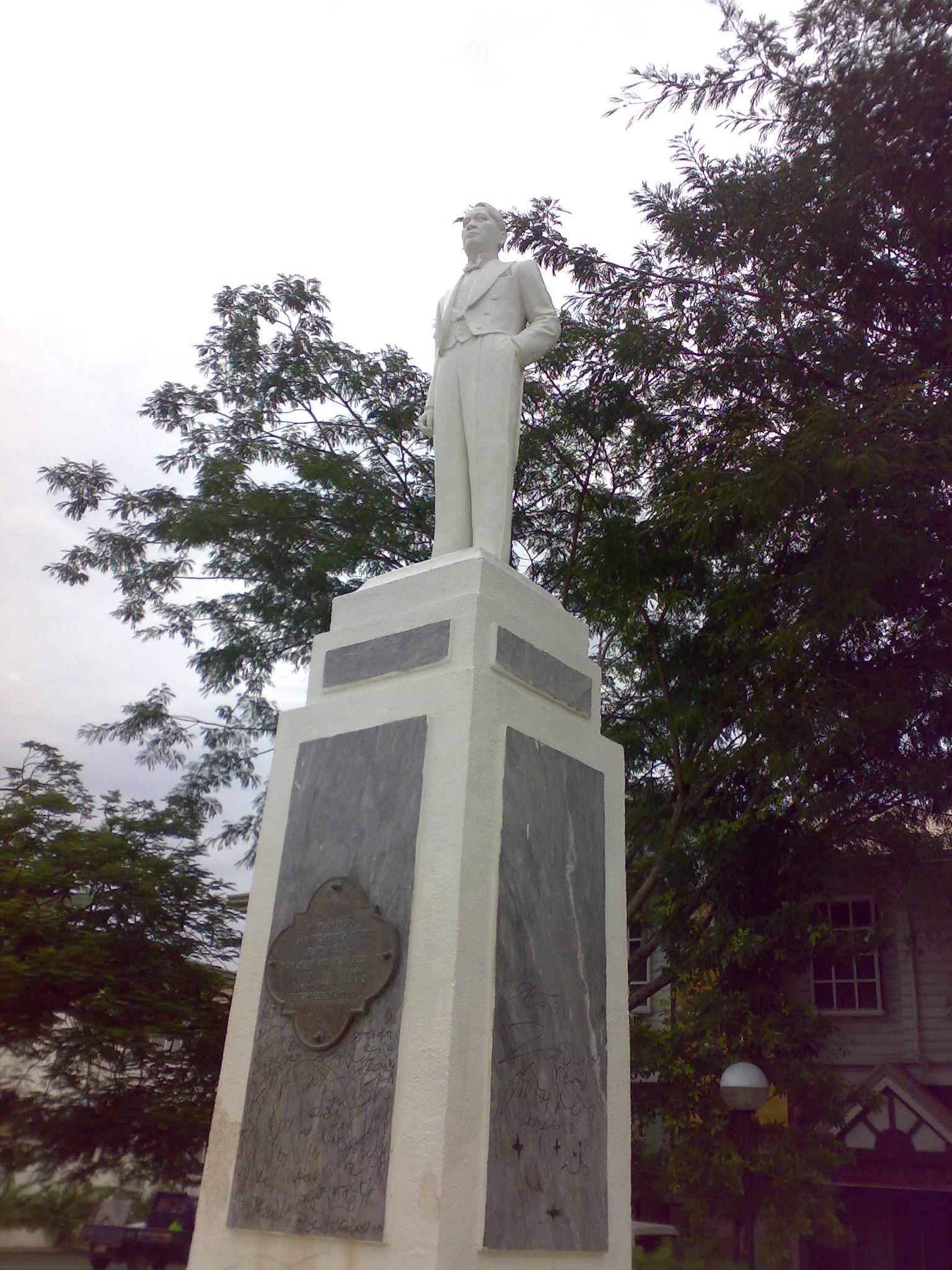 Statue of Manuel Acuña Roxas in his hometown of Roxas City, Philippines
The late president, Manuel Roxas, is one of Capiz's most beloved and outstanding sons, and the people of province has made sure to keep his memory alive as one of the greatest historical figures in Philippine history.
It was in Capiz that the fifth president of the Philippines was born. Located in the city proper, the two-storey hardwood and stone house of President Manuel Acuña Roxas is now a historical shrine.
The house of the late president, Manuel Roxas, is declared a national historical sitess. It is the oldest house in Roxas City and is still in the good condition despite the passage of time. It has survived the destruction of World War II. The house has undergone several renovations to its structure. The management of the house is still in the hands of Roxas' relatives. Furniture and some of the memorabilia of the president can be found in the house.
Manuel Roxas Monument

Roxas Monument is a famous landmark in Roxas City. It is situated at the plaza where the ancestral home of the late president Manuel Roxas is located.
About the Late President
Manuel A. Roxas, third and last President of the Commonwealth and the first of the Third Republic of the Philippines, was born to Gerardo Roxas, Sr. and Rosario Acuña on January 1, 1892 what is now Roxas City. He was a posthumous child, for his father Gerardo had been mortally wounded by Spanish guardias civiles the year before, leaving him and his older brother Mamerto to be raised by their mother and Don Eleuterio, their maternal grandfather.
Roxas received his early education in the public schools of Capiz, and at age 12, attended St. Joseph's Academy in Hong Kong. But after homesickness, he went back to Capiz. He eventually moved to Manila High School (later named the Araullo High School), graduating with highest honors in 1909.
Roxas began his law studies at a private law school established by George A. Malcolm, the first dean of the University of the Philippines College of Law. On his second year, he enrolled at U.P., where he was elected president of both his class and the Student Council. In 1913, Roxas obtained his law degree, graduated class valedictorian, and subsequently topped the first bar examinations with a grade of 92%, becoming the first ever bar topnotcher of the Philippines.
Where to Stay
Here is a list of hotels and inns for your stay in the province:
Roxas President's Inn -

Rizal Cor. Lopez Jaena St., Roxas City
La Hacienda Hotel -

Arnaldo Blcd., Roxas City
Nesta's Hill Top Hotel -

Provincial Park, Roxas City
Image Palace Hotel -

Brgy Banica, Roxas City
Casa Purita Hotel -

Plaridel St., Roxas City
Where to Dine
Here is a list of some of the restaurants, bars and cafes located in the city:
Jo's Inato Kamayan Sa Ilog Restaurant -

Washington St. Roxas City
Coco Veranda Bar & Restaurant -

Lawis Baybay, Roxas City
Pizza Junction -

Rizal St, Roxas City
Cake Eatcetera -

Legaspi St. Roxas City
Arashi Bar & Restaurant -

Lawis Baybay Roxas City
Acc Coffee & Crepes -

Osmeña St. Roxas City
Café 1927 -

P.Gomez St.Roxas City
How to get there
From Manila, the Super Ferry or ships from Negros Navigation can take you to Roxas City in around eighteen hours. There is also a Roll on-Roll off (RORO) that passes by Roxas City straight from Cubao in Manila. Cebu Pacific and Philippine Airlines have flights to Roxas daily every morning, taking about 40-45 minutes. Jeepneys and tricycles are available for touring around the city. Jeepneys and tricycles are available for touring the city or the province.
Rating:
0 people rated this.