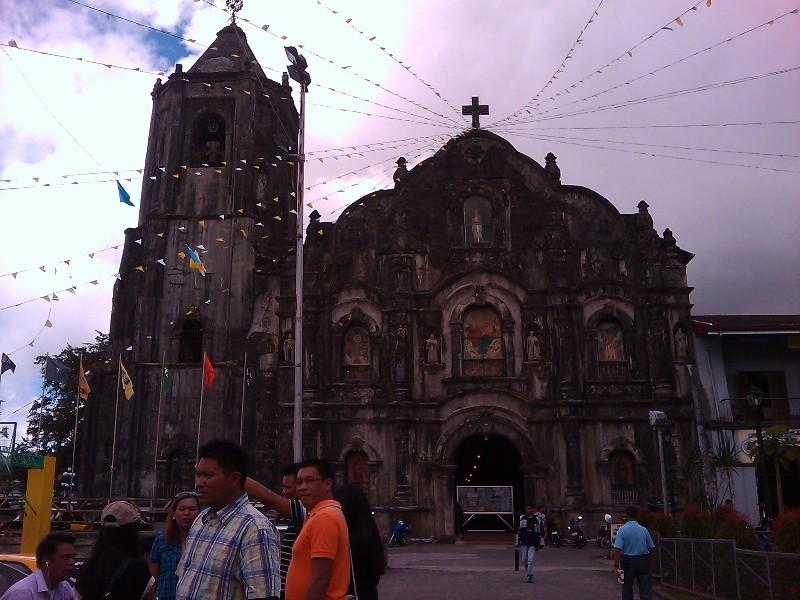 The Church of Saint Louis, Bishop of Toulouse was initially created in 1593 but destroyed in 1629. The second church was constructed between 1630 and 1640, gutted by fire in 1733 and reconstructed in 1738. It was partly destroyed during the World War II in 1945 and renovated by the Philippine Historical Commission in 1966. It is surrounded by gardens, grottos and stone walls called quince-quince. It enshrined the image of San Isidro Labrador.
Features
The Church of Saint Louis, Bishop of Toulouse has a lofty facade with curved, almost cloudlike outlines and cornice volutes. Almost in staggering contrast are the columns set in high relief. Combined with the arched windows and the portal with decorative keystone, the Church of Saint Louis, Bishop of Toulouse presents a fanciful facade. Horizontal molding gently flows through the wall expanse from end to end, enhancing the cloudlike effect and echoing the curves of the arched windows. The filials are intricately carved, capping the columns at the pediment area. The bell tower rests to the right of the church's, rising three tapering levels, topped with a weathervane. Both the facade and the belltower are finished with lime and cement.
How to get there
The town of Lucban is located 160km from Manila. Here is the list of terminals where you can spot buses that have a trip going to Lucena City.
EDSA-Kamuning

Cubao

Buendia-Taft

EDSA-Pasay
Ride a bus from the following stations above going to Lucena, Quezon. Drop off at the Lucena Grand Terminal. From there, jeepneys are available as a mode of transportation traveling around the city or to other towns. Travel time will take more or less 4 hours from Manila going to Lucena Terminal.
Rating:
0 people rated this.