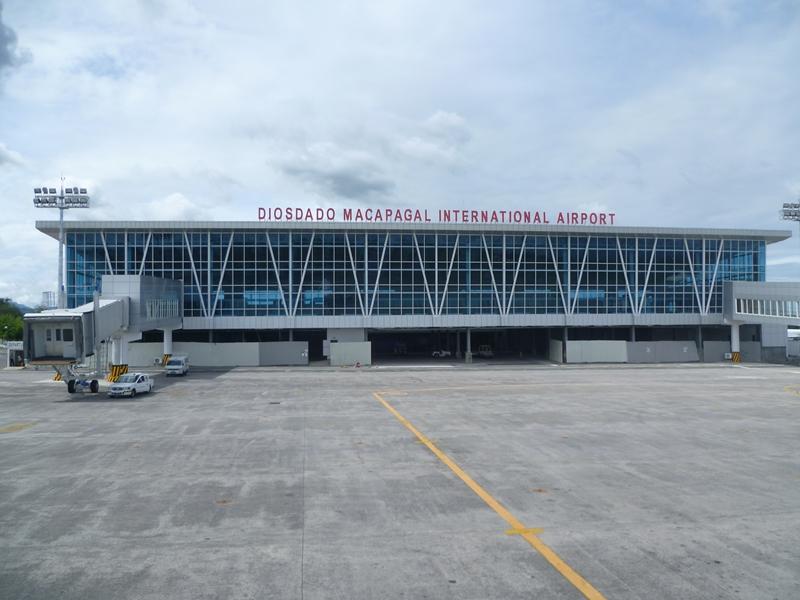 Clark Airport (Diosdado Macapagal International Airport)
Clark International Airport, formerly Diosdado Macapagal International Airport, is the main airport serving the immediate vicinity of the Clark Freeport Zone and the general area of Angeles City in the Philippines. It also serves the northern and central regions of Luzon; and, being 85 kilometers (53 mi) from the older Ninoy Aquino International Airport (NAIA) that serves Manila, DMIA also serves Metro Manila and its immediate vicinity. It is located on an area of the freeport zone formerly utilized as the Clark Air Base, which was closed in late 1991 by the U.S. Air Forces after the eruption of Mount Pinatubo.
The two parallel runways of DMIA are capable of NASA Space shuttling landings. However, it is no longer listed as an active landing site, and no space shuttle ever landed there.
The airport is managed by the Clark International Airport Corporation (CIAC), a government-owned and controlled corporation.
Runways
Clark Airport currently has two 3,200-meter parallel runways, one of which will be extended to 4,000 meters to accommodate new generation wide-bodied aircraft. The runways' descriptions include:
The primary runway (Runway 02R/20L) has a length of 3,200 meters and a width of 60 meters. It is equipped with various navigational aids and lighting facilities, and it has a Category 1 rating for precision approach.
The secondary runway (Runway 02L/20R) has the same length as the primary runway (3,200 m) and a width of 45 meters, and it is currently used for Visual Flight Rules (VFR) only since the navigational aids and lighting facilities present in the primary runway have not yet been installed.
Awards
Center for Asia Pacific Aviation Low-Cost Airport of the Year (2006)[29]

Frost & Sullivan Asia Pacific Aerospace and Defense Awards Airport of the Year (2008) (for airports under 15 million passengers category).
Clark International Airport renowned as the Third Best Airport in the World!
Clark International Airport in the Philippines was ranked third best airport freezone in the world according to a survey conducted by a magazine published by the Financial Times Business Group of London.
Ground Transportation
Clark International Airport connects from Angeles City to Ninoy Aquino International Airport in Manila via North Luzon Expressway-EDSA-Airport Road link. By private car, it takes about 2–3 hours including heavy traffic to reach NAIA from Clark.
Subic-Clark-Tarlac Expressway
The Subic-Clark-Tarlac Expressway (SCTEx) provides access to Clark Special Economic Zone (CSEZ), including the Clark International Airport, through two exits. The Bases Conversion Development Authority (BCDA) opened Panday Pira Road on December 23, 2008, and it is connected to the Clark North interchange in Mabalacat, Pampanga, where it leads straight to CSEZ on the left and Sacobia in Bamban town to the right. The Clark South interchange leads directly to the airport, Angeles, Tarlac, and the Subic Bay Freeport Zone.
Construction has begun on a new US$421 million North Luzon project (initiated by the Philippine National Railways), originally scheduled for completion in 2010. Two separate lines will be constructed, one for the Airport Railway, and another for the NorthRail commuter and high speed rail line serving Metro Manila and the northern Luzon provinces.
There are regular bus services to various destinations from the airport - Cubao (Quezon City), Mariveles, and Avenida (Manila), SM Megamall, Pasay City and Baguio City.
Operators include:
Genesis Transport (for Mariveles)

Partas (for Baguio and the rest of Northern Luzon except Laoag; and Avenida)

Philtranco (for Pasay, Cubao, and SM Megamall)

Victory Liner (for Marquee Mall in Angeles City, and Dau Bus Terminal in Mabalacat)
Taxi
Taxi stands are located in the arrival halls, and prices are based on the meter. Operators include:
Airport Shuttle Service Inc.

Avis Philippines

Triangle Taxi
Some of the hotels that can be found in Angeles City
Angeles Beach Club Hotel

Grand Central Hotel

Orchid Inn Resort

Hotel California Angeles City

Wild Orchid Resort

Century Resort Hotel

Savannah Resort Angeles City

Maharajah Hotel

Devera Hotel

Dollhouse Hotel & Cafe Angeles City

Affinity Condo Resort

Hotel V

Kokomos Hotel and Restaurant Angeles City

Montevista Villas Hotel Angeles City

Natalia Hotel
Getting There
By bus
This is the most common and economical way to get to Angeles from Metro Manila. Several air-conditioned bus lines ply from Manila to Angeles route with terminals scattered across the metropolitan area. It normally takes one-and-a-half hours to get to Angeles by bus. However, travellers are well advised to consider the unpredictable effect heavy traffic and downpours will have on the commute. In short, give yourself plenty of time to travel by bus. Provincial bus companies have scheduled trips from Manila to the provinces to northern provinces and key cities.
By car
The best way from Manila to Angeles via car is taking the North Luzon Expressway which extends until Sta. Ines in Mabalacat, Pampanga. You may take either the Angeles Exit or Dau exit to get there. Another motorway, though narrow, is the McArthur Highway and visitors need to pass through the province of Bulacan to get to Angeles on both routes. It usually takes about 45 minutes to travel but it is twice the travel time if you plan to take the McArthur route due to heavy traffic along its stretch. Rental car companies can be found all over Manila and Angeles. If you don't know the routes, you can hire drivers by asking the attendant of the rent-a-car shop.
Rating:
9 people rated this.