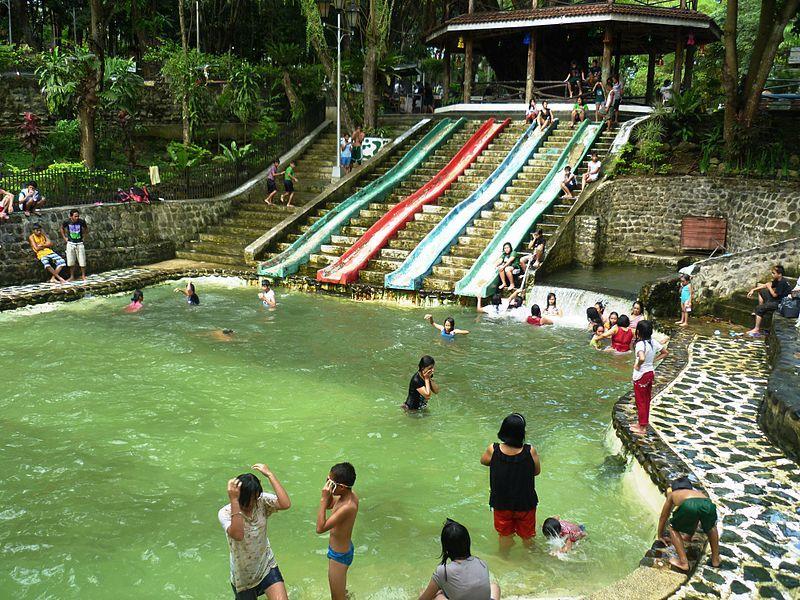 Referred to as the Little Baguio of the South, Pasonanca Eco-Park is one the country's most premier tourist spot. Opened in June 2004, the park was developed in 1912 under Pershing's administration with only one swimming pool. Two pools were added under Climaco's term.
The Pasonanca Eco-Park is nestled about 500 feet above sea level and is surrounded by rolling hills and verdant mountains. It also houses famous tree house built in 1960, butterfly sanctuary and aviary.
Environmental Significance – the Park's ecology also serves as breeding ground for endemic bird species, forest animals such as wild boars, deer, wild cats, reptiles, in the watershed and various insects. The Pasonanca eco-trail receives more than 100 visitors per month. The Environment department implemented seminars to develop capacity building for its field staff and program managers to preserve the park.
Other Point of Interests:
1.8-km eco-trail leads through a summit which provides view of the rainforest

has a rock called Pulong bato for rock climbing enthusiasts

with a tour guide, visitors to the eco-trail can learn secrets of the forest, including the uses of various medicinal plants

a campsite with hanging bridge, which is before the Biodiversity Information Center

other facilities include a clonal nursery and bamboo complex for forestry-related research
Pasonanca Eco-Park is about 6 kilometers from the city proper of Zamboanga.
How to get there

By plane: There are daily flights to/from Manila by Philippine Airlines and Cebu Pacific, flights to/from Sandakan by Asian Spirit and South East Asian Airlines (SEAIR) Philippine Airlines, Air Philippines and Cebu Pacific have regular flights to Manila, Cebu, & Davao and vice versa.
By boat: Super Ferry boats are available 2 days a week for sailing from Cebu City, Davao, and Manila and vice versa. Ferries are also available to and from Sandakan.
The Port of Zamboanga is an international port of entry. It has a schedule passenger trip to Sandakan, Malaysia, a cruise ship destination and several shipping lines offer regular trips from and to Davao, Cotabato, Dipolog/Dapitan, General Santos, Pagadian, Jolo, Bongao, Isabela City, Cebu City, Dumaguete, Iloilo, Bacolod and Manila.
By road: If you are from Luzon and Visayas, the Nautical Highways (RoRo) can bring you here. Buses from major cities in Mindanao are also available.
Getting around: Jeepneys and motorcycles are available as a common mode of transportation around the city.

Rating:
1 people rated this.