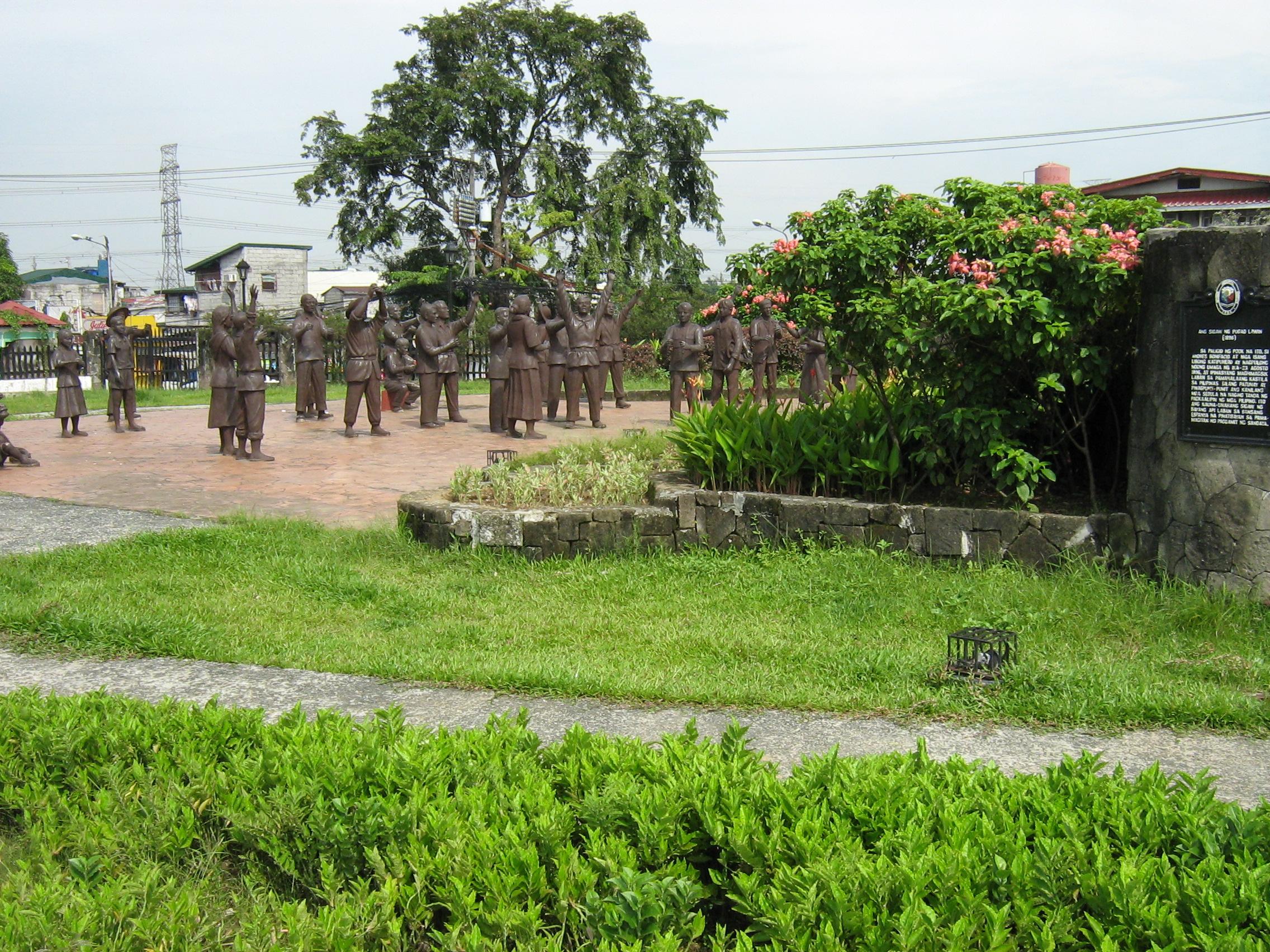 Pugad Lawin Monument in Quezon City, Philippines.
The Cry of Pugad Lawin Shrine was developed by virtue of the Pugad Lawin Historical Committee created in 1983 to locate the residence of Juan Ramos, son of Melchora Aquino. The site is where Andres Bonifacio, on August 23, 1896, gathered his men and asked them if they were willing to fight to the bitter end: "Kalayaan o Kamatayan? Mga Kapatid, ang Kalayaan ay inaagaw sa dulo ng patalim! (Freedom or Death? Brothers, Freedom is won through force of arms)." The monument, which became fully developed in 1998, depicts Bonifacio and Emilio Jacinto, along with other Katipuneros, tearing up their cedulas, shouting "Mabuhay ang Pilipinas! (Long live the Philippines!)" as a sign of rebellion against the Spanish rule.
Background
Cry of Pugad Lawin
The Cry of Pugad Lawin, also known as Sigaw ng Pugad Lawin, alternately and originally referred to as the Cry of Balintawak, was the beginning of the Philippine Revolution against Spanish rule.
At the close of August 1896, members of the Katipunan secret society (Katipuneros) led by Andrés Bonifacio rose up in revolt somewhere in an area referred to as Kalookan, wider than the jurisdiction of the present-day Caloocan City and overlapping into the present-day Quezon City.
Originally the term "Cry" referred to the first skirmish between the Katipuneros and the Civil Guards (Guardia Civil). Other definitions of the term have been made over the years, but today it is popularly understood to refer to the tearing of community tax certificates (cédulas personales) by the rebels to mark their separation from Spain. This was literally accompanied by patriotic shouts. Because of differing accounts and the ambiguity of place names in these accounts, the exact date and place of the Cry is disputed. From 1908 until 1963, the official stance was that the Cry occurred on August 26 in Balintawak. In 1963 the Philippine government declared a shift to August 23 in Pugad Lawin, Quezon City.
Where to stay
Here is the list of some of the accommodations that can be found around the city of Quezon. It offers good services and comfortable rooms for all visitors.
Imperial Palace Suites - Timog Avenue Corner Tomas Morato Avenue, 1103 Quezon City

Torre Venezia Hotel - 170 Timog Avenue cor Scout Santiago St.,, 1100 Quezon City

Dangay Suites - 99-A Dangay Street, 1105 Quezon City

Eurotel Araneta Center, Cubao - General Araneta Corner General Roxas Streets, 1109 Quezon City

The Sulo Riviera Hotel - Matalino Road, Diliman, Quezon City

Sir William's Hotel - 39 Timog Avenue, 1103 Quezon City

Lemon Tree Inn - 18 Scout Magbanua Street near corner of Quezon Avenue, Barangay Paligsahan,, 1103 Quezon City

Robbinsdale Residences - # 14 Araneta Ave. corner Palanza St., 1113 Quezon City

Mezza Residences Condote - Aurora Boulevard Corner Araneta Avenue, Guirayan Street, Barangay Dona Imelda, 1000 Quezon City

La Breza Hotel - Mother Ignacia St., 7876 Quezon City

Crowne Plaza Galleria Manila - Ortigas Avenue corner ADB Avenue, 1100 Quezon City

Eastwood Richmonde Hotel - 17 Orchard Road, Eastwood City, Bagumbayan, 1110 Quezon City

Stone House Bed and Breakfast Quezon City - 1315 E. Rodriguez Avenue, 1100 Quezon City

Fersal Hotel - Annapolis - 49 Annapolis Street, Cubao, 1100 Quezon City

The Oracle Hotel - 317 Katipunan Avenue, 1600 Quezon City
Getting around the city
Public transportation within the city, like in most of the urban areas in the Philippines, is facilitated mostly using inexpensive jeepneys and buses. Tricycles give access to more secluded areas, while taxi cabs are available to navigate any course.
This City has 3 Circumferential Roads:
C-3: Sgt. Emilio Rivera Avenue and Araneta Avenue

C-4: Epifanio de los Santos Avenue or EDSA

C-5: Mindanao Avenue, Tandang Sora Avenue, Congressional Avenue Extension, Katipunan Avenue and E. Rodriguez Avenue
Railway
Currently, two elevated light rail systems and one heavy rail system run through Quezon City: LRT 1 – at EDSA (C-4) connecting North Avenue and Baclaran (Manila) LRT 2 – at Aurora Boulevard (R-6) connecting Santolan (Pasig City) and C.M.Recto Avenue (Manila), and MRT 3 – at EDSA (C-4) from Taft Avenue (R-2 in Pasay City) to North Avenue.
An elevated rail transit system (MRT-4) that was supposed to follow the general alignment of Quezon and Commonwealth Avenues (R-7) was shelved. In its place, a 22 kilometer rail system will be built. The MRT-7 project will commence at North Avenue, connecting the MRT-3 at its northern terminus. It will then go through Commonwealth Avenue, then through Regalado, Quirino Highway, ending in San Jose del Monte, Bulacan. The system has a proposed spur line to connect itself to MRT-2 in Katipunan, passing through the University of the Philippines Diliman and Katipunan Avenue.
The following elevated railway stations in the city (Only 13 Stations):
MRT-3 (with 5 Stations):

North Avenue- (Connected to LRT-1 Yellow Line)

Quezon Avenue

Kamuning

Araneta Center-Cubao- (Connected to LRT-2 Purple Line)

Santolan

LRT-2 (with 5 Stations):

Gilmore

Betty Go-Belmonte

Araneta Center-Cubao- (Connected to MRT-3 Blue Line)

Anonas

Katipunan

LRT-1 (with 3 Stations)

Balintawak

Roosevelt

North Avenue- (Connected to MRT-3 Blue Line)
Rating:
2 people rated this.