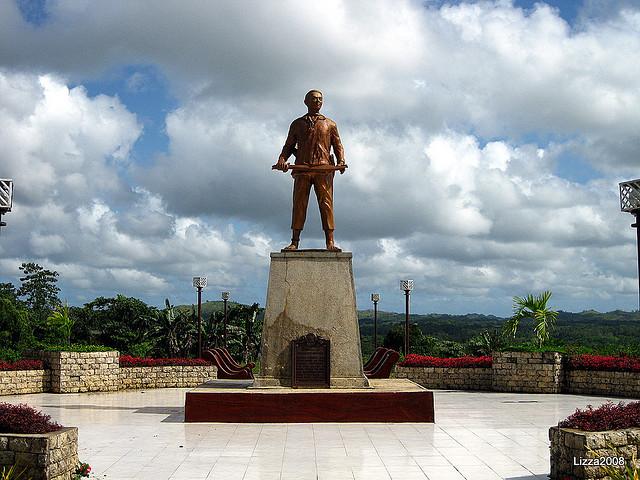 Francisco Dagohoy Monument - Danao, Bohol
A historical marker of Dagohoy's grave in the mountains is installed in his honor. The Dagohoy Marker is situated in barangay Magtangtang, Danao, Bohol. It is located 92 kilomerters from Tagbilaran City, and it was installed by the Philippine Historical Commission to honor the heroic deeds of Dagohoy. Magtangtang was Francisco Dagohoy's headquarters or hideout during the revolt. Hundreds of Dagohoy's followers preferred death inside the cave than surrender. Their skeletons still remain in the site.
Danao is the birthplace of the famed Boholano leader, Francisco Dagohoy. It was the place where he established his independent government, and it also became a concentration camp for World War II prisoners during the Japanese occupation. It used to be a barrio of Talibon but it became a municipality by an executive order issued on March 16, 1961 by then Pres. Carlos P. Garcia. It was inaugurated as an independent municipality in July 9, 1961.
About Francisco Dagohoy
Francisco Dagohoy was a Boholano who holds the distinction of having led the longest revolt in Philippine history, the Dagohoy Rebellion. This rebellion against the Spanish colonial government took place in the island of Bohol from 1744 to 1829, roughly 85 years.
Little is known of Francisco Dagohoy's parentage, or his early life. The only information known is that his real name was Francisco Sendrijas and that he was a native of Inabanga, Bohol. He was also a cabeza de barangay, or one of the barangay captains of the town.
The name Dagohoy is a concatenation of the Visayan phrase, "dagon sa huyuhoy," or talisman of the breeze in English.
Legacy
Dagohoy is acknowledged in the pages of Philippine history as the leader of the longest insurrection on record. His revolt lasted 85 years(1744–1829).
The town of Dagohoy, Bohol is named in his honor. It was the former President Carlos P. Garcia, then the Vice President, a Boholano, who proposed the name "Dagohoy" in his honor. The Dagohoy Memorial National High School in Dagohoy, Bohol is named in his honor.
Where to Stay
Here is the list of accommodations around Tagbilaran City where you can stay overnight or for a few days.
Gie Gardens Hotel - 18 M.H. Del Pilar St., Cor. C.P.Garcia Ave, Tagbilaran City

Darunday Manor - 22 J. A. Clarin Street, Tagbilaran City

Metrocentre Hotel - C.P.G. Avenue, Tagbilaran City

Vest Pension House - Tamblot Extension, Cogon District, Tagbilaran City

The Meredian Hotel - 4-S Matig-a St., tagbilaran City

Hotel La Roca - Graham Avenue, Tagbilaran City

Matig-a Seaside Pensione Bohol - 26 V.P. Inting Street

Via Bohol Tourist Inn - Graham Ave., Tagbilaran City

Villa Alzhun Tourist Inn and Restaurant - 162 V.P Inting Street, Mansasa, Tagbilaran City

Vest Pension House - Tamblot Extension, Tagbilaran City

Taver's Pension House - Taver's building, Remolador St., Tagbilaran City

Sky High Lodge - CPG Ave., Tagbilaran City

Shores Apartelle - Mansasa District, Tagbilaran City

Wregent Plaza Hotel - CPG Ave., Tagbilaran City

Share House Bohol - Sacred Heart Village, Tagbilaran City

Esta Villa Residencia - Mansasa Seaside, Tagbilaran City

Soledad Suites - J. C. Borja Street cor. M. Parras Street, Tagbilaran City
Accessibility
By Air
The main entry point to Bohol is Tagbilaran City (Tagbilaran City Airport) which is only a one hour-and-15-minute flight from Manila and 20 minutes from Cebu.
By Sea
The most convenient way to get to Bohol from the neighboring islands is by fast ferry. Fast ferries offer a high-speed passenger service. These have a cruising speed of about 50 kilometers per hour.
Getting Around in Bohol
Once you arrive in Bohol, there are various ways to get around the island. You can find plenty of tricycles and some taxis waiting to bring you to most locations within Tagbilaran and neighboring towns. If you need to go to one of the other towns on the island, you have a choice of jeepneys, busses, V-hires, or even habal-habal.
Rating:
7 people rated this.