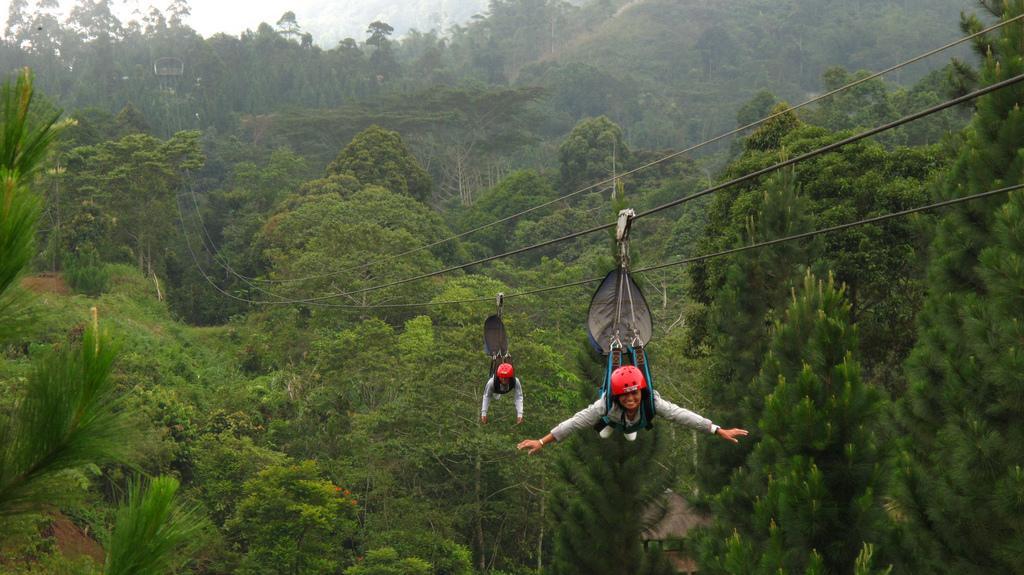 Dahilayan Adventure Park is located at Manolo Fortich in the province of Bukidnon. It is near the foot of Mount Matingkad and the mountain peak can be seen from the park's premises when it is a cloudless day. This park is the most visited tourist destination in Bukidnon and offers different adventure that you will surely love to try again and again. This is a good place for families and friends who want bonding time and an exciting experience. You can find lots of activities that are easy, fun, and thrilling.
The surroundings are covered with more than 20,000 tall pine trees and has a foggy terrain with temperate weather.
The most visited adventure in this park is the "longest dual zip-line in the country and in Asia," which is 840 meters long. It has a maximum speed of 90 kilometers per hour and an elevation drop of 100 meters. It consists of dual carrying cables with special arresting gear system. It offers an exhilarating rush while towering over the park's pine trees. The park also has a zip-line which is shorter, a 320-meter and 120-meter that are perfect for kids. You will feel that you are Superman flying above the vicinity of the park, the forest, and seeing the beautiful view of nature.
If you are looking for an extreme adventure and adrenaline rush, the Drop Zone is right for you. The most thrilling in this Drop Zone is that you will be the one to pull the trigger for you to drop. Otherwise, you will stay 120 ft. up. You can see the beautiful view around the park, but once you pull the trigger, the feeling is so extreme you will surely shout as loud as you can. This is the Philippines' first extreme pendulum swing of its kind that will swing you back and forth along the water surface.
Aside from the zip-line, there is also a theme park where you can try the Zorbit (zorb ball), where you will go rolling and rolling down the slope of the park. The ATV, on the other hand, offers you a drive through muddy slopes in the forest park. There are also horseback riding, mini-boat riding, wall climbing, rope course challenge, Buggy trail adventures, jet skiing and a lot more.
The view is very beautiful and it has a cool mountain breeze carrying the smell of pine trees. There are also scenic picnic grounds for family bondings and outdoor photoshoots. A trip to this place will surely be fun and unforgettable.
Rating:
2 people rated this.