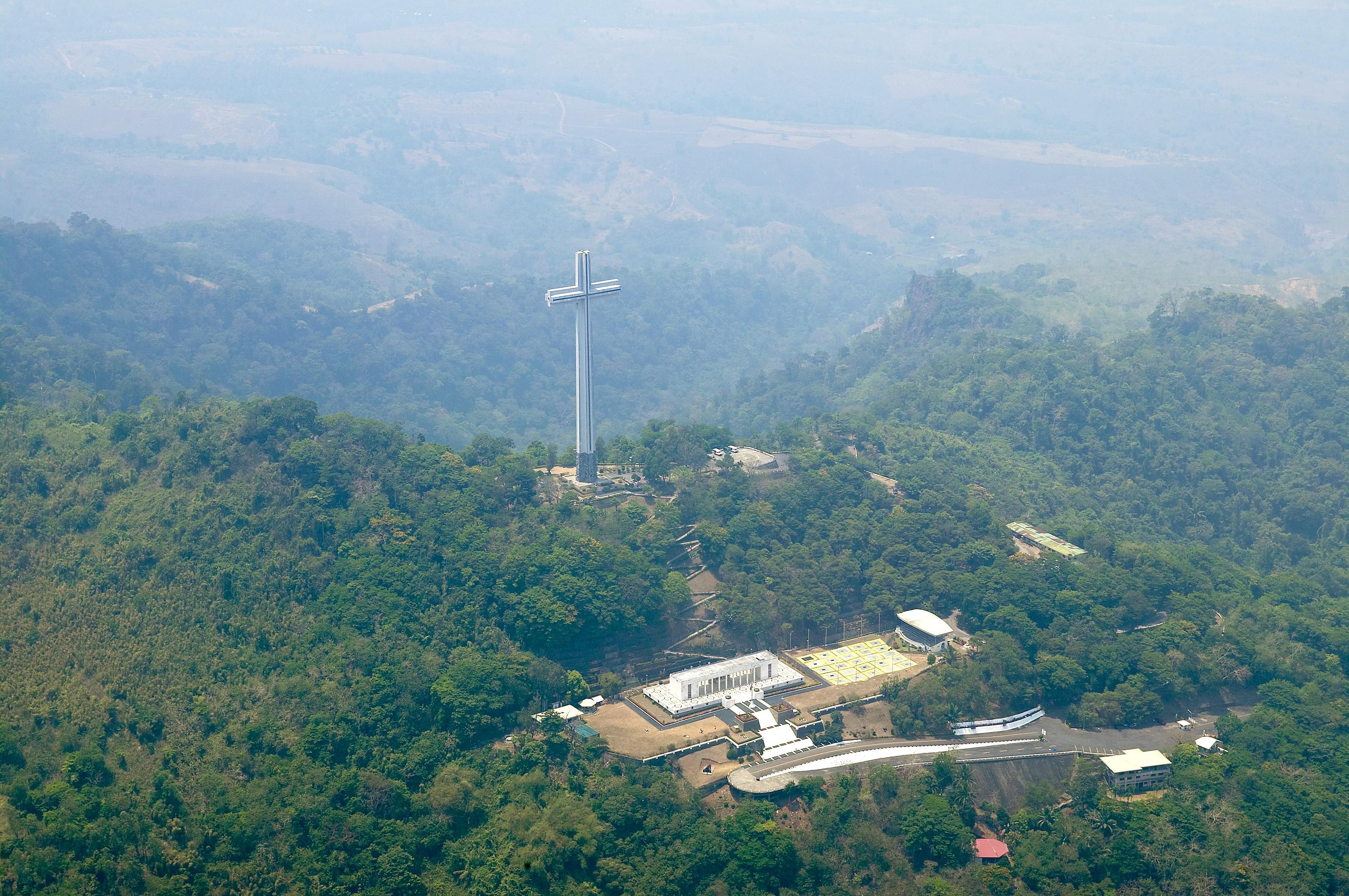 Aerial View of Mount Samat and the Shrine of Valor

Bataan is one of the provinces having very rich historical backgrounds. This province played a very important role the Philippines history. Some of the significant events that happened here were the Battle of Bataan and the Bataan Death March.
Dambana ng Kagitingan, also called as "Shrine of Valor," is a Philippine National Shrine located at the summit of Mount Samat in Pilar town, Bataan province.
This shrine was established in memory and recognition of the brave Filipino and American soldiers who died during World War II. The memorial shrine complex was also made to give honor and tribute to the heroic struggles and sacrifices of revolutionists who fought and died in that historic stronghold of freedom. The soldiers died fighting and protecting the country against Japanese invasion. They sacrificed their lives so that the next generations would have a country to call their own.

Bataan battle was the largest and cruelest clash of the combined forces of Filipino and American soldiers against the Japanese colonizers. This battle lasted for three days. Even civilians were affected. Many people were sick, hungry and wounded. To top that, the harsh Japanese forces made every surviving person walk from Bataan to Tarlac as a form of punishment and humiliation. This tragic procession happened after the formal surrended of Bataan and Corregidor in April 9, 1942. It was then called the "Death March". It was considered as one of the lowest and saddest accounts in our country's history. To this day, April 9 is a yearly holiday called "Araw ng Kagitingan" or Day of Valor.

The shrine complex houses a museum with a huge collection of paintings such as the Philippine heroes, weapons used by the Filipino, American and Japanese forces during the battle in Bataan, as well as depicitons of historical stories about the Filipino. The museum was launched in 1966 under the ddministration of President Ferdinand Marcos who was also considered as a war veteran. The shrine was finished and inaugurated in 1970 where they celebrated the 25th anniversary of the end of World War II.
The white memorial cross standing at the summit of Mountain Samat is very distinguishable once you enter Bataan province. The cross has a height of 95 meters and an elevation 555 meters above sea level. It is made up of steel and concrete. There's also an altar hall in Mount Samat where you can offer your gratitude and salutation to all those people who died for our freedom.
Going to this historical landmark will really take you back to the past – to that bittersweet sense of loss and winning, to the places smeared with blood but filled with the sweet smell of victory, and to our war heroes who died fighting for our country's independence.
Where to Stay
Here is the list of some of the hotels and apartelles located in different towns around the province that can accommodate tourists when visiting Bataan. You may wish to check if you are near the following:
Crown Royale Hotel - Balanga City

D' Samat Lodge - Balanga City

Hillside Garden Mansions - Balanga City

Acacia Apartelle - Limay

Benzi Lodge & Restaurant - Hermosa

Buenavista Lodge - Balanga City

Le Petit Baguio - Orani

Ligaya Consuelo Hotel - Pilar

Marian Hotel - Pilar

Nestville Lodge I, II, III - Limay

NPC Hotel and Resort Village - Bagac

Travel Lodge - Orani
How to get there
By Land
Bataan is very accessible. From Manila, the travel time will take more or less 1 1/2 hours via NLEX (North Luzon Expressway). Bus companies that ply the 124 km route also service the commuting public from Manila to Bataan. An ultra-modern highway, SCTEx, connects Clark to Subic, which makes Bataan even more accessible to more cities, allowing more commuters to reach their destination in no time at all.
Enter the province of Bataan via Dinalupihan, which is 101 kilometers away from Manila. Travel time is about one hour. From there, Balanga City, the capital of the province, is around twenty kilometers away. Minibuses, jeepneys and tricycles are available as a mode of transportation around the province from the City of Balanga to nearby towns in the province. Those buses depart every 15-30 minutes to provide convenient trips to all travelers.
By Sea
The province has an extensive coastline with 11 municipalities having marine boarders; there are about 14 tertiary parts, 2 of which are classified as national ports, namely the Port of Mariveles and the Port of Orion.
By sea via ferry from the CCP Terminal in Roxas Blvd, Manila to the Diosdado Macapagal Ferry Terminal in Orion, 22.5 nautical miles or a convenient 45-minute trip will lead commuters to the bustling Orion port. For an affordable fee, one will be able to escape the traffic of land travel and feel the refreshing sea breeze and the splendor of Manila Bay.
By Air
One could reach Bataan in just a few minutes by air, having several private helipads in the province. There are also two international airports at both ends of the province: the world-class Clark International Airport and the equally recognized Subic Bay International Airport. Both offer facilities that can easily accommodate 25 million passengers annually from the international and domestic market.
Rating:
0 people rated this.