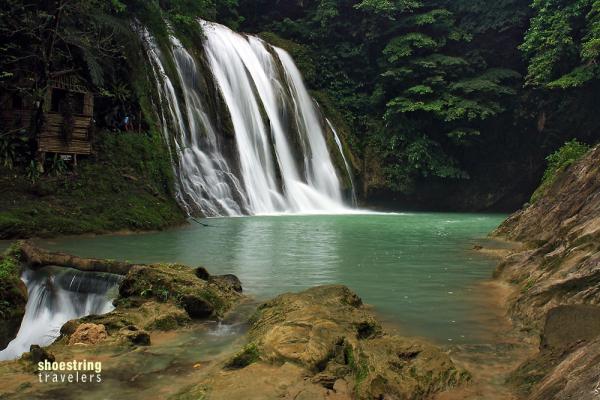 You may also check these sites:
https://www.shoestringtravelers.com/?q=node/100

Eons ago, Hinulugang Taktak in Antipolo, Rizal was the one waterfall we knew that was closest to the Manila metropolis. As kids we would always look forward to our visit to the Antipolo cathedral, the cashew stores and to Hinulugang Taktak, spurned on to swim in its waters by the famous local song about those falls. In the years that followed unfortunately, Hinulugang Taktak has been transformed into something closer to a cesspool, its waters polluted and filled with thrash; not so surprising since the falls are fed by a stream that runs through a densely populated municipality. Our fascination with waterfalls in Rizal province would have ended there until we discovered Palo Alto Falls in Baras and another one in Tanay that we've heard about long before but never got to visit until very recently: Daranak Falls.
We ended up visiting both Palo Alto and Daranak Falls in a single day – such is the proximity of both these waterfalls to Metro Manila. We were somewhat apprehensive at first about Daranak, which is quite popular these days and sure to attract huge crowds during weekends. The drive to the falls took us along a quiet roadway and straight into a hilly section of Barangay Tandang Kudyo in Tanay – part of the Sierra Madre foothills.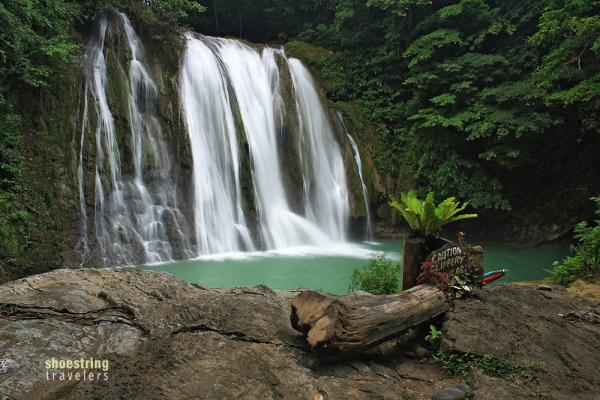 Daranak Falls is just a short hike away from the parking area and entrance. On this day there were just a few people at Daranak – this being a weekday. After paying the P50 entrance fee per person, we headed off to Daranak, passing by a stream feeding from the falls and observing several fascinating pieces of rock balancing art along its banks. The stream itself flowed serenely through massive ochre-colored rocks, creating pools of jade green waters here and there before ending up in the deep catch basin of the waterfalls.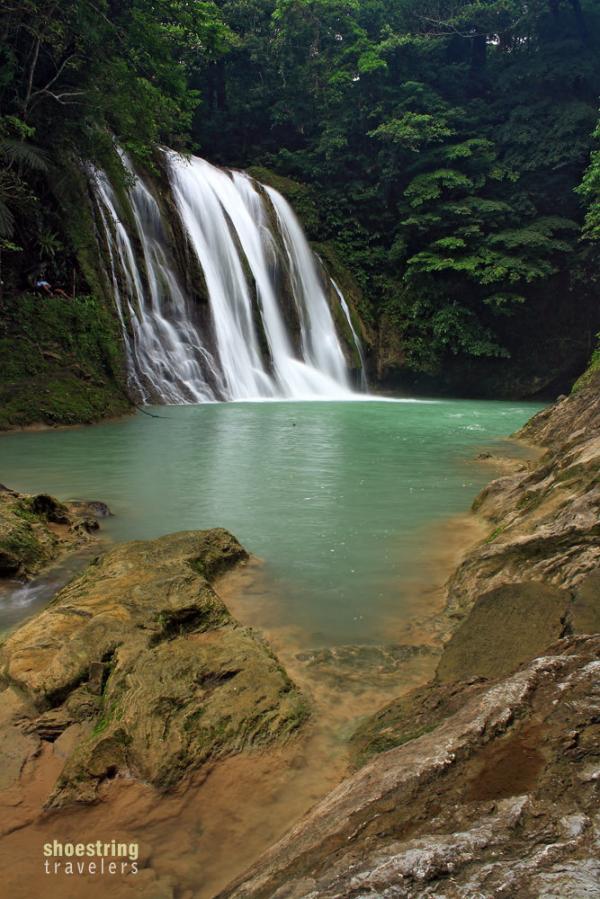 Daranak Falls amidst a lush forest, ochre-colored rocks and a jade green pool.
We were somewhat taken aback by the volume of water at Daranak. Pictures we've seen of these falls before showed a thin veil of water trickling down until we remembered this was the rainy season – and the perfect viewing time for waterfalls. A local caretaker told us that the water in the catch basin was usually colored deep emerald green but that the previous night of heavy rain brought in plenty of sediments that changed the water color to a lighter jade green. And we thought that the present color of the catch basin was fascinating enough.
There is a hidden cascade veiled by the forest just to the left of Daranak's catch basin and where people can swim in if the catch basin is too deep for them. We did not swim on this day though. We simply took in the view around us. The 14 meter-high main falls, the lush green forest, the ochre-colored rocks and the gently flowing stream interrupted by jade green pools along its length all created a sense of tranquility that we savored during the short time we were here.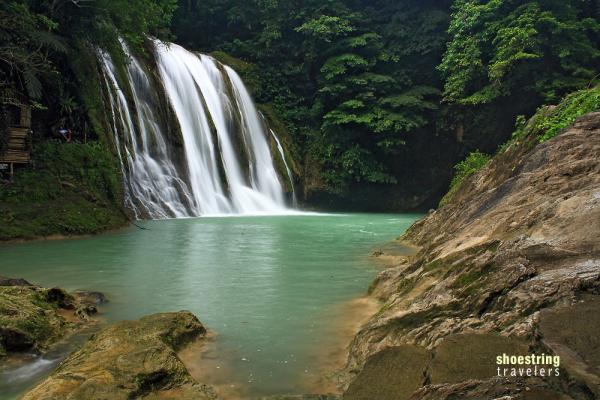 It was a pleasant surprise to see Daranak Falls this clean and well-maintained (it might be a different story in the summer or dry season when crowds flock here though). The falls and its surrounding area are now being managed by the Tanay local government and judging by what we saw it seems they are doing a good job. There are picnic tables and sheds, souvenir shops and dining places plus a parking lot outside but all constructed in such a way as to blend with the surrounding environment.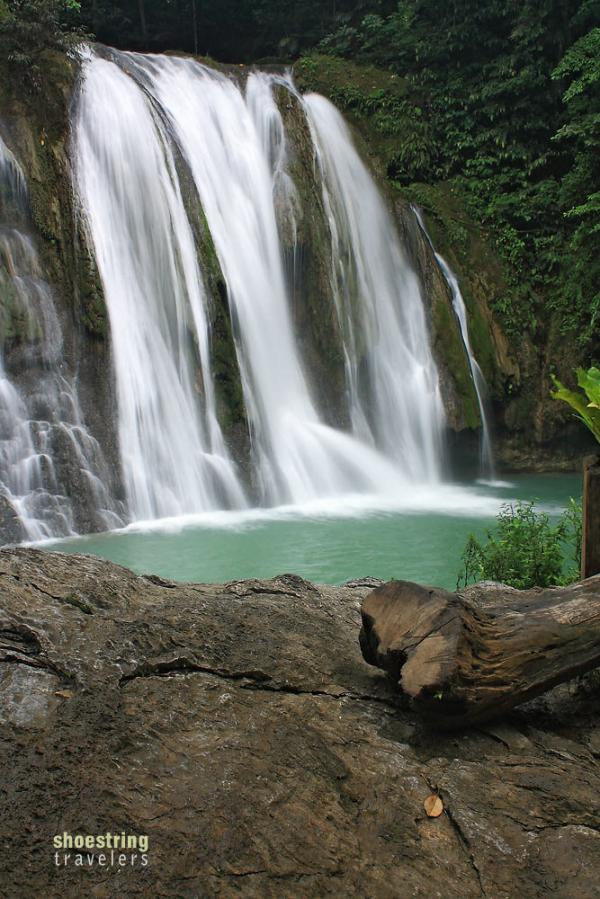 Getting There and Other Tips
By Car: There are two ways to get here depending on where you are coming from. The first route is through the Manila East Road, the national road that runs along Laguna de Bay which you can take when coming from the southern part of Metro Manila. You will pass by the towns of Angono, Binangonan, Cardona, Morong and Baras before reaching Tanay. Alternately, if you are taking Ortigas Avenue, head for the Sumulong Memorial Circle in Antipolo. From there continue driving until the road intersects with the Manila East Road in Morong. Continue driving past Baras until you reach Tanay. At Tanay look for the Sampaloc Road and turn right on that road (there is a Shell station at the intersection). Keep driving along that road until you see a road on the left with a sign pointing to Daranak Falls. That road goes uphill to the parking entrance of the falls.
If you're coming from the northern part of Metro Manila you can drive upMarcos Highway (or the Marilaque Highway) as we did. Keep driving through Marilaque past Baras unitil you reach Tanay. Some distance after Pranjetto Hills Resort turn left at the Sampaloc Road (or Tanay-Sampaloc Road). Keep driving along that road until you see a road on the right with a sign pointing to Daranak Falls.
Commuting: There are several public utility vehicles going to Tanay town from many points in Manila such as Cubao, Quezon City and the Shaw Blvd-EDSA crossing in Mandaluyong. Some will involve several transfers in Cainta or Antipolo but you can also take a van at Starmall Crossing (Shaw Blvd-EDSA) that goes all the way to Tanay. (It's a 1.5 hour ride through light to moderate traffic.) At the public market of Tanay you can hire a tricycle to take you to Daranak.
Other Places to Visit in Tanay
On our way to Tanay from Palo Alto Falls in Baras we passed by a few resorts, cafes and dining places along the Marilaque (Marikina-Rizal-Laguna-Quezon) Highway. Most of these offered picturesque views of the Sierra Madre foothills and even Laguna de Bay. The rolling hills, the pine trees, cool weather and lush vegetation of this section of the Marilaque Highway reminded us very much of Baguio City. There are various resorts and food pit stops in the area to choose from – including hole-in-the-wall types that offer good food. We considered the Ten Cents to Heaven Leisure Camp (and its Camp Cafe Resto Bar), the Sierra Madre Hotel & Resort and Paseo Rizal and eventually settled for Paseo Rizal, a cozy pit stop just before Pranjetto Hills Resort.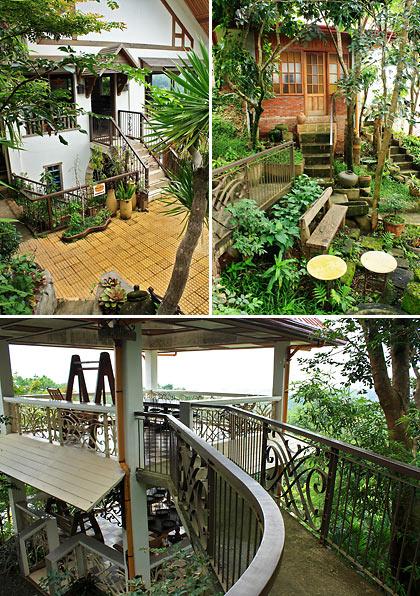 Paseo Rizal in Tanay is a cozy pit stop for food and coffee.
In addition to the main building which houses a small arts museum, Paseo Rizal has several gazebos scattered around the beautifully landscaped grounds. Some of the gazebos double as view decks, affording nice views of the rolling hills and verdant landscape of the Sierra Madre. We remarked to a friend who accompanied us on this trip that we can stay here all day and relax with a good book. Paseo Rizal serves delicious and affordable Pinoy meals including sisig, adobo, crispy pata and bulalo (which seems to be popular in these parts). We stayed around long after lunch to sample their coffee along with crispy turon and suman – all in latik sauce. The cool climate, good cuisine, magnificent views and absence of crowds along this part of the Marilaque Highway make this part of Tanay a good alternative to busy Tagaytay.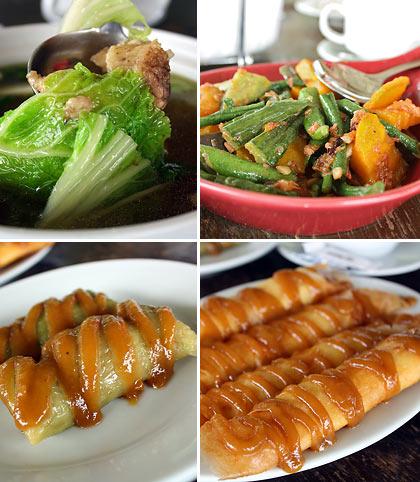 Pinoy dishes and dessert at Paseo Rizal.
We had wanted to head up Batlag Falls from Daranak but with dark clouds looming up ahead we decided to postpone that visit for another day. Batlag is just a short 10 minute hike away from Daranak through a bridge that passes over the stream feeding both falls. From the pictures we've seen Batlag looks even more beautiful and pristine than Daranak although it is smaller. The entrance fee is also higher at P100 per head.
There are other places to visit if you want to loiter around Tanay town. On the banks of Laguna de Bay at Brgy. San Isidro P. Burgos is the Parola – a lighthouse located beside a small wharf surrounded by fish pens. You can climb to the top of the light house for magnificent views of Laguna de Bay. At the town proper is second oldest church in Rizal, the San Ildefonso Parish Church which was built during the late 1700's. Like its counterparts in nearby Laguna province, the baroque-style church was built using forced labor during the Spanish colonial period. It is now listed as a National Cultural Treasure.
If you're into spelunking and off-the-beaten-path adventures Tanay has theCalinawan Cave, the clean river of Daraitan and the rock formations of Masungi. You might need to stay a day longer, however, to add these destinations to the aforementioned spots in Tanay.
Rating:
0 people rated this.