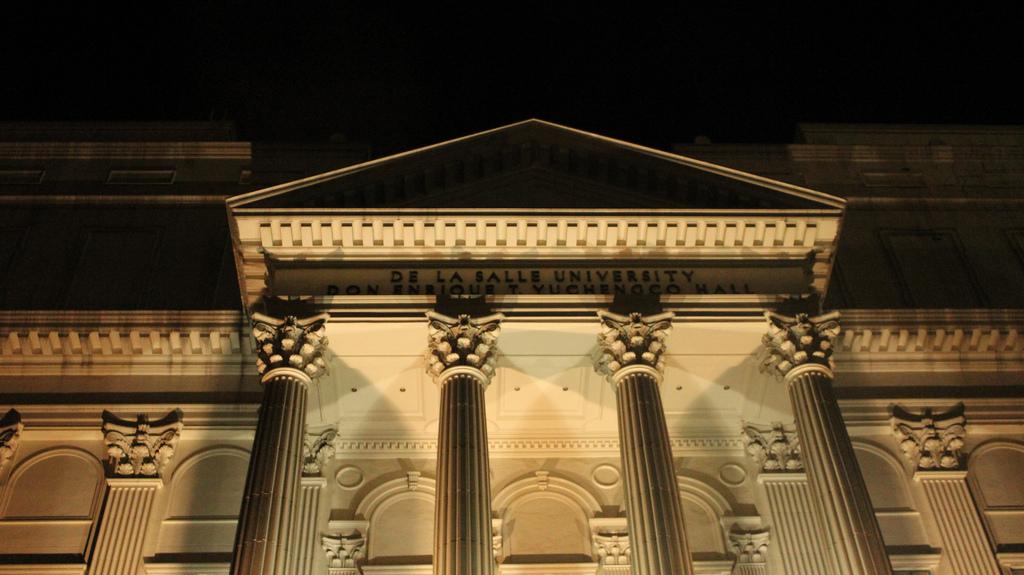 De La Salle University, also referred to as DLSU or La Salle, is a private Lasallian university in Malate, Manila, Philippines. It was founded in 1911 by De La Salle Brothers as the De La Salle College in Paco, Manila with Blimond Pierre serving as its first director. The college moved in September 1921 to its present location to facilitate an increase in enrollment. DLSU, granted university status on February 1975, is the oldest constituent of De La Salle Philippines (DLSP), a network of 17 Lasallian institutions established in 2006 to replace the De La Salle University System.
The university started as a boys' elementary and high school. It started offering in 1920 a two-year Associate in Arts in Commerce program, which was later discontinued in 1931 in favor of a Bachelor of Science in Commerce program. DLSU currently offers coeducational undergraduate and graduate degree programs through its seven colleges and one school specializing in varied disciplines, including business, engineering and liberal arts.
The university, currently under the administration of President Narciso S. Erguiza, is a member of several international university associations (including the ASEAN University Network and International Association of Universities) as well as local organizations (such as the South Manila Inter-Institutional Consortium).
DLSU is identified by the Philippine Commission on Higher Education (CHED) as a "Center of Excellence" in six of its programs, and a "Center of Development" in the same number of programs. The university is also among the 40 institutions granted autonomous status by CHED as of 2010. Likewise, it is the first of the only two institutions granted the highest-level accreditation (Level IV) by the Philippine Accrediting Association of Schools, Colleges and Universities (PAASCU). The university ranks 107th and 451st in the 2011 Asian University Rankings and 2010 World University Rankings, respectively, published by Quacquarelli Symonds.
Research is mainly funded by the De La Salle University Science Foundation. Since 2000, DLSU has been the CHED Zonal Research Center for 10 cities in southern Metro Manila. As such, it evaluates research proposals for recommendation for CHED funding, and monitoring of CHED-funded research, among others. DLSU research has focused on affective computing and renewable energy. Application of its research has resulted to electrification of remote areas in the country through the use of micro hydro generators, and the creation of both of the only two solar cars of the Philippines, SINAG and SIKAT.
DLSU has four official student publications, including the Ang Pahayagang Plaridel and The LaSallian (a student newspaper). The De La Salle University Chorale has won several awards from different international choir competitions, including the Llangollen International Musical Eisteddfod and Tampere Vocal Music Festival. It is a member of the University Athletic Association of the Philippines since 1986, and has formed rivalries with other universities, including the Ateneo de Manila University and University of Santo Tomas.
People affiliated with the De La Salle University include one National Artist of the Philippines, Archbishops of Manila and prominent politicians, educators, scientists, business tycoons, singers, actors, TV personalities and the field of communication and public service.
Campus
The DLSU campus consists of 19 buildings (nine classroom buildings and 10 other buildings for administrative and auxiliary functions) located on a 5.45 ha (13.5-acre) lot in 2401 Taft Avenue Malate, Manila. DLSU faces to its right the Taft Campus of De La Salle – College of Saint Benilde, another DLSP institution, and the Vito Cruz Station of the Manila LRT Yellow Line. As part of the University Belt, several other colleges and universities, including St. Scholastica's College and Philippine Women's University, can be found near the campus.
The buildings have a combined floor area of 136,685.98 m2 (1,471,275.6 sq ft), and mostly feature neoclassical design. These include:
St La Salle Hall, the first building in the campus. The four-storey neoclassical building, completed in 1924, was designed by Tomás Mapúa, the first Filipino registered architect and subsequent founder of Mapúa Institute of Technology. St La Salle Hall has undergone retrofitting since 2010, and is planned for completion by 2012. The LaSallian, the official student newspaper of the university, identifies it as "DLSU's most historic building." Likewise, it is the only Philippine structure featured in 1001 Buildings You Must See Before You Die: The World's Architectural Masterpieces, a book published by Quintessence Editions Ltd. in 2007.
St Joseph Hall, a six-storey building completed in 1956. It was the location of the DLSU library from 1956 to 1985. It houses DLSU's Discipline Office.
Velasco Hall, a five-storey building completed in 1981. It houses the College of Engineering.
Don Enrique T. Yuchengco Hall, a nine-storey neoclassical building. Completed in 2002, the building hosts 20 classrooms, six conference rooms, DLSU's administrative offices and the Teresa G. Yuchengco Auditorium, a three-storey 1,100-seater auditorium. It has a total floor area of 12,254 m2 (131,900 sq ft).
Br. Andrew Gonzalez Hall, a 21-storey 90-meter tall neoclassical building, making it the tallest academic building in the Philippines. It has a total floor area of 28,000 m2 (300,000 sq ft), and has parking space for up to 120 cars. The building, completed in 2006, houses more than 100 classrooms and faculty rooms, and the College of Education.
Construction of the Henry Sy Sr. Hall began on December 2, 2010 as part of the university's Centennial Renewal Plan, a project that aims to construct and renovate facilities inside the campus. A 15-floor building, it replaced DLSU's football field with plans for completion by December 2012. It is estimated to cost P1.4 billion (US$32.5 million). In line with this, DLSU entered an eight-year agreement with the Philippine Sports Commission. Under the contract, DLSU will fund the P7.4 million (US$171,000) renovation of the Rizal Memorial Track and Football Stadium. DLSU will get to use the facilities in return.
The campus, which is relatively small in size for its large student population, suffers limited space. According to The LaSallian, each student had only 7.1 m2 (76 sq ft) for himself in 2009. Crowding is expected to only get worse as the university's population has been continuously growing with the growth for 2008–2009 amounting to 27.7 percent. It has also expressed concerns regarding fire safety, citing possible evacuation difficulties should a fire occur at the Br. Andrew Gonzalez Hall, and accessibility issues for fire trucks given the lack of wide roads to major buildings. At least three fires have occurred in the campus, including two at St. Joseph Hall. To address the problem regarding limited space, DLSU has resolved to vertical expansion. But this has resulted to overcrowded elevators.
Likewise, DLSU has expressed interest in merging with De La Salle Canlubang (DLSC). Although smaller (5 ha; 2 acres), only 0.6 ha (1.5 acres) of DLSC's campus is developed. Under the proposal, DLSU would expand the Colleges of Engineering, Computer Studies and Science to DLSC's campus due to its location inside the Laguna Technopark. DLSU fears, however, that it might lose some of its students due to the DLSC campus's distance from Manila (around 42 km).
Libraries and collections
The DLSU Library was established 1956 upon to merger of the high school and college libraries. It was located in the first two floors of St Joseph Hall with a seating capacity of 100 persons and a collection of almost 10,000 books. Its collection includes 21,218 titles and 33,741 volumes on language and literature as of 2008, 3,751 titles and 4,898 volumes on fine arts and music as of 2006, and 17,999 titles and 26,526 volumes on philosophy and religion as of 2005. Meanwhile, a 2001 assessment places its number of periodicals at 14,362 titles. The library has among the highest borrowing limit per person (30 books), longest loan period (14 days) and highest overdue fine (P20 per day; US$0.46 per day).
The University Archives, established in 1973 as the College Archives, is located in the fourth floor of the DLSU Library. It holds materials of historical significance to the university (many of which were lost during the Second World War), and acts as its "official memory." Its collection includes over 600 ceramic artifacts from Southeast Asia dating back as early as 200 BC, almost 400 specimens of rare Philippine banknotes and coins, over 200 artworks, 298 volumes of film scripts, 766 audio tapes, 66 video tapes, 1,205 volumes on health and nutrition, and 1,050 books and journals on neurology and related disciplines, among others. Several of these collections were donations previously owned by various notable individuals, including Jose Diokno, Francisco Ortigas Jr., José Javier Reyes and Lorenzo Tañada.
The Museum is the university's collection of Philippine modern art donated by the heirs of Doreen Fernandez, a food critic. The collection comprises more than 400 works by several artists, including ten National Artists of the Philippines (namely Fernando Amorsolo, Benedicto Cabrera, Botong Francisco, José T. Joya, Ang Kiukok, Cesar Legaspi, Arturo R. Luz, Vicente Manansala, Jeremias Elizalde Navarro and Hernando R. Ocampo).
Rating:
6 people rated this.