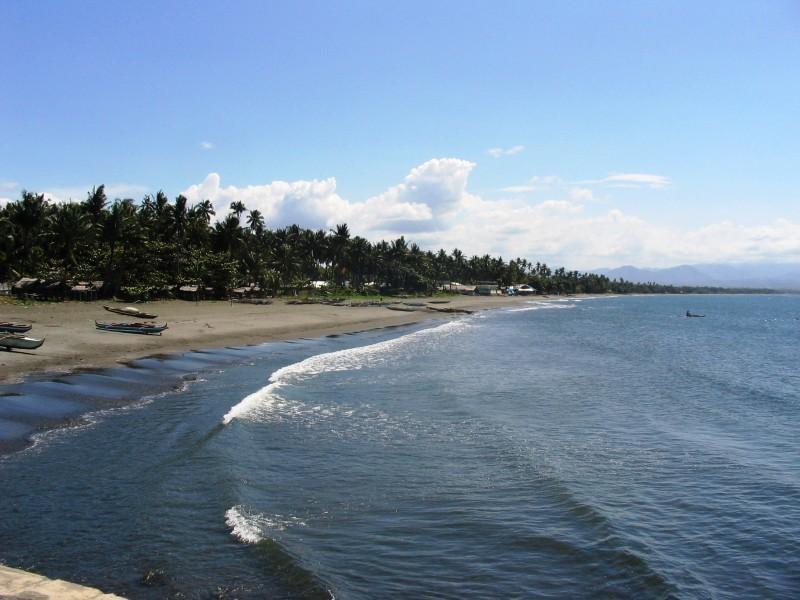 Dipolog Beach

Dipolog shared much of its cultural history with the ancient town of Dapitan to which it once belonged. It traces its beginnings long before the Spanish conquistadores set foot on the island of Mindanao. This heritage has carried on to the present and has contributed to Dipolog's colorful and unique culture.

Dipolog was previously known as Tulwanan, which means "a settlement by the river." Its earliest settlers all belonged to the Subanen Tribe called Subanon or river people with an established religion founded in animism. These Austronesian peoples descended from the Malay ethnic group which roamed Mindanao and Southeast Asia via land bridges as early as 30,000 years ago. Later migrations of other tribes were made by water and took place over several thousand years.

Tourism:

Dipolog Boulevard

Linabo Climb

The 3003 Steps to Linabo Peak offers a panoramic view of the twin cities of Dipolog and Dapitan. It is also the venue for the annual "Katkat Sakripisyo" of Catholic devotees who perform their penitential rites during the Lenten Season.

Cogon Park

The Cogon Eco-Park is a 344-hectare reforestation area situated in Barangay Cogon established in 1958. Mature trees are growing wild in the area; species such as Mahogany, Teak, Yemane, Lumbayao, Molave, Acacia, Narra, Mayapis, Lauan, Narig, Tianong, Duguan, Lumbayao, Rattan and Nato. It is also one of the favorite camping sites of different mountaineering groups. Presently under development in the area are the information center, Subanen Valley, picnic cottages, well-landscaped ground at the entrance, parking area, aviary, and different cages for animals.

OISCA Forest Park

Adjacent to Barangay Cogon is Barangay Diwan, part of the eco-tourism complex housing the Organization of International Spiritual and Cultural Advancement or OISCA Forest Park, a joint project of the OISCA of Japan, locally managed by Heroshi Ikeda, and the City Government of Dipolog. It also houses the Dipolog OISCA Children's Forest Park. The most prominent feature of the park is the Sungkilaw Falls.

The Historical Sta. Cruz – Punta Corro

Sta. Cruz–Punta Corro is the spot where migrating Boholanos from the Visayas landed and established settlement. A cross was erected by the settlers on May 3, 1905 as a thanksgiving altar to God for their safe journey. Roman Catholic mass were likewise celebrated on this area before the Spaniards established a chapel 1.5 kilometers inward along the town center street now known as Rizal Avenue. A Cathedral was later erected by the Spanish friars sometime in 1895 replacing the old church, with Dr. Jose Rizal designing the church altar from a sketch requested by his former professor, Fr. Jose Villaclara, once Dipolog's cura during the Spanish Era.

Dipolog Hall

Dipolog Hall was built on July 1, 1913 under the administration of General John J. Pershing. The corner street houses the monument of three prominent Dipolognons namely Hon. Pascual T. Martinez, the first appointed Mayor of Dipolog in 1913-1918, Rev. Fr. Nicasio Y. Patangan, the first Filipino Diocesan Priest of Mindanao, and Eugenio R. Margate, a farmer for 25 years who introduced the Margate System of Planting Rice.

Dipolog Fountain

Located at Estaka-Turno road junction is the Fountain of Blessings, the statutes represent the tri-people of Mindanao, which symbolize the diverse cultures prevailing in Dipolog. The bowl raised to heavens is a gesture of thanksgiving and offering to God Almighty for the generous outpouring of graces and blessings, bountiful harvests and sustained peace and prosperity.

Dipolog Boholana Handicraft
Located at Gen Luna St. Cor Magsaysay Dipolog City, people sell souvenir products. Tourists are welcome to visit or to watch how the shop's products are made. The souvenir shop is visited by many tourists. The store is owned by Elsa Leones. In late 2010 ,the original S and J is supposed to be located at Bonifacio Street but then transferred.
In Dipolog City, one can experience a quiet and scenic place in the south with a unique blend of the traditional and the contemporary. There are bargains for fresh tropical fruits such as lanzones, mangosteen, rambutan, marang, manga, and caimito. Bring home famous local products like bottled sardines, uyap, ginamos, home-made corned beef, and Spanish Chorizo. Gift your friends with delicacies as tinagaktak, bakya and lintoy, or just shop around for Muslim clothing such as the malong and the batik.
How to get there

All sites in Zamboanga del Norte can be accessed via Dipolog City:

• By Air: From Manila, Cebu Pacific Air offers daily flights to Dipolog City, the capital of Zamboanga Del Norte. Travelling by air takes approximately an hour.
• By sea: There are ferries that offer transportation from Manila to Dipolog City. These ferries often take the Port of Pulauan in Dapitan City, and from there one can take public transportation to get to neighboring cities. The Strong Republic Nautical Highway (RORO) could also be taken. It takes less than 48 hours to get to Dipolog City.
• By land: Buses of the Rural Transit and the Evergood Trans Industries, Inc. travel to Dipolog city.
From Dipolog Airport, go to the Dipolog Bus terminal. Travel time is 15-20 minutes.

Accommodations
• Jardin de La Vina Hotel - 149 Governor Alvarez Avenue, Dipolog / Zamboanga, Philippines 7000
• GV Hotel Dipolog City - Quezon Avenue, Dipolog City, Zamboanga Del Sur, Dipolog / Zamboanga, Philippines
• Top Plaza Hotel - Echavez St.Corner Quezon Avenue, Dipolog / Zamboanga, Philippines 7100
Rating:
1 people rated this.