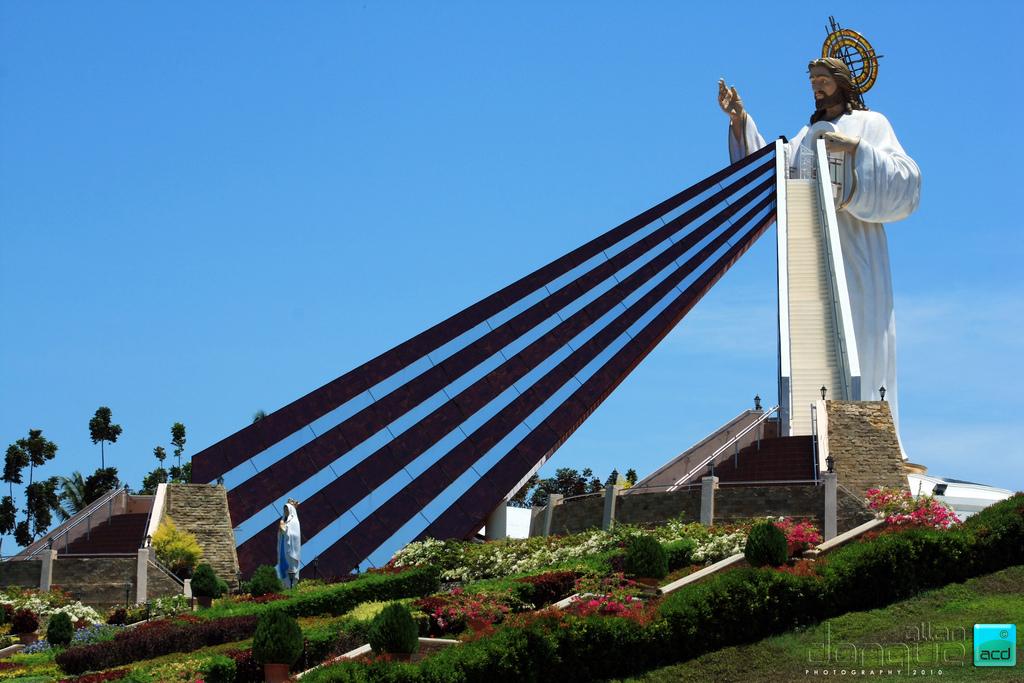 Divine Mercy Shrine
Overview

The Divine Mercy Shrine in El Salvador City Misamis Oriental, Philippines is located in Divine Mercy Hills, overlooking Macajalar Bay on the Mindanao island, southern part of the Philippines.
The nine-hectare land for the Shrine was purchased for a nominal amount and the shrine was constructed with donations. The shrine was completed in 2008 and is noted for having a 15.24 meter (50-feet) statue of the Divine Mercy Jesus.
El Salvador, the city where the shrine is located, serves as a pilgrimage site for Divine Mercy devotees, that is why it is also called "The City of Mercy" or "City of The Saviour".
For those people who want to visit the shrine are not allowed to wear shorts and other revealing clothing. Those who do so will be forced to cover themselves with a blue cloth provided by the shrine administrators.
List of accommodations in Cagayan de Oro - Misamis Oriental's capital city

D'MORVIE SUITES - Corner of Capistrano and Yacapin St.

Casa Isabella - Pabayo-Cruz Taal st. Cagayan de Oro City

Apple Tree Hotel – Opol, Misamis Oriental

Riverview Inn - Located in Carmen.

Pryce Plaza, Carmen Hill, Cagayan de Oro City

Ridgeview Chalets, Xavier Estates, Fr. Masterson Ave., Upper Balulang, 9000 Cagayan de Oro City

Hotel Koresco, Pueblo de Oro Golf Estates, Rev. Masterson Avenue

Miami Inn - Vamenta Blvd., Carmen.

Mountain Suite Business - Kimwa Compound, Tablon

Middleton Aparttelle - Lirio Ext., Carmen.

Pryce Plaza Hotel - Carmen Hill.

De Luxe Hotel - Capt. Vicente Roa St., Cagayan de Oro City

Mallberry Business Suites Hotel - Florentino St., Limketkai Center.

Dynasty Court Hotel - Archbishop Hayes cor. Tiano Bros. Sts.

VIP Hotel - Don A. Velez cor. C. Pacana Sts.

Gardens of Malasag Eco-Tourism Village
Getting In
Cagayan de Oro is a gateway to any towns of Misamis Oriental. It is accessible by land, air and water transportation. In most cases you can expect a safe journey.
By plane
Lumbia Airport, often called Cagayan de Oro Airport, the airport serves flights from Cebu, Manila and Davao. Airline carriers such as Philippine Airlines, and Zest Airways and budget and regional carriers such as Cebu Pacific and Air Philippines.
By boat
Cagayan de Oro Port is a modern International seaport situated near the estuary of the Cagayan de Oro River, it has an anchorage depth of 18 meters and is around 400 meters from the shoreline. It serves regular boat trips to and from Manila, Cebu, Tagbilaran, Bacolod, Dumaguete, Iloilo, Iligan and Jagna, Bohol. The port has two authorized cargo-handling operators and is one of the busiest seaports in the Philippines.
Super Ferry

Cebu Ferries

Trans Asia

Negros Navigation

Sulpicio Lines

Gothong Lines
By bus
Cagayan de Oro is quite sufficient when it comes to land transportation. You can easily roam around the city by any means of land transport. There are three integrated bus and jeepney terminals, which offer regular land trips:
Agora Integrated Bus Terminal offers regular land trips to and from Gingoog, Bukidnon, Kabacan, North Cotabato, Butuan, Surigao (in the Caraga region), Davao, Tacurong and Balingoan (ferry going to Camiguin). Recently, the terminal is on a huge renovation.

Eastbound-Gusa Jeepney Terminal offers regular land trips to and from the eastern towns of Misamis Oriental, Camp Philips, Libona and Manolo Fortich in Bukidnon.

Westbound-Bulua Integrated Bus and Jeepney Terminal offers regular land trips to and from the western towns of the Misamis Oriental including Laguindingan and El Salvador, Iligan, Marawi, Oroquieta, Ozamiz, Dipolog, Pagadian, Zamboanga and some parts of Western Mindanao.
From Davao, one bus every 30-60min, 7-10h duration depending on weather/traffic/road construction, multiples stop including lunch+diner break. The bus station is inside city market, few (mid/expensive) hotels nearby, jeepney to Pesoria for a town center.
Getting around
Bus, jeepneys, taxis, multi-cab and the motorela (similar to Thailand's tuk-tuk) are the main mode of land transportation within the city. White and yellow colored air-conditioned taxis with meters installed, and car rentals are also available. As a visitor DO NOT agree to a flat-rate taxi fare unless you want to pay triple the meter rate, insist on the meter only ("meter-plus 50" for an airport or late-night pick up). Motorellas are slow but you don't have to wait long for them to fill with passengers. They travel set routes, but will give you custom service for a negotiated price. Jeepneys are perfectly safe during the day and cost only a tenth of a taxi ride. If it doesn't take you where you meant to go, then you can take one to a large hub, where you can continue with another one. Try to find a full one, since an empty one will wait for more passengers.
Rating:
0 people rated this.