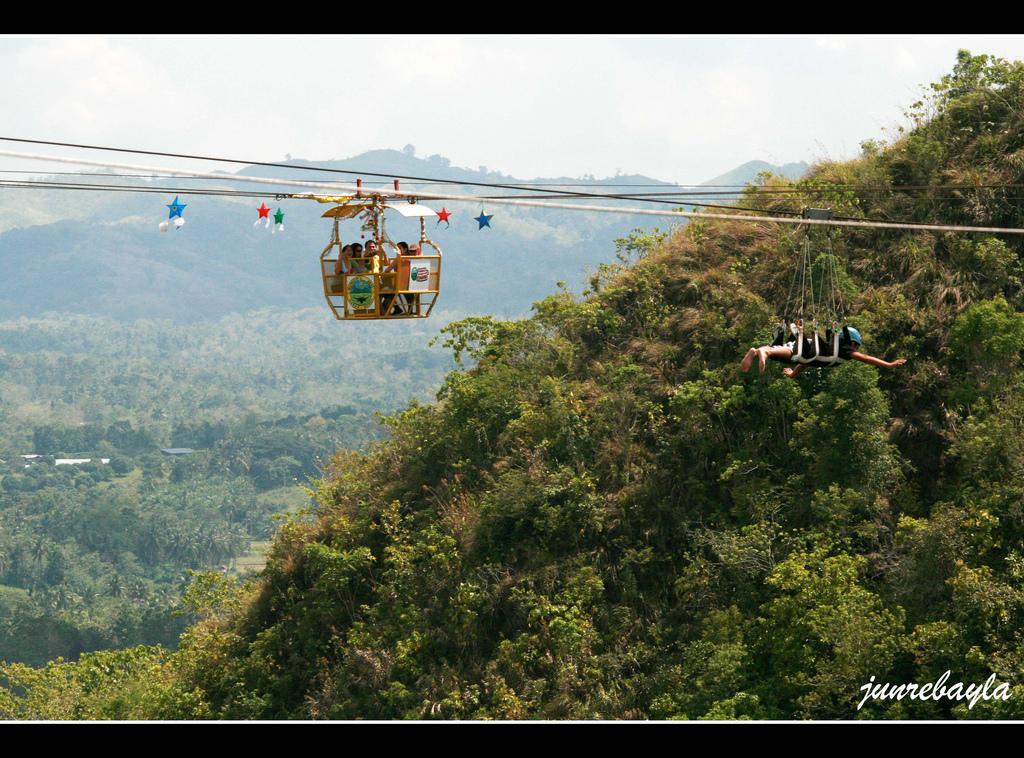 Cable Car & Suislide at Danao Adventure Park
The Extreme Adventure Tour Danao (E.A.T. Danao), also known as Danao Adventure Park, can be found in Barangay Magtangtang, Danao, Bohol. It is located 92 kilometers from the city of Tagbilaran and only about two hours' ride away.
E.A.T stands for Extreme, Economic, and Educational Adventure Tour. It is a tourism concept that helps the town of Danao increase and empower its tourism. It is built not only to support the local government and its people but also to conserve and enhance the rich natural environment of the town. The park showcases the natural beauty of Danao. Lots of activities can be done in the area that will surely be loved and enjoyed by the tourists. It is an ideal place for a person who loves extreme adventure and also a perfect getaway for families and friends outings. Visitors can also buy souvenirs at the store located in the area.
Danao has a lot to offer when it comes to fun and adventure activities in various ways and categories. It has a zipline which is considered to be the Philippines' longest and tallest zip line. It traverses around half a kilometer from one mountain to another, taking you on a one-minute exhilarating ride.
The Danao Adventure Park offers the following activities:
Ziplet

Sky Ride

Plunge

Suislide

River Trekking

River Tubing

River Kayaking

Wall Climbing

Village Tour

Organic Farm Visitation

Camping

Rappelling

Root Climbing

Caving
Gallery

Danao Adventure Park-The Plunge

Accommodations
The site also offers accommodations with complete amenities for everyone who want to stay overnight but can be limited, which is why visitors are advised to book and schedule their trip ahead of time.

Here is the list of accommodations around Tagbilaran City:
Gie Gardens Hotel - 18 M.H. Del Pilar St., Cor. C.P.Garcia Ave, Tagbilaran City

Darunday Manor - 22 J. A. Clarin Street, Tagbilaran City

Metrocentre Hotel - C.P.G. Avenue, Tagbilaran City

Vest Pension House - Tamblot Extension, Cogon District, Tagbilaran City

The Meredian Hotel - 4-S Matig-a St., tagbilaran City

Hotel La Roca - Graham Avenue, Tagbilaran City

Matig-a Seaside Pensione Bohol - 26 V.P. Inting Street

Via Bohol Tourist Inn - Graham Ave., Tagbilaran City

Villa Alzhun Tourist Inn and Restaurant - 162 V.P Inting Street, Mansasa, Tagbilaran City

Vest Pension House - Tamblot Extension, Tagbilaran City

Taver's Pension House - Taver's building, Remolador St., Tagbilaran City

Sky High Lodge - CPG Ave., Tagbilaran City

Shores Apartelle - Mansasa District, Tagbilaran City

Wregent Plaza Hotel - CPG Ave., Tagbilaran City

Share House Bohol - Sacred Heart Village, Tagbilaran City

Esta Villa Residencia - Mansasa Seaside, Tagbilaran City

Soledad Suites - J. C. Borja Street cor. M. Parras Street, Tagbilaran City
Accessibility
By Air
The main entry point to Bohol is Tagbilaran City (Tagbilaran City Airport) which is only a one hour-and-15 minute flight from Manila and 20 minutes from Cebu.
By Sea
The most convenient way to get to Bohol from the neighboring islands is by fast ferry. Fast ferries offer a high speed passenger service. These have a cruising speed of about 50 kilometers per hour.
Getting Around in Bohol
Once you arrive in Bohol, there are various ways to get around the island. You can find plenty of tricycles and some taxis waiting to bring you to most locations within Tagbilaran and neighboring towns. If you need to go to one of the other towns on the island, you have a choice of jeepneys, busses, V-hires, or even habal-habal.
Rating:
6 people rated this.