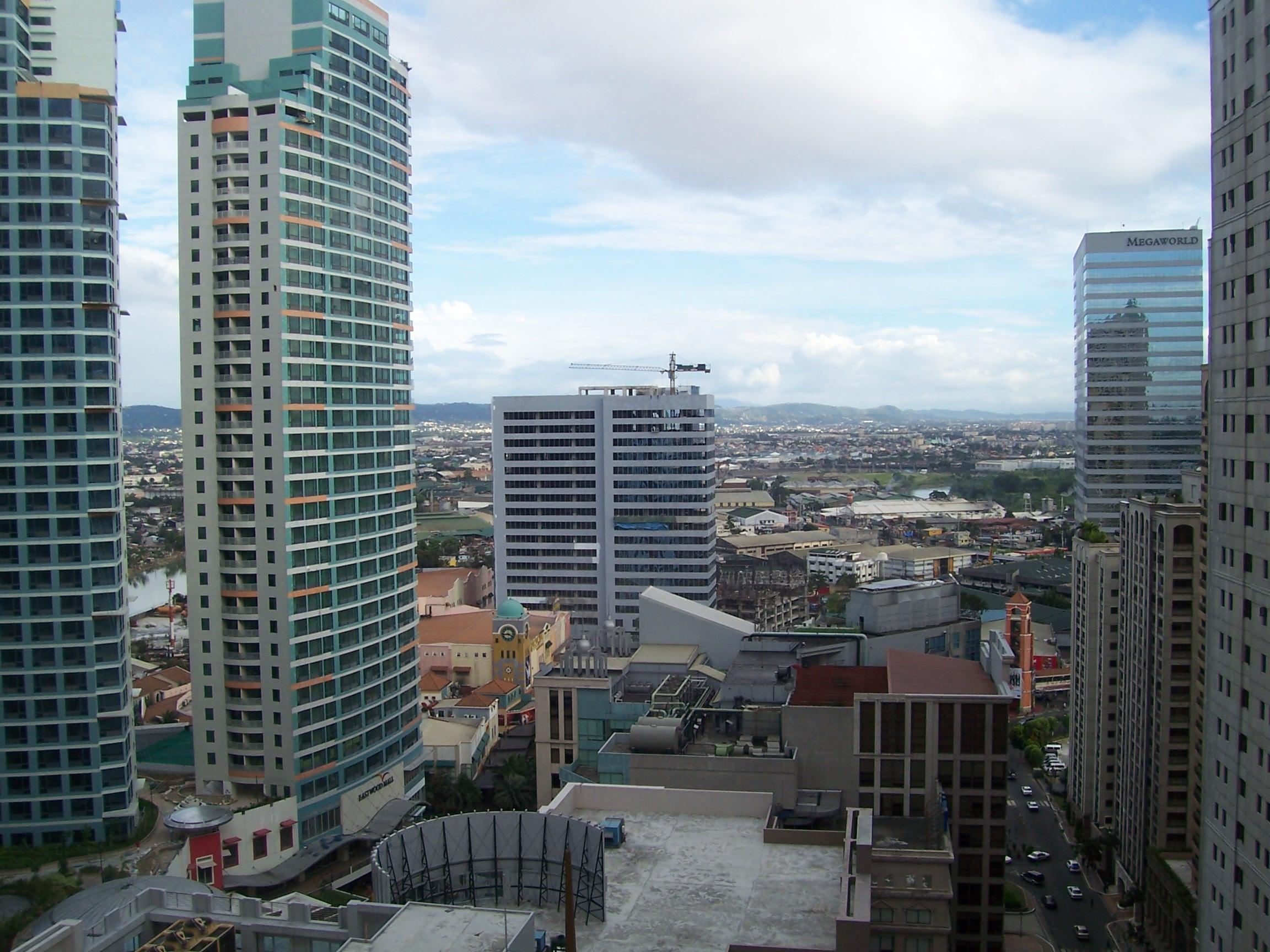 Top of Eastwood City
Eastwood City is a 17-hectare (42-acre) commercial and residential development located in the Libis area of Quezon City in the Philippines. It is developed by Megaworld Corporation. It currently hosts 12 luxury residential condominium towers, with several more being developed.
Eastwood City was launched in 1997. Its newest development is the Eastwood Mall located in the middle of the real estate development.
The hip and trendy Eastwood City Walk completes its concept of a convergent lifestyle with an exciting entertainment and dining hub. With an array of bars and dining spot for various tastes, a lush streetscape and ample parking space, City Walk gives people from nearby tawny villages and schools and yuppies at the Cyber parks all the reason to fill up and cool out. Enjoy a powerful lunch or a dazzling nightlife. Have fun or be fab. All at the heart of an emerging e-City, as City Walk wraps your senses with the heady, the delicious, the irresistible pulse of the good life.
Eastwood City Cyberpark
Eastwood City Cyberpark is a BPO-targeted office complex forming part of Eastwood City. Its buildings include the 20-story Global One Center and the 10-story 1880 Eastwood Avenue.
The cyberpark is listed as an approved IT Center by the Philippine Economic Zone Authority, making export-oriented companies located therein eligible for temporary tax holiday, permanent reduced rate of corporate income tax, and other incentives.
It was an early leader in business process outsourcing in the Philippines; out of 37 call centers operating in the country in 2003, 10 were located there. Major tenants include Accenture, Dell, IBM Global Services, Stellar, Citibank, Atos, and eTelecare. In 2009, the registed BPO employment of the cyberpark was 16,856 jobs, making it the Philippines' leader among PEZA IT parks and buildings. This represented growth of 22% over its 2008 employment figure. Including non-BPO employers, the total number of jobs created in Eastwood City is more than 30,000, claims developer Megaworld Corporation. The total value of exported services for the year was US$348.31 million.
Getting around the city
Public transportation within the city, like in most of the urban areas in the Philippines, is facilitated mostly using inexpensive jeepneys and buses. Tricycles give access to more secluded areas, while taxi cabs are available to navigate any course.
This City has 3 Circumferential Roads:
C-3: Sgt. Emilio Rivera Avenue and Araneta Avenue

C-4: Epifanio de los Santos Avenue or EDSA

C-5: Mindanao Avenue, Tandang Sora Avenue, Congressional Avenue Extension, Katipunan Avenue and E. Rodriguez Avenue
Railway
Currently, two elevated light rail systems and one heavy rail system run through Quezon City: LRT 1 – at EDSA (C-4) connecting North Avenue and Baclaran (Manila) LRT 2 – at Aurora Boulevard (R-6) connecting Santolan (Pasig City) and C.M.Recto Avenue (Manila), and MRT 3 – at EDSA (C-4) from Taft Avenue (R-2 in Pasay City) to North Avenue.
An elevated rail transit system (MRT-4) that was supposed to follow the general alignment of Quezon and Commonwealth Avenues (R-7) was shelved. In its place, a 22 kilometer rail system will be built. The MRT-7 project will commence at North Avenue, connecting the MRT-3 at its northern terminus. It will then go through Commonwealth Avenue, then through Regalado, Quirino Highway, ending in San Jose del Monte, Bulacan. The system has a proposed spur line to connect itself to MRT-2 in Katipunan, passing through the University of the Philippines Diliman and Katipunan Avenue.
The following elevated railway stations in the city (Only 13 Stations):
MRT-3 (with 5 Stations):

North Avenue- (Connected to LRT-1 Yellow Line)

Quezon Avenue

Kamuning

Araneta Center-Cubao- (Connected to LRT-2 Purple Line)

Santolan

LRT-2 (with 5 Stations):

Gilmore

Betty Go-Belmonte

Araneta Center-Cubao- (Connected to MRT-3 Blue Line)

Anonas

Katipunan

LRT-1 (with 3 Stations)

Balintawak

Roosevelt

North Avenue- (Connected to MRT-3 Blue Line)
Rating:
0 people rated this.