What tourists and travelers discover in their journeys is that Metro Manila is filled with interesting places both old and new, both historic and modern. They too discover the many luxuries and conveniences that establishments here provide, like helping the weary traveler relax, be pampered and to look and feel good. Elegant Secrets Spa in Quezon City particularly excels in this service and assures that all guests receive world-class treatment.

From looking good to feeling good, Elegant Secrets Spa spares no effort to attend to your needs. With its wide range of services to choose from , guests are sure to get the kind of treatment they are looking for. As patrons of this establishment attest, you get superb and courteous treatment the moment you walk through the door. The setting is graced with modern décor and tranquil surroundings that add to one's relaxation, giving that home-like feel to their guests' stay. The interiors are splendidly decorated to complement the relaxing and cozy treatment rooms.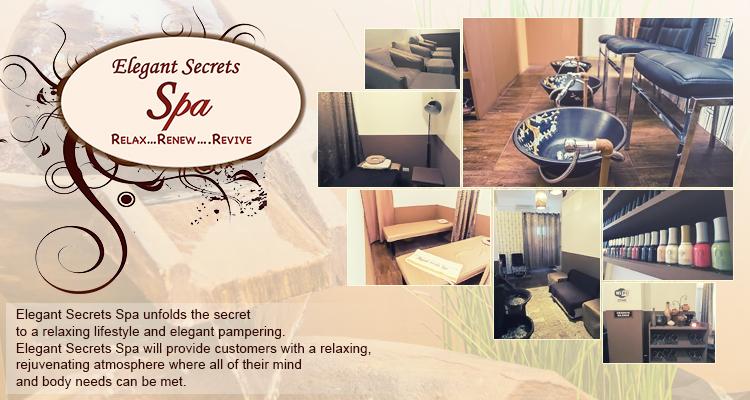 What gives Elegant Secrets Spa its great reputation is the courteous, experienced and highly trained staff and therapists who are all TESDA licensed and certified. These friendly but hardworking people definitely know their trade and will not hold back on giving extra effort to assure that guests are pampered and cared for during each and every therapeutic treatment.

Elegant Secrets Spa offers different kinds of beauty treatments and services that assures its guests of maximum satisfaction that will result in a more appealing, more natural-looking, more relaxed appearance. Their most asked for service is the Elegant Secrets Signature whitening body scrub with dead sea salt, which helps reveal softer, smoother and whiter skin by exfoliating dead skin and whitens through an additional milk formula and mineral infused water. The Dead Sea salt scrub improves the function of the skin barrier, reduces roughness and redness of the skin while enhancing your skin hydration. This exquisite treatment is followed by a hydrating crème massage that is easily absorbed and goes deep under the skin while locking its moisture and keeping the skin stay incredibly soft and smooth.

Besides this, they also offer a wide array of quality services like Whole Body Massage, Therapeutic Ear Candling, Aroma Scalp Massage, Aromatherapy Massage, Aroma Scalp, Back Massage, Ear Candling, nail and foot care among many others, all to their guests ultimate satisfaction.
To get the best pampering you have ever had, visit Elegant Secrets Spa at Unit I-J Ushio Plaza IV # 47 Scout Torillo Brgy. South Triangle Quezon City. You may contact then at 0922-5649411 or 227-07-95. Elegant Secrets Spa ensures customer satisfaction with a relaxing, rejuvenating atmosphere where all the needs of the mind and body needs are met.
Check out awesome deals and discounts of Elegant Secrets Spa here:
60-min Whole Body Massage - Swedish, Shiatsu or Combination
60-min Whole Body Aroma Therapy Massage
Milk & Oatmeal Body Scrub w/ 60 mins. Whole Body Massage
Slimming Coffee Body Scrub w/ 60 mins. Whole Body Massage
Be Hair-Free with Brazilian Waxing
Whitening Body Scrub w/ 60 mins. Whole Body Massage
Rating:
16 people rated this.