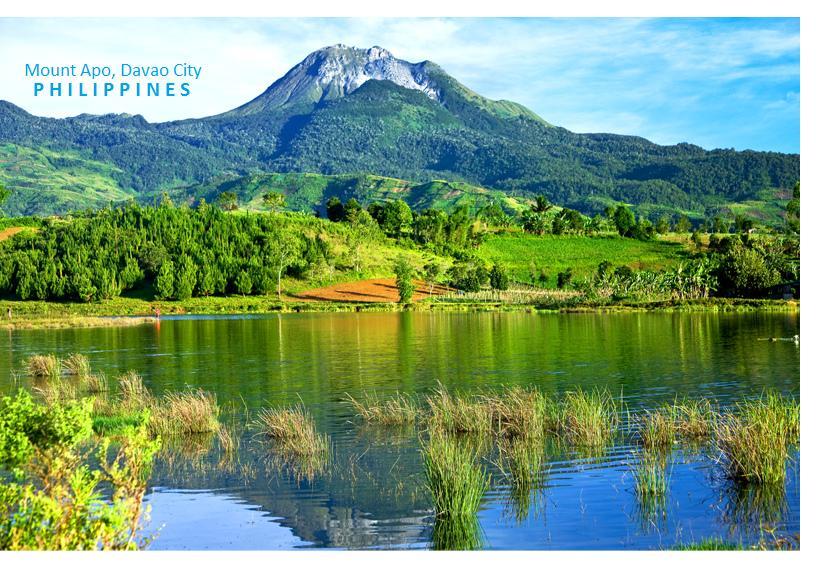 Mount Apo is the tallest mountain in the Philippines, located between the provinces of Davao Del Sur and North Cotabato in Mindanao. It is a solfataric, potentially active stratovolcano.
Elevation
This volcano is a flat-topped mountain with three peaks and is capped by a 500-meter wide volcanic crater containing a small crater lake. It is measured 3,143.6 meters above sea level. In historical time, the exact date of the most recent eruption is unknown and none are verified.
Importance
Mount Apo is the source of geothermal energy because of its Geothermal Production Field with a power output of 106 MW, which is located at Barangay llomavis, Kidapawan City, North Cotabato in Mindanao.
Trails

There are a few options to trail the mountain but at year 2009, the oldest mountaineer Froilan Mendez and Salvador Sebastian at the age of 65 and 76 used the Kidapawan City trail to climb the mountain which is said to be the most difficult way.
In the past decade, the Kidapawan Trail and the Kapatagan Trail in Davao emerged. Whereas the Kidapawan Trail features hot springs, river crossings, and a steep forested trail that leads to a swampland ultimately leading to Venado, the Kapatagan Trail on the other hand has a more "volcanic" feel - initially wide trails lead to a mossy forest; and then arrives the challenge of boulering your way up the crater of Mt. Apo and ultimately reaching the summit - the highest point in the Philippines.
The two trails form a traverse of Mt. Apo, spanning two provinces and the above-mentioned attractions. Another common route, Kidapawan-Magpet, focuses on the North Cotabato side of the mountain.
People
Mount Apo has six indigenous peoples composed of Manobos, Bagobo, Ubos, Atas, K'lagans and the Tagacaolo. They consider Mount Apo as their home and as their ancestral domain. These tribes live around the mountain, their place of giving respect to and the entombment ground of Apo Sandawa, their great grandparent. Mount Apo is the source of their food and medicine, their spiritual and cultural way of life.

For the Lumads, the name Mt. Apo is stands for "master" or "grandfather".
Flora and Fauna
This mountain is known as one of the most ecologically rich mountains in the region because it has hundreds of endemic species of plants and infrequent, endangered species of animals. The variety of its landscape, its climate, soil, rock formations, slant, and drainage provide an ideal home for these plants and animals. There are 629 known species of flowers including the rare lauan and the endangered almaciga. There are various species of endemic animals – 270 bird species which 111 (40%) are endemic, including the Philippine monkey-eating eagle and the abukay; 227 vertebrate species, which include amphibians, reptiles, mammals; 118 species of butterflies.
Petite Anecdotes

On May 9, 1936, President Manuel L. Quezon declared Mount Apo as a National Park.
October 10, 1880 was the first recorded climb by a group led by Joaquin Rajal, then Spanish governor of Davao.
On December 12, 2009, the Department of Environment and Natural Resources (DENR) submitted Mount Apo for inclusion to the list of UNESCO World Heritage Sites. The mountain is considered by DENR as the center of endemism in Mindanao.
How to get there

From Manila, you can enter Cotabato City or Davao City by boat or by plane. The plane ticket to either city costs around 2,000 - 3,500 pesos. From Cotobato city to Kidapawan City (jump-off point), you can ride a bus by different bus companies like NCTC, Weena Express and Grand transport along Magallanes St. and Jose Lim St. in the province. The fare is around 50 – 100. If you will choose Davao City as your entry point, you need to ride a bus on NCTC, Weena Express, Jing-Jing Express Grand Transport bus companies at Ecoland Bus Terminal in the city of Davao travelling to Kidapawan City. The fare cost is around 50-80.
From Kidapawan city, you need to go first at City Tourism Development and Promotions Division, Office of the City Mayor, for registration.
Registration Fee: Local Trekkers 20.00php
Foreign Trekkers 50.00php
(Including the certification for those climbers who successfully climbed the Mount Apo)
To Lake Agko Campsite (Jump-off point), you need to ride a jeep from the city bus station. The jumping point is 21-kilometer far from Kidapawan Poblacion.
Rating:
11 people rated this.