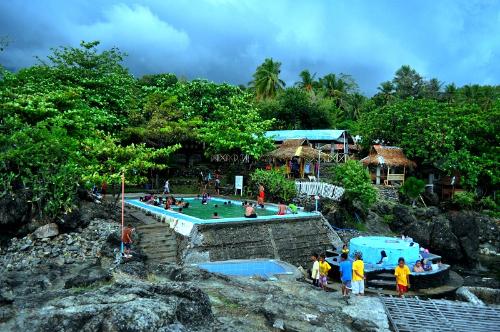 An ideal place to relax and to get rid of stress and fatigue and aches, Sira-an Hot Springs in Antique has had a long list of testimonials from local and foreign visitors vouching for its many benefits.
A government-owned hot sulphur spring atop solid rock; warm water flowing from crevices and collects in tiled basins into a junior size, swimming pool; is along the highway 1 1/2 kilometers from Anini-y town proper and overlooks Nogas Island.
The spring is one of the most visited places in the province by tourists. It is located in the town of Anini-y, Antique. The local government is in charge for the operation and management of the area.
The warm water of the pool is perfect for tired and weary bodies. Visitors will surely enjoy dipping in the relaxing water, making it a popular and well-liked destination in the province. Many people claim the water from the spring has a therapeutic effect on their bodies, especially for muscle pain and aches. Guests also like the breathtaking view of the beach and surrounding islands.
Accommodations
Everyone is welcome in the resort because the entrance fee is very affordable. Picnic huts and cottages are also available in the area. For those visitors who want to stay overnight, the resort offers overnight accommodations.
Other hotels are can be found in the town of San Jose, Antique:
Location: Bantayan St., San Jose, Antique
La Vita Resort and Restaurant
Location: Madrangca Area, San Jose, Antique
Barrio House Resort and Training Center
Location: Brgy. Dalipe, San Jose, Antique
Location: Santillan Subdivision, Binirayan, San Jose de Buenavista, Antique
Pinnacle Suites & Functions
Location: AML Building, Cor. Dalipe – Atabay St.San Jose, Antique
How to get there
Antique is accessible via RORO (Roll-On-Roll_Off) from Manila and major cities in the country. There are buses and vans plying from Iloilo City, Iloilo, Kalibo, Aklan to San Jose and vice versa.

About two and a half hours from Iloilo International Airport and one and a half hours away from Kalibo International Airport.

When touring the province, jeepneys and tricycles are available in the area.
Rating:
0 people rated this.