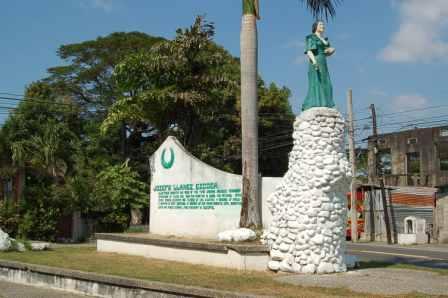 A statue was built in the memory of an outstanding feminist, national heroine – martyr of World War II – Escoda Monument in Dingras, Ilocos Norte.
Josefa Llanes Escoda
Josefa Llanes Escoda, also known as the "Florence Nightingale of the Philippines" is a war heroine, suffragette, great civic leader and social worker. She was a well-known Filipino women's right advocate who also became one of the founders of the Mga Batang Babaeng Tagapagmanman ng Pilipinas or Girl Scouts of the Philippines.
She grew up with an instilled idea of the true Christian service. Her mother was said to be a sweet, loving woman who taught her children the importance of serving the people. This amiable character honed by her mother manifested in many parts of Pepa's life. During her elementary days, Pepa was known to be a gay, naturally active and precocious student. She also had unyielding importance for education.
When the World War II broke out, Josefa and her husband associated themselves with Volunteer Social Aid Committee (VSAC) and enlisted aid for the prisoners of war. It was in June 1944 when her husband was imprisoned in Fort Santiago. Two months later, she was also arrested and thrown into the dark cells of Cell No. 16 of the same fort. Antonio Escoda was court-martialed for the crime of treason and sentenced to death on November 24, 1944, along with General Vicente Lim. She was offered freedom in December 1944, but her loyalty to her husband was so strong she preferred to die with him in prison.
Commemoration
In recognition of her outstanding achievements and dedicated service to humanity, she was named Distinguished Alumna in the field of social service, and a diploma of honor in recognition of her signal achievements was conferred on her posthumously in 1951 by the Philippine Normal College. The American Red Cross posthumously awarded silver medal, the biggest honor given by the organization.
In May 1948, the U.S. Army and Navy awarded Josefa and her husband posthumously the Medal of Freedom with gold leaf, for her services to the Filipino prisoners of World War II. The Armed Forces of the Philippines awarded her the Philippine Legion of Honor Medal.
The Girl Scouts of the Philippines pays homage to Josefa Llanes Escoda every September 20 by celebrating her birth anniversary with activities that would create further awareness of her martyrdom and contribution to youth development.
A street and a building have also been named after her and a monument has been dedicated to her memory. She is also depicted on the 1000-peso bill as one of three Filipinos martyred by the Japanese Armed Forces.
Escoda Museum was inaugurated during the nationwide centennial birthday celebration of Mrs. Josefa Llanes Escoda in the year 1999.
Escoda Museum
How to get there

From Manila, you can go to Ilocos Norte by riding a bus bound for Laoag. There are buses that will take you directly to Laoag City like Partas, GV Florida Transport, Dominion Bus Lines, Philippine Rabbit and Fariñas Transit. There is also a direct flight from Manila to Laoag via Cebu Pacific or Philippine Airlines. From the airport, there are available jeepneys that bring the passengers to the city proper.
Accommodations in Laoag are also available. There are lots of inns and hotels throughout the town offering comfortable rooms and cottages at a reasonable price.
• Fort Ilocandia Resort Hotel - Brgy. 37 Calayab, Laoag (Ilocos Norte), Ilocos Region, Philippines
• Pamulinawen Hotel - National Highway, Brgy. 22, 2901 San Nicholas, Laoag (Ilocos Norte), Ilocos Region, Philippines
• Plaza Del Norte Hotel and Convention Center- 15 Suba, Paoay, Laoag (Ilocos Norte), Ilocos Region, Philippines
• Grand Octagon Resort - Airport Ave., Brgy.50, Butong, Laoag (Ilocos Norte), Ilocos Region, Philippines
• Java Hotel - 55B Salet Gen. Segundo Avenue, Laoag City, Laoag (Ilocos Norte), Ilocos Region, Philippines
Rating:
0 people rated this.