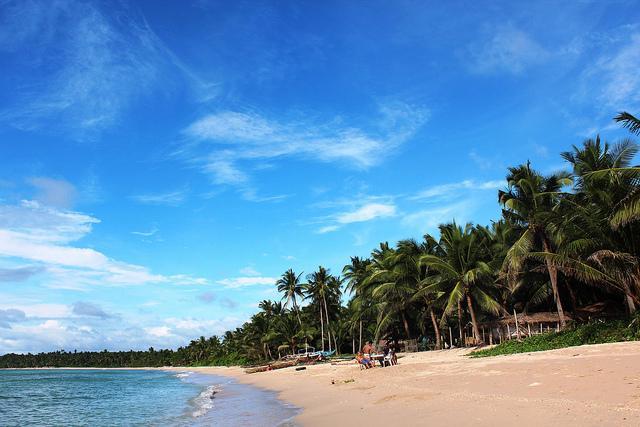 Masbate white sand beach

Masbate is a land of natural beauty and wonder just waiting to be discovered. Found in southern Luzon, this province is blessed with great beaches, mild weather, and attractions of many different kinds.

Masbate is an island province of the Philippines located in the Bicol Region. Its capital is Masbate City and consists of three major islands: Masbate, Ticao and Burias.
The province of Masbate is classified as a first class province. It is endowed with rich natural resources. The province is surrounded with rich fishing areas where all kinds of commercial species of fish can be found in great abundance. Agricultural lands are planted with rice, corn, root crops and coconut. The province is also one of the richest in the country in terms of mineral resources and the province is described by geologists as a province sitting on a "pot of gold," referring to vast deposits of gold, copper, silver, iron, manganese and chromite.
Manufacturing firms are in the copra industry, handicrafts, furniture making and fish processing. Cottage industries such as furniture and cabinet making, ceramics, garments, handicrafts and metal crafts, are likewise sources of livelihood.
These are some tourist spots that can be found in the province of Masbate that one can visit, including different beaches, caves, waterfalls, islands, hills, rivers and springs.
Beautiful sunset in Masbate

Island
• Sombrero Island, located in the town of San Pascual. It is hat-shaped island with stretches of white sand beaches
• Mataba-Tinigban to Napayuan Iisland is a five-kilometer stretch of glittering white sands. At Napayauan Island, the surrounding water is full of marine life. It is ideal for snorkeling and scuba diving.
• Cagpating Island is located in Monreal. It is noted for its crystal-clear waters and beautiful pebbles on one side and a deep rocky side that provides a panoramic view of Masbate Island.
• Tinalisayan Island in Burias Island is an enchanting place ideal for sunbathing and swimming.
• Deagan Island is a scenic island off Palanas coast noted for its beautiful beaches and colorful fish. It is a haven for yacht enthusiasts and skin divers.
• Isla de Paraiso is a small islet covered with powder white sand and crystal water and a "breathtaking sunset," with mangroves covering different sides of the islet.
Beaches
• The Aroroy Beach is situated in Aroroy. The beach is a fast-rising attraction among excursionists. Its unspoiled natural beauty is its dominant feature.
• Colara Beach also located in Aroroy. It has neat and white sands ideal for weekend excursions and picnics.
• Ki-Albay River and Beach in Claveria. The beach extends east-southeast from the town proper with an approximate length of one and a half kilometers of sandy and well-polished pebbles ending in Ki-albay River.
• San Isidro beach is located in Barangay San Isidro extending south to east from the barangay proper with an approximate and aggregate length of four kilometers in the town of Claveria. Its fine and silvery white sands can easily accommodate over a thousand people. The bottom of the sea is clear and sandy, extending some one hundred meters from the shoreline with a gradual depth of 5 to 7 feet during high tide. Further from the shoreline are beautiful and colorful coral reefs which are inhabited by a wide variety of fish. The beach is lined by coconut trees.
• Talisay Beach in San Fernando is famous for the rocks which serve as natural diving boards for swimmers. Smooth, shiny pebbles of various sizes abound.
• Dacu Beach is situated in Mobo and is a favorite site for picnics during weekends.
• Puting-Baybay in Claveria is famous for its wide beach and white sand. Ideal for board surfers because of the Sibuyan waters
Falls
• Kalanay Falls can be found in Barangay Nabangig in the town of Palanas, which offers beautiful scenery.
• Catandayagan Falls in Ticao Island is one of the most beautiful falls in the province. It cascades from 60 feet to its base where multi-colored fishes cavort. It is one hour by motorboat from the capital.
• Ubo Falls that can be found in Mobo is locally known as "Little Pagsanjan Falls".
• Tagoron Waterfalls in Monreal that is located along the sea, found in the barrio of Tagoron, is a good place for picnics and excursions. Water cascades at a height of 60 feet. Different species of varied-colored fish swim at or close to the base of waterfalls
Hills
• Limestone Hills is located in Aroroy. The hill is believed to have been inhabited by the Kalanay people. These early inhabitants practiced jar burials. Excavations yielded human bones.
Caves
• Underwater Cave which is located in the town of Claveria. The cave is within the jurisdiction of Barangay Boca Engaño of the entrance of which is undersea. During high tide, it will take even an unskilled diver only a few seconds to enter the cave as it is only neck-deep during low tide. Inside the cave are well-sealed human caskets carved out of solid wood believed to be 500 years old that still contain human remains.
• Bat-ongan Caves is located in Mandaon. It is famous for its numerous chambers and beautiful rock formations towering at about 150 feet. The caves offer tourists a thrilling experience in steep rock-climbing up to the highest peak. It is a mole-like mountain.
Rivers
• Batongan Underground River in Mandaon is for daring and adventurous seekers. It is approximately 10 kilometers to Mandaon.
Springs
• The Matangtubig Spring in Monreal is a unique spring with three sources. The spring comes out of a rock. Trees and lush vegetation give shade to the area around the spring.
Lighthouses
• Bugui Point Lighthouse is located at barangay Gumahaangi in Aroroy, constructed during the Spanish era.
• Colorado Lighthouse in Aroroy is believed to have been built during the Spanish era but renovated during the American regime.
• Jintotolo Lighthouse in Balud is picturesque in its 19th-century architecture.

Gallery

The beautiful landscapes and seascapes of Masbate

How to get there
By air
From Manila, there are daily direct flights to Masbate City, the provincial capital of Masbate.
By sea/land
From Manila you can ride a bus to Pilar, Sorsogon. Then from there you can take a FastCraft headed for Masbate.
Accommodations
• GV Hotel Masbate - Danao Street, Masbate City, Masbate, Masbate, Philippines
• Sampaguita Tourist Inn - Quezon Street, Masbate City, Philippines
Rating:
0 people rated this.